Cassie and James' Sharleshill Tipi Wedding
Cassie and James were really lucky to be able to have their tipi wedding lakeside at their family fishery. Located in Sharleshill they surrounded themselves with a team of local suppliers to help them bring their dream of a relaxed, informal tipi wedding to life. Cassie talks us through their day;
What made you decide on a tipi wedding?
Before I was even engaged, one of my clients showed me photos of a tipi wedding she had been to. This was the first time I had ever heard of anything like it. After getting engaged, we quickly realised we wanted a very informal wedding. We took both sets of parents to a Sami Tipi open day and that was it. We knew it was perfect for us, we didn't even view any other venues!
What are your Top Tips for planning a tipi wedding?
Get Crafty | The tipis are perfect to add lots of your own touches, so if you like to get a bit crafty make the most of this.
Be Prepared | Everything that you can do in advance do! You cannot possibly be 'too prepared' for a wedding day, there will always be lots to do just before the big day. Being self-employed and knowing my salon would be closed for two weeks, I decided to work for a few hours on the day before. I had everything boxed up and very organised, so thought I'd have more than enough time for me and my mom to set everything up and get it just how I visualised.
Give Your Self Time & Ask For Help | If you are doing a lot yourself give yourself time to set it up and get everything in place and ask for help! However, I did not realise how much time I actually needed and although everything ended up getting done, it ended with a lot of rushing to give myself the evening to relax.
What did you both wear, what about the rest of the bridal party?
We wanted the groomsmen all to look a little bit different. James wore a Marc Darcy tweed suit. We brought the dads the trousers and waistcoat and dickie bow and the groomsmen just the trousers and dickie bow, worn with braces. We wanted a more casual look but not too casual, so feel like this worked well.
I wore a Stella York off the shoulder dress. My bridesmaids all wore the same colour dress but I allowed them to choose a dress. This way they each had a different dress to suit each of them and I knew that they liked them and felt comfortable on the day.
How would you describe your ceremony, where did it happen, how did it happen.
Our ceremony took place at my auntie and uncles home in Sharleshill. They live on a fishery and we're very kind to offer the space for our wedding.
The ceremony area was set up in front of the Tipi's overlooking the lake. My dad built a platform out into the water for us to actually get married on. When he first mentioned this idea I was against it and had images of my falling into the fishing pools in my wedding dress! After talking it through I soon loved the idea and it couldn't have been any more perfect on the day.
Our best man, Luke Brown, sang and played the guitar to one of our favourite songs whilst we signed the register and continued to sing whilst we had some photos after the ceremony.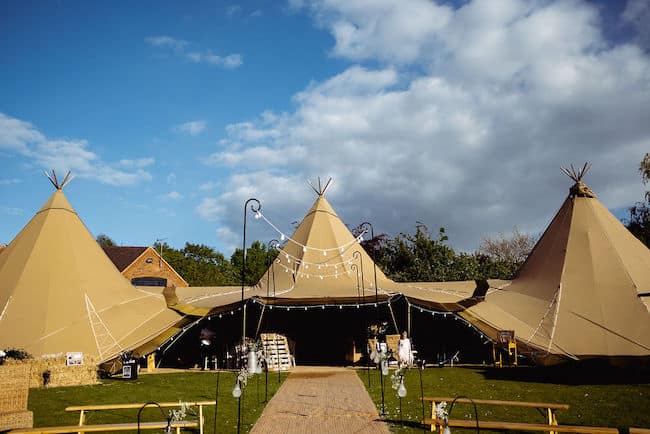 How would you describe your theme/styling?
We had a woodland rustic theme. Our cake by 'Emma's cake design' fit the theme perfectly. She made us a log/bark effect cake with added flowers, birds and mushrooms and it was amazing! Everybody commented and said how they couldn't believe it was actually a cake!
We hired the table centrepieces and a bark post box from our florist. We had lots of wooden log slices, rustic 5ft letters, wildflowers, rustic signs and much more in this theme.
How did you feed your guests in the day and then evening? What influenced your menu choice.
We had some canapés from a local company whilst we had photos. We then used 'saffron catering' food suppliers that we saw at one of Sami Tipis open days. My parents still liked the idea of a 'sit down meal' so this was our compromise. We choose three completely different meals from the hot buffet. I liked how everybody could go up and choose what they wanted without it actually being like a buffet as they still sat down with one full main meal. Saffron managed to work it really quickly and felt like everybody still sat down to eat at pretty much the same time.
For the evening we had a wood-fired pizza served from a horsebox. This went down a treat, they stayed for a few hours and then what was left was boxed up and put on tables, this was perfect for people to nibble on and take home when they had a few too many!
The cake was sliced up for a dessert and I also created my own 'cheesecake' with lots of different cheeses, chutneys and crackers for people to also nibble on of the evening.
Cassie and James wanted a very informal wedding surrounded by family and friends. I think we can safely say they achieved everything that they wanted to do.
Suppliers You Used, Loved and Would Trust to Recommend
Sami Tipi
Nick freeman – photographer
Saffron Catering
Artisan Street Food Wood Fired Pizza
Kniftons Mobile Toilets
Fine Flowers – Rugeley
Emma's cake design
Penny Lane Event Hire – 5ft rustic letters
Here Comes The Ride – camper van hire
Looking for More Inspiration