Sailcloth Tent Styling Ideas
In October we were able to create something very special with our two pole Sailcloth Tent. Working with a team of super talents, we were able to showcase how your sailcloth wedding could look and fee. This stunning structure with its clear walls and wooden poles offers something very special and stylist Tara from Tara Knott showed this off perfectly.
With the changing seasons, the autumnal colour palette was embraced and it looked incredible against the backdrop of the Sailcloth Tent. The Sailcloth backdrop gives so much freedom to the choice of colour, and offers so much space to play.
Tara created streams of rag bunting which gave a wow to the overall space whilst also looking stylish. Throughout lots of different materials were introduced in to the space. Allie from Polly and Me created the stationery using faux leather and copper piping for the table names and faux leather hand lettering for the place settings.

Sweet Heart Table
When styling any space, the key is to focus on a few core areas. With the tables looking dreamy next was the wow of the top table, which looked absolutely incredible. This was setup as a "sweet heart table", a table for two. With Hanging copper quote next to it reading "Marriage – An endless sleep over with your favourite weirdo"! Over the top table sat a floral frame with hanging seasonal dried and fresh flowers. The table itself had a stunning floral drape rolling down the side, created by Maria of The Flower Patch. Tall coloured wooden boards showcased all of the autumn colours used in the Sailcloth Space. The top table was a a real focus point for any couple celebrating their first meal together.
The Cake and Sweet Treats
The styling continued to the cake display. Ruby Lou's created the gorgeous cake and sweet treats working with the autumnal colour palette. The cake sat on a peacock chair draped with material which gave an elegant feel to the space. 
Sailcloth Table Setup
The sailcloth seating was a mixture of both long trestle tables and round tables. These were all dressed with the same deep peach runners and rusty linen napkins. The bold colours worked perfectly on the tables against the white linen. Coloured candles another of Tara's signature style pieces, sat on the tables all ensured the tables looked fun and interesting. 
Relaxed Seating Area
The rusty tones of the vintage furniture created the perfect relaxed seating area in the Sailcloth Tent. This mini chill-out zone housed the coloured "welcome" boards. These were hand written by Polly and Me also including the seating plan and wedding menu.
To create such a stunning look, we worked with an incredible team. Megan Wilson has done an amazing job capturing the Sailcloth Tent in all its glory. Enjoy;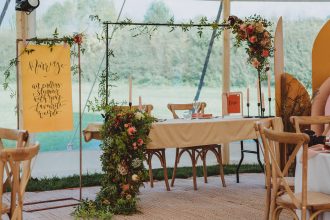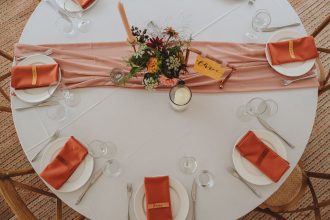 See this come to life
Tell Your Story and Cedar Media created this short film showcasing everything coming to life;
Suppliers Involved
Photographer | Megan Wilson
Venue | Cattows Farm Weddings
Sailcloth Tent | Sami Tipi 
Styled  | Tara Knott
Florals | The Flower Patch
Stationery | Polly & Me 
Cake | Ruby Lous Cake Co.
Hair by Saskia 
Makeup by Sophie 
Dress from Ivory White 
Suit from Jon Paul Menswear
Linen | Executive Linen
Male Model | Blake Models
Film | Tell Your Story and Cedar Media