Tipi Wedding on a Budget
Can you even have a tipi wedding on a budget? YES is the answer to that. With careful planning and understanding where to spend and where not to spend is the key.
The Budget
When planning any wedding, a good place to start is with your budget. Consider firstly when you would like to get married. If you are planning this within 12 months, be realistic of what you can save every month for the next 12 months. Open a joint savings account that you can both set up a direct debit in to.
The next is the big one, will you be getting any help from family? Understand that if your family are contributing in any way if this comes with strings attached. What do we mean by this? With a financial contribution does this come with a condition of inviting the family members you never see?
Armed with what you know you can save and family contributions you have begun to create a picture of how your budget looks.
The Guest List
Next is the guest list. We always start with this as it really is a driving force to how much your wedding is going to cost. WHY? Every person at the wedding needs to be fed, watered, entertained, even if you get down to the nitty-gritty to the cost of a physical chair, plate even napkin!
Here is an extract from the book "The Ultimate Guide To Planning An Outdoor Wedding" to help you decide who really should be on the guest list;
The next consideration to your guest list is do you want them to be with you all day? Work colleagues maybe the people you spend the most time with but might be on the evening guest list for example.
Priorities
With your budget and guest list next comes your priorities. Separately write a list of the things that are important to you, consider the things that you really want at your wedding. Now also consider what you do not want. Exchange lists and talk through what is now important to you both and draft your non-negotiables. This helps in deciding where you need to be proportioning your wedding budget.
Understanding When to Spend
We have all heard the saying, buy cheap buy twice. Planning a wedding you are emotionally and financially invested. The key to ensuring you are not paying twice is to invest in the right suppliers. There are always going to be cheaper suppliers for everything. Refer back to your non-negotiables remember to spend the most you can on the important things. Whilst you might not have to pay for a supplier twice what you might find is that your "cheap" doesn't buy you peace of mind. Invest in the suppliers that will provide you with the support that you want and need to achieve the day that you want. There will always be areas within your wedding that you can pull back on the budget. Know where to spend and invest that in your own peace of mind and a stress-free wedding planning journey.
Saving Tips
We have been a part of hundreds of couples tipi weddings. We've seen them achieve everything on a £12,000 budget upwards to £60,000. Some of the most gorgeous weddings have been put together on a tight budget helped by knowing what the priorities are and non-negotiables. So the big question is where can you save money when planning an outdoor wedding?
The Tipis
Your guest list is a driving force behind how many tipis you will need for your wedding. It could be that just 5 guests have tipped you over to needing a slightly bigger tipi setup. Are those extra 5 people worth the additional £1200+ just on the space needed?
Get an understanding of where the cut off point on the tipis are.
When we advise you on the number of tipis we also take into consideration, in addition to your guest numbers, what else you want in your celebration space. The next three big ones are; Open Fire Place, relaxed seating area, bar space.  Open fireplace and relaxed furniture are these on your non-negotiable list? if no do not have them!
You can always have a fire pit outside. A budget option for the fire pit is an Aldi and Lidl one. These sell for around £20 furthermore with very little invested, you are not too concerned if they do get covered in toasted marshmallows!
A saving tip for Relaxed furniture if this is on your must-have list, why not bring your own! Seriously this is something you can do. If you have a nice patio set bring it, this could go inside the tipis or outside depending on space. We have had other couples purchase second-hand settees etc off of selling pages and re-sold them afterwards. The only thing to consider here is if you can transport it to the site, easy if this is in your own garden! Have you a friend with a van? Hiring a van, could be a good investment depending on how much other DIY stuff you decide to bring. More on that shortly.
If your evening guest numbers are jumping up a considerable amount it is recommended to provide some sort of seating for them. This could be bale seating outside or even just poseur tables. Simply so they have a base area for the evening.
The Bar Space
This is a biggie! And could be the difference in needing an extra tipi! Thinking back to your non-negotiable does this have to be inside?
The bar being outside is a budget winner, simply as you do not need to provide the space for it which could save you on the number of tipis you need. However, if the bar has to be in the tipis, how can this work? A small extension which is a third of a cost to a tipi could be one option. This lifts the side of the tipi squaring an end off, giving additional headspace therefore 25% more useable tipi space.
Our recommendation would be to get an understanding of what guest numbers would be advised to keep within the number of tipis you have the budget for.  As a guide, two giant hat tipis provide the perfect space to seat up to 80 guests, if you wish to add a bar into this space (without the extension), we would recommend dropping numbers down to around 60. If this is too big of a drop remember your options are; the extension, chill-out tipi or make the comprise and move the bar outside.
Having an Outside Bar
If you decide on an outside bar, this could be a horsebox bar or a DIY built bar that sits under our little hat tipi. What might influence this is how you decide to offer the drinks at your wedding! YIKES, that is a massive budget decision in itself.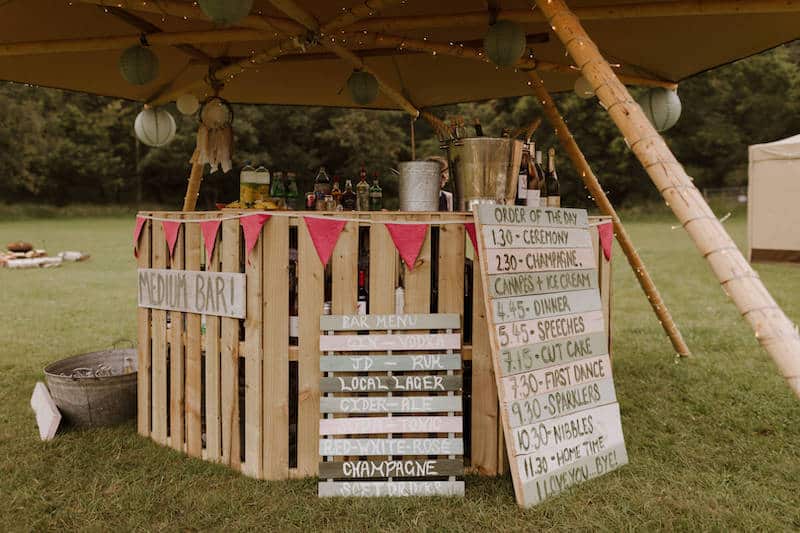 With your tipi space right for your celebration, we can begin to look at the extra ways you can bring your outdoor wedding into budget..
Budget Saving Bar Tips
The drinks service can be a massive decision in itself. Often if you are having an outdoor wedding, this does give you the freedom to provide all of the drinks yourself. Our advice is simple; is this something you want to do? Providing the drinks all day yourself might seem like a great thing to offer your guests but it is not the budget option you might think it is. Not only do you have to purchase the drinks, but you also need to chill them, serve them, glassware, ice, there is just a lot to consider. The biggest budget saving option on drinks is to simply get guests to "bring their own", advise on your invitation to bring whatever they want to drink including glassware etc.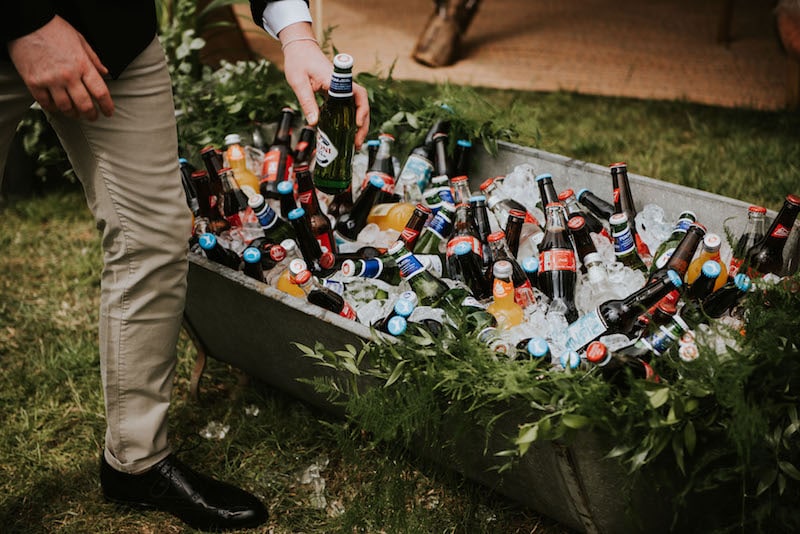 If this seems to be one step too far, the happy medium to all of this could be that you do purchase the daytime drinks and have these served by either your caterers or staff you might have hired in for the day. In the evening introduce a bartender who will provide you with a physical bar, the staff and a cash bar service. In short, this means guests buy their own drinks. The investment in this could be only minimal to you and on some occasions even FREE (yes free) as long as your £ free alcohol is no longer available.
Tips to chilling your drinks! Depending on how far you are going with the DIY element, the hiring of a fridge trailer cost around £250 +vat could be a good investment. This works well if you are providing any of the food yourself or have food for the morning brunch! If this is pushing the budget a little and you have hired a van, why not bring along your own fridge and freezers? We have even had couples purchase these secondhand from the selling pages and re-sold them afterwards. These can be housed in a gazebo hidden behind the tipis.
Tips for Choosing Your Tipi Furniture
Having your furniture as part of your tipi hire saves on a second delivery charge if you decide to get this from somewhere else. There are a few different options of furniture style which will provide you with a different look but the overall cost will be slightly different, especially if we are getting to the nitty-gritty of cost per seat per guest!
Round tables, for example, are cheaper to hire than a Nordic pine table, however, they do require a table cloth which alone could cost in the region of £11 per table. Round tables also consume more floor space as, unlike the Nordic tables they cannot be joined together.
The long Nordic tables work really well with both benches and chairs. Yes, you can mix the two seating styles up too. The cost-benefit to bench seating is that you can seat 8 people per table instead of 6 with chairs, saving you a few ££ when it comes to looking at cost per head to provide a seat. Furthermore, benches mean fewer tables, saving both money and valuable space in the tipis.
We now have your tipis, furniture and bar service, the next big consideration is how are you going to feed your guests?
Budget Saving Ideas for Feeding Your Guests
Remember earlier we spoke about your non-negotiables, well if having the best wedding caterer is on that list our advice would be to ask them how they can help you work towards a budget. However, if feeding your guests is just something you have to do, we can share with you ways couples have filled their guest's bellies on a budget.
Take Away | Yes, take away. Liberty and Joe did exactly this for their tipi wedding. They pre-ordered food for 150 people from their favourite Istanbul restaurant and samosas from a local deli. Two of their guests ventured off during the day to fetch the food for everyone.
Bring Your Own | Ask guests to bring a sharing dish. Everyone loves to help at a wedding and bringing food could be their contribution.
Do it Yourself | Pre-made picnic boxes or baskets work perfectly for this filled with fresh bread, cheese, pickles and sausage rolls. This works well if you have hired in the chiller unit.
For your evening food, street food vans work really well. The most cost-effective catering vans are fish and chip van, pizza, paella and hog roast.
Dessert | This is always a favourite point of discussion. If you have an amazing cake baker as a guest why not ask them to bake the dessert for you. The big alternative to this is to host a bake off! This is such a fun way for guests to get involved, maybe even offer a prize for the winner! What you will have is the dessert to last you from your daytime food through to the evening too – this really is a win-win. Especially if a guest walks away with a prize at the end of the evening!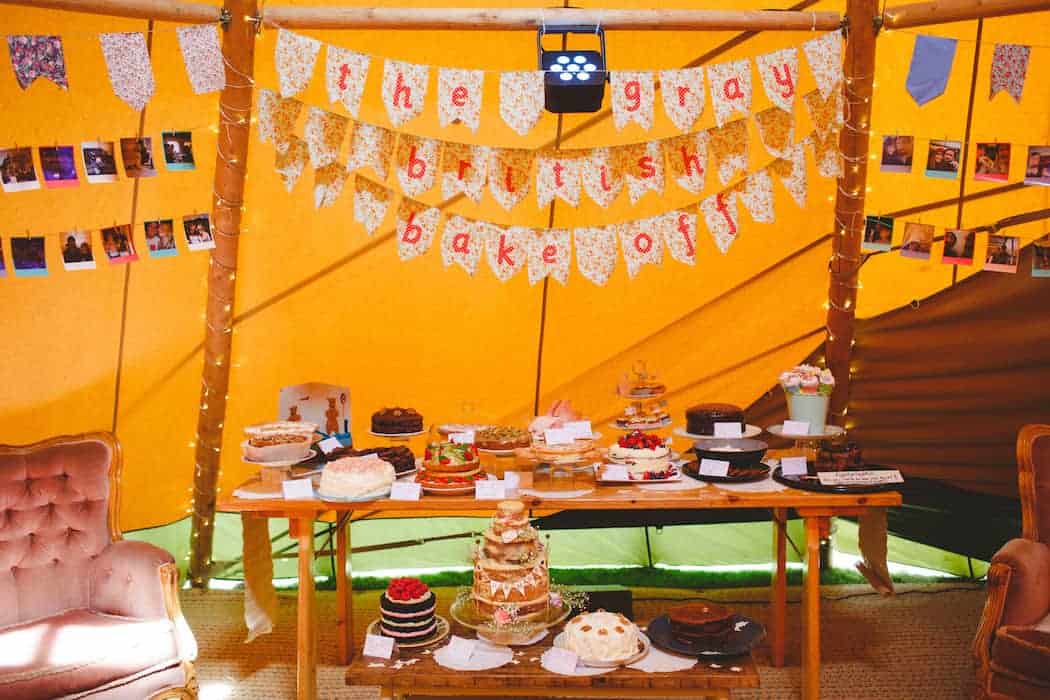 All of the above does not require a catering annexe. Not having a catering annexe is a saving of over £600.
Budget Saving DIY Styling ideas
Believe it or not, your tipis do not need lots of "styling" they really do look incredible and do the talking for you. We would always recommend having fairy lights, these really need to be on the must-have list. They simply help transform your tipi space at dusk, as the light changes so will your celebration space into something very magical.
As with doing your own bar service, never underestimate the time involved with crafting your way through to a super styled wedding. Even the time it takes to set it all up will be 5 times longer than you had ever imagined or planned for. If having your tipi wedding look like it has just popped out of a Pinterest board, it might be that you need the help of a stylist.
A good wedding stylist will be able to work with you to support what you are looking to achieve with dry hire items. This could be a real cost-saving option. If you love brass candlesticks hire them, do not buy them. This goes for bunting, vases, table runners etc. A dry hire option could be the right option for you to achieve the look you want and stay on budget too.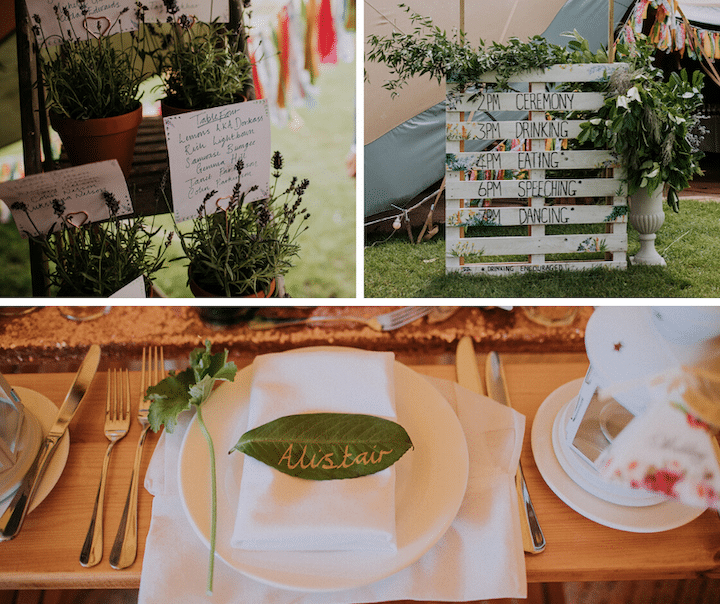 If you are wanting to tackle the crafting projects go for it. Ollie and Sophie's tipi wedding looked incredible and they did this working with cost-effective probs to bring their festival wedding to life. They didn't just use a pallet, they took the time to paint it white with decorative flowers. This created a focal point to the front of their tipis. Around the front of the tipis, they had shredded old colourful cloths to make the rag bunting that decorated their tipi entrance. Their place names were handwritten on to green leaves. Everything about their day looked amazing and was pulled together with family and friends rolling up their sleeves and embracing the DIY element of having a tipi wedding.
Budget Saving Music
If the local band you love is on your must-have list, get them booked! Find out if they can help you with providing music in between their sets. Would the band provide one member to manage the daytime music these could be cost-effective ways to make the most of your wedding band?
A smaller band ie 3 members, will fit perfectly next to the tipis. If you decide on a bigger band – this will require more space – what does more space mean..more money! TIP keep your wedding band small.
However as with everything if a band is not important to you there are saving tips to having the music you love at your wedding. The investment could just be a few £100. Hire in a music system, we have worked with JNS-Hire in the past and link this up to your premium Spotify (yes spend the money on not having adverts interrupt your first dance)!
Create your different playlists for the different times of the day. Consider your ceremony music, background music for drinks and food, then your evening playlist. Keep them as separate lists and delegate the management of this to a groomsman for example. On your wedding invitations, you could even ask guests to make a note of their favourite song. If you like it add it to the playlist.
Spotify Tip; within the settings, there is a playback option, this is where you can change the crossfade so that your songs mix together seamlessly. No one wants a song to stop and then wait for the next one to begin.
Budget Saving Wedding Flowers
Maeve and her bride squad did an amazing job creating their own wedding flowers.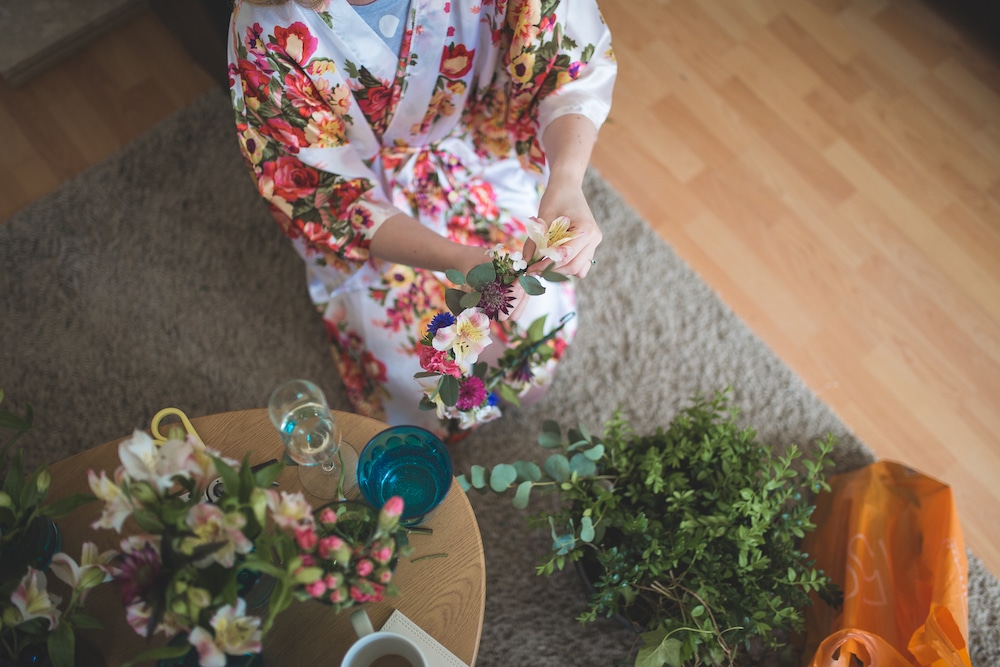 A local flower farm provided them with everything they needed to make the loose tussling bouquets and flower crowns. If you are feeling brave in tackling your own wedding flowers, why not go on a flower course. Maria from The Flower Patch often runs flower crown making workshops. This would be a great way to spend an afternoon with your favourite girlfriends too.
Budget Saving Wedding Rings
Let's face it, if you love the idea of an outdoor wedding, there is a part of you that is embracing the idea of doing as much of this as possible! This can even be extended to your wedding rings. Cyrily Silver offers workshops where you could make your own wedding rings. Personally, I couldn't think of a more perfect way to spend time together to create something to mark the start of your marriage. As a rule, if you are looking to create a gold or platinum ring, this should also be a win on the wedding budget too!
Final Words
Hopefully, you can see from all of these tips, that there are plenty of ways you can save. This style of wedding really does offer you the freedom to create the day that you want furthermore be achieved within budget. If you have not already had a tipi quotation, pop our team and email and talk through the options available to you. We really are here to help.