Festival Tipi Wedding
If you are thinking of having your own tipi festival wedding, Maeve and Kris nailed it.  They got married at the fabulous Mapperley Farm, back in May complete with a mix of woodland, festival tipis and colourful styling.
Celebrating in two giant hat tipis, with their ceremony in the gorgeous woodland area at Mapperley. Just looking through all of their photos you can see that they and all of their guests had the best time everything looks super relaxed, fun and very colourful.
Maeve talks us through their special Festival Tipi Wedding day alongside photo's from the amazingly talented Gracie May Photography.
Enjoy!

What made you decide on a tipi wedding?
We both love the countryside. Having just moved out of London we knew straight away that an outdoor wedding was right for us.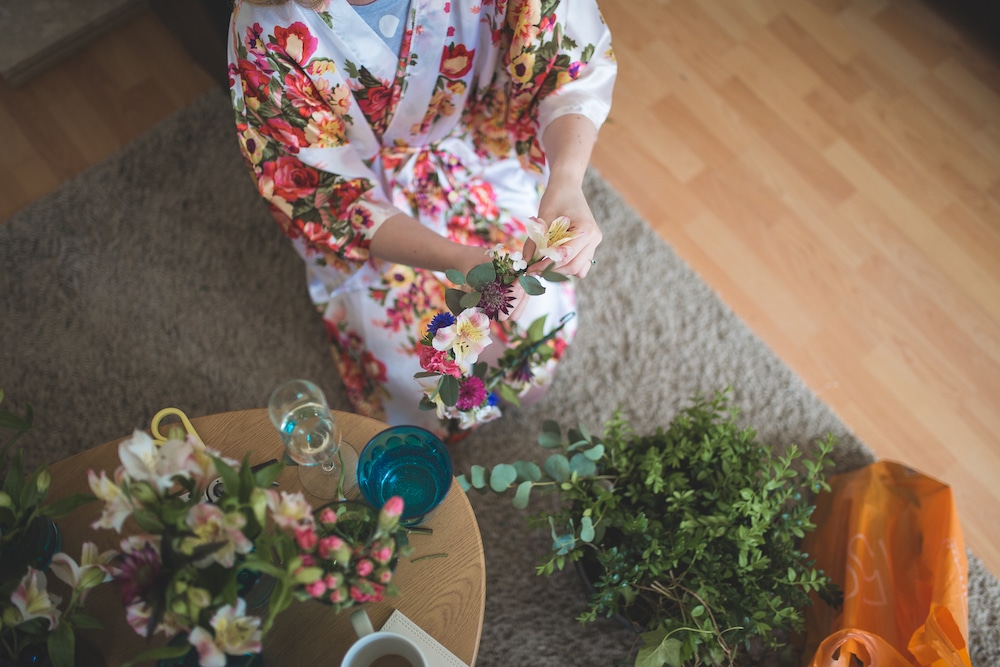 What did everybody wear?
With such a relaxed festival tipi wedding vibe, what did the wedding party wear?
I wore a two-piece from Lucy Can't Dance. The top was a fern patterned lace and the Tulle skirt was dip dyed green to match my engagement ring and the bridesmaids' dresses. Lucy Can't Dance is literally the coolest wedding dress shop around. I was quite nervous about the dress buying and not being massively girly, I was afraid I would struggle but once I stepped into their shop I knew it was exactly right! The whole experience was very relaxed and all the unique designs made me really feel like it was one of a kind!
The bridesmaids' dresses were from ASOS and they were used to pick out the accessories for the groomsmen.
Kris and his best men didn't have button hole flowers and instead had feather pins, which we just loved! They wore brown tweed suits, as we felt a formal suit didn't really match the feel of the wedding. I am sure you'll agree they looked very dapper indeed!
We struggled a little bit to find the right type of tweed suits that could be hired, but Vintage Suit Hire were absolutely perfect! The suits and accessories were fantastic They offered a delivery service to which was a weight off our minds.
Where did you have your outdoor wedding ceremony?
The ceremony was in the woodland on Mapperley farm, which is licensed. We were very keen to have the ceremony at the venue and also have exclusive use. Mapperley farm offered all of this which made it the perfect choice. 
We chose a very low-key informal ceremony. All of our guests sat on hay bales with blankets. As we walked down the aisle we had an acoustic guitarist playing. It was everything we wanted. Relaxed and outdoors in the woodland. 
How did you feed your guests?
We chose to have a relaxed family meal vibe with a picnic basket for each table. The caterer was a family friend. She created the most amazing spread with homemade pies, salads, bread, cheese and pickles.
We are both massive pizza fans so choosing our evening food was easy. We booked The Alpine Pizza co, who have an awesome horse trailer which complimented our theme. They were fantastic and even named a pizza after us for the night!
What influenced your menu choice?
We wanted the entire day to be very relaxed and informal, so we knew the food needed to reflect that. The evening food needed to be something everyone would enjoy and the perfect fuel for that all-important dancing through the night. We also really wanted the cake to be eaten on the night so that was served up later on with cheese and crackers.
How would you describe your theme/styling?
We wanted a festival wedding vibe but in a countryside setting. So we had the flags and the glamping, but we also had hay bales, fire pits and crochet blankets.
Huge festival flags lined the field. The Event Flag Hire Co had SO many to choose from. They also provided beautiful silk coloured bunting to help decorate the tipi.
We chose to source all our flowers locally for ethical reason. We had a mixture of different colours on the tables, in the bouquets and in our homemade flower crowns. Hollybrook Flower Farm were so lovely and provided buckets and buckets of the most beautiful flowers for our special day. Margaret was so helpful in recommending which would work best.
All in all it was a bit of a creative jumble of our personalities spilled into a field!
How did you entertain your guests?
We hired a VW camper van for the wedding car for the bridal party in the morning and then it transformed into a photo booth for the evening which was fab! All of the vintage props made for some fantastic photos and everyone loved having a print to take home with them.
The band was a big decision for us but as soon as we saw The Burgundy's at a Sami Tipi event we knew they were perfect! They were so much fun on the night. Many of the guests commented on how amazing the band made the evening.
How did you choose you photographer?
Our photographer was a friend who now unfortunately lives abroad but she was the only choice for us really, and very luckily she agreed to travel over for our special day. She was so calm and collected, knowing exactly what she wanted so we didn't need to worry at all. All of the photos came out so beautifully and she really captured the essence of the day.
What are your Top Tips for planning a tipi wedding?
My top tip would be to do what you want which sounds weird I know! This is your big day and it needs to be exactly what you want as a couple! Sometimes other people might feel the need to express their opinion about a choice you make, but I say do what makes you happy – it's your wedding after all 🙂
We hired a glamping village for all our guests to stay in. Bellows were amazing and so helpful and there were so many little touches in the tents making them extra special.
Maeve and Kris had the perfect wedding celebration for them. Creating a relaxed festival vibe whist embracing the countryside and its surrounding. Colour was a big thing for their day, brought through with their flowers, festival flags and tipi bunting.
If you are interested in creating your own tipi festival wedding get in touch today.
Suppliers Involved
Tipis | Sami Tipi
Venue | Mapperley Farm
Photographer | Gracie May Photography
Catering | The Alpine Pizza Co
Band | The Burgundy's
Flowers | Hollybrook Flower Farm
Transport & Photobooth | The Campervan Wedding Company
Wedding Dress | Lucy Can't Dance
Suits | Vintage Suit Hire
Glamping | Bellows Glamping
Looking For More Inspiration?
Take a look at these for more festival vibe wedding inspiration;