Waterfront Wedding Venue
This week's real wedding takes us to Cuttle Brook, in Swarkestone. A beautiful waterfront wedding venue for the celebration of Becky and James. They celebrated in two giant hats and chill-out tipi back in June and had the most wonderful day surrounded by family and friends.
They wanted to create a boho themed, super relaxed day – and with everything from Becky's stunning lace boho styled dress, and their perfect outdoor ceremony overlooking the river, to the fun outdoor games and beautiful floral displays – they really did achieve the perfect day!
Becky talks us through their waterfront wedding in more detail here alongside gorgeous photos from the super talented Rosie Kelly Photography.

Why a Waterfront Wedding Venue?
Cuttle Brook offered us the waterfront wedding venue that we had also wanted. It gave us the flexibility to offer our own welcome drinks without a corkage charge. This was important too. For this I purchased an old tin bath which we filled with ice and beer. The beer bath was a real hit. We had a fruit flavoured water station to0 served in large kilner jars, so guests could easily help themselves. Which as great as it turned out to be a really hot day.
In the evening we had Mambo Mobile bars take over. They were brilliant creating a bespoke drinks menu including cocktails and beers.
Cuttle Brook offered us a lot of freedom to create the day that we wanted and being a waterfront wedding venue was a real bonus to us.

What made you decide on an outdoor / tipi wedding?
We decided to have an outdoor tipi wedding as we didn't want the fuss and formalities you get with lots of wedding venues. We were also really keen to do a lot of the styling and set up ourselves. 
Having the tipis was great as we could personalise them to our style and have a relaxed and fun day.
What did everybody wear?
I wore a Grace Loves Lace backless dress which had a boho feel to it. It felt really in keeping with the tipis and the venue.
The groom wore a Jacket and chinos from Paul Smith. The bridesmaids wore floor length ASOS dresses which had floral embroidery on them.
The general look was laid back, nothing too formal and that worked with our gorgeous waterfront wedding venue too.
Describe your ceremony for us.
Our ceremony was held at Cuttle Brook by the river, which is a stunning waterfront wedding venue. We were really lucky with the weather as it was a lovely sunny day. The guests sat on benches and we had the ceremony under a wooden arch that my dad had made, which was decorated with flowers. Jo from My Perfect Ceremony did the service, she kept it really personal to us and it was lovely.
How did you feed your guests?
Our food on the day was all provided by Thomas the Caterer. They were amazing and created a lovely Italian style menu for us. We had antipasti sharing boards for starters. For the mains a whole porchetta per table which the guest had to carve themselves. This was accompanied with lots of lovely different salads. The deserts were also sharing style. Including mini brownies, sticky toffee puddings, Eton mess and lemon posset. all brought out on big boards to help yourself to.
Thomas also created amazing canapés for the drinks reception, especially the steak wrapped chip! And in the evening we kept it simple and had cheese and biscuits and sausage rolls.
How would you describe your theme / styling?
The theme and styling of the day was laid back, boho, English countryside style. We didn't want anything to feel too formal, we had hay bails outside for guests to sit on and giant jenga and  a coconut shy for people to play with. 
Catkin Flowers provided us with amazing english flowers from her cutting garden which myself, my mum and bridesmaids arranged in little vintage cut glass vases for the tables. A family friend created beautiful arrangements in milk churns at the entrance to the tipis and on the bridge that the Cuttle Brook runs under. 
Rachel from Catkin also created an incredible foliage hanging centre piece which hung inside the tipis and all our bouquets and button holes. Her flowers and styling really helped to create the wild english garden look we wanted.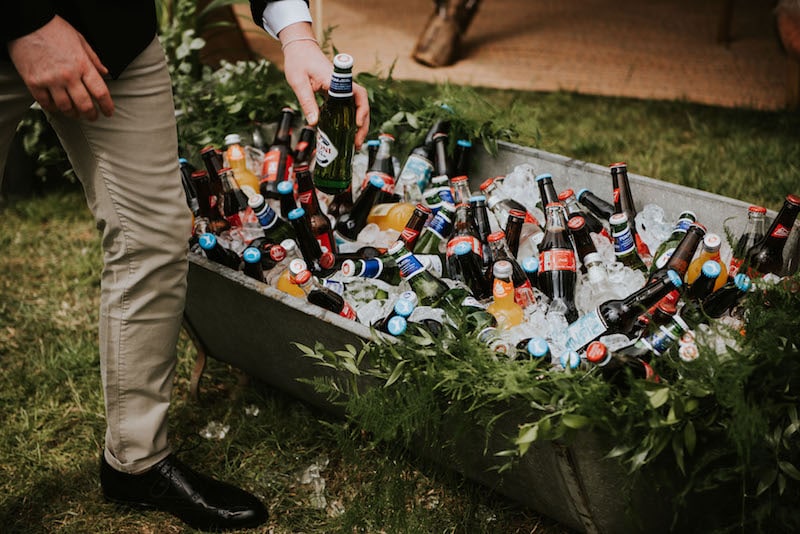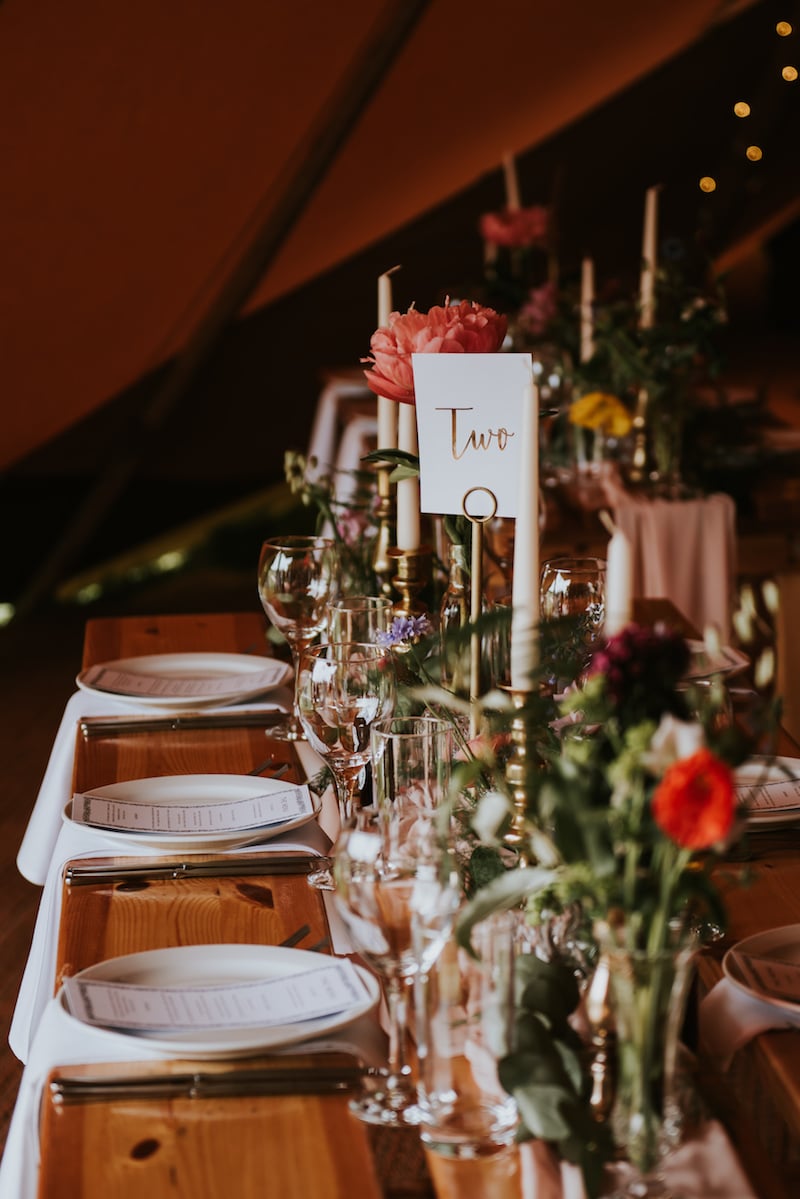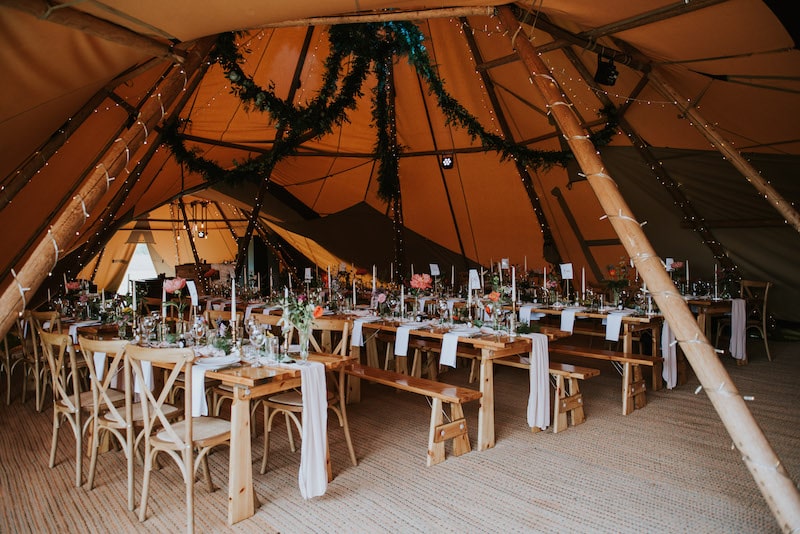 What are your Top Tips for planning a tipi wedding?
Our top tips for planning a tipi wedding are;
Get lots of family and friends involved to help out on the set up the day before the wedding. We really enjoyed setting it all up and everyone doing it together, it made the process really fun. 
If you plan on having the ceremony outside make sure you have a plan B, just in case.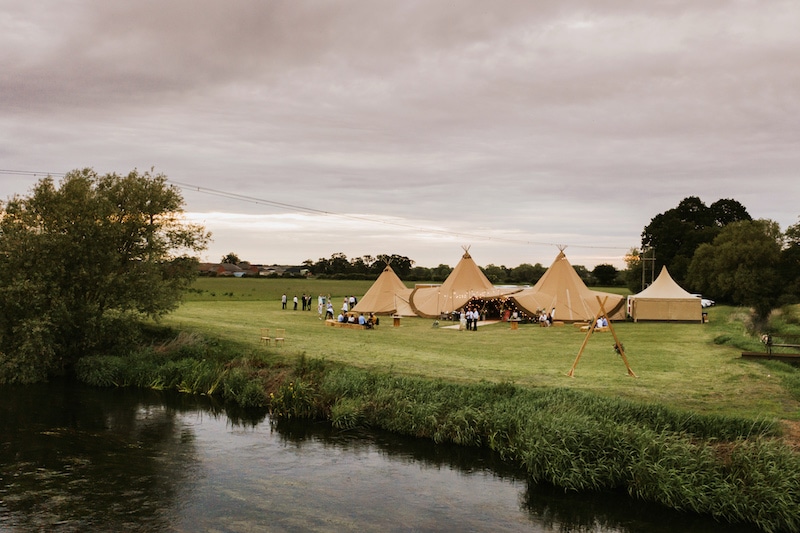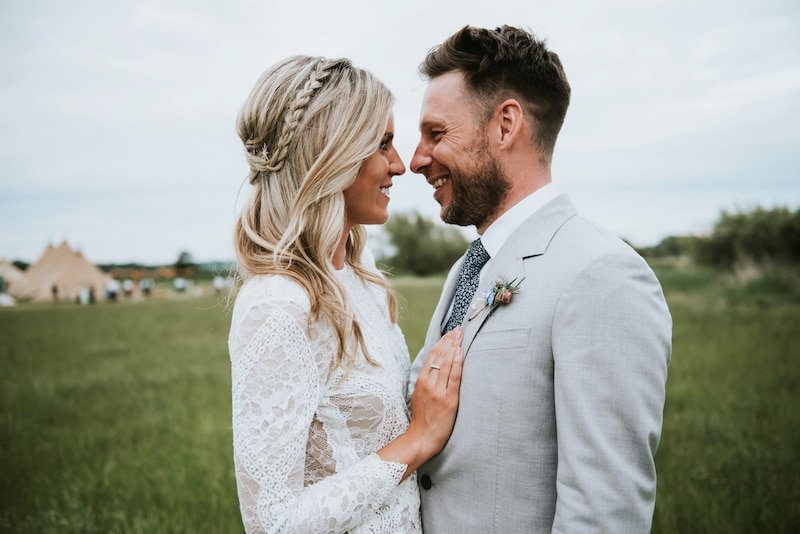 A few more Top Tips
Hire really great suppliers. Ours were all amazing and it took out a lot of the stress when planning the wedding. 
Make lots of lists! 
Do what you want to do and have the day that is right for you as a couple.
Suppliers Involved
Tipis | Sami Tipi
Venue | Cuttle Brook
Photographer | Rosie Kelly Photography
Catering | Thomas The Caterer
Bar Service | Mambo Mobile Bars
Florist | Catkin Flowers
Celebrant | My Perfect Ceremony
Make Up Artist | Josephine Way
Styling Props | Tara Knott Styled Events
Wedding Dress | Grace Loves Lace
Cake | Hello Cake
It is always an honour to be able to share in a couples day having an understanding of what they want to achieve. Becky and James always said that they wanted an informal wedding with out the fuss. They wanted to be able to surround themselves with family and friends not only for the wedding day but the run up to it as they pulled together all of their styling they had created themselves. Creating something that was very personal to them and also relaxed and lots of fun. I think we can safely say they nailed it!
Find Out More
If you are interested in hosting your own outdoor celebration at this stunning waterfront wedding venue in Derbsyhire, get in touch. The Sami Tipi team will be only too happy to meet with you to show you the site and everything that it offers.