Real Wedding
This weeks real wedding takes us to the absolutely stunning wedding of Olivia and Chris.  They celebrated at Field & Forest Weddings in three of our giant hat tipis. Being vegan having a plant based menu that everyone will enjoy was also a key priority.
They had The Curries to photograph their day, who absolutely nailed it!
Creating a vegan wedding menu for all to Enjoy
There is so much happiness and laughter alongside gorgeous styling touches, splashes of bright florals and their wedding food was full of colour it looked truly mouthwatering – no one would have guessed that it was a fully plant based vegan menu including the desserts!
Olivia talks us through their special day…

What made you decide on an outdoor/tipi wedding?
We love being outdoors and both grew up in the countryside. It's where we feel most at home so what better place to declare our love for each other in front of the people we love the most?! We wanted a tipi because it blends into the surroundings and gives the perfect mix of indoors and outdoors. Tipis also transform as the sun goes down and become cosy inside and beautifully lit on the outside.
This style of wedding fit perfectly with everything we wanted to create, something super relaxed, fun and more importantly have the plant based wedding menu that was important to us.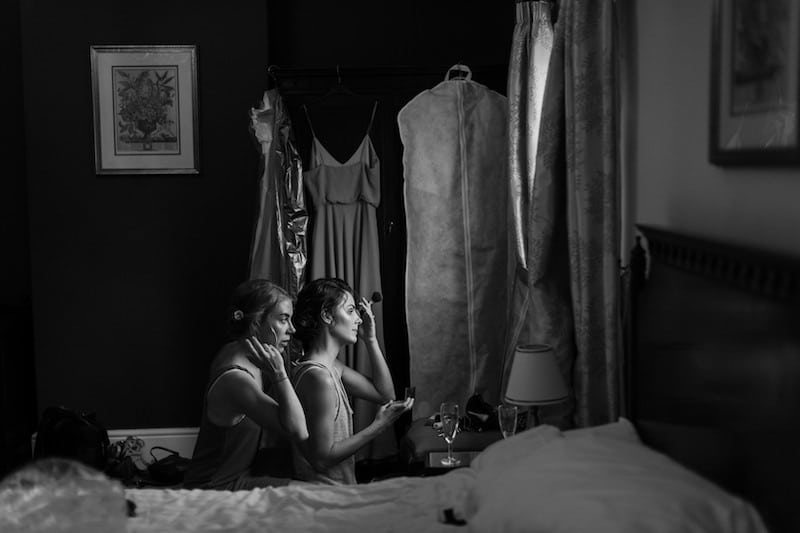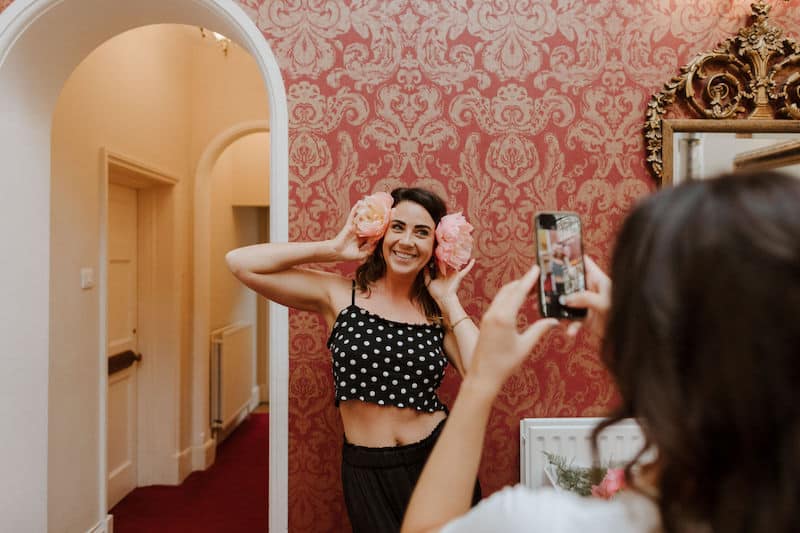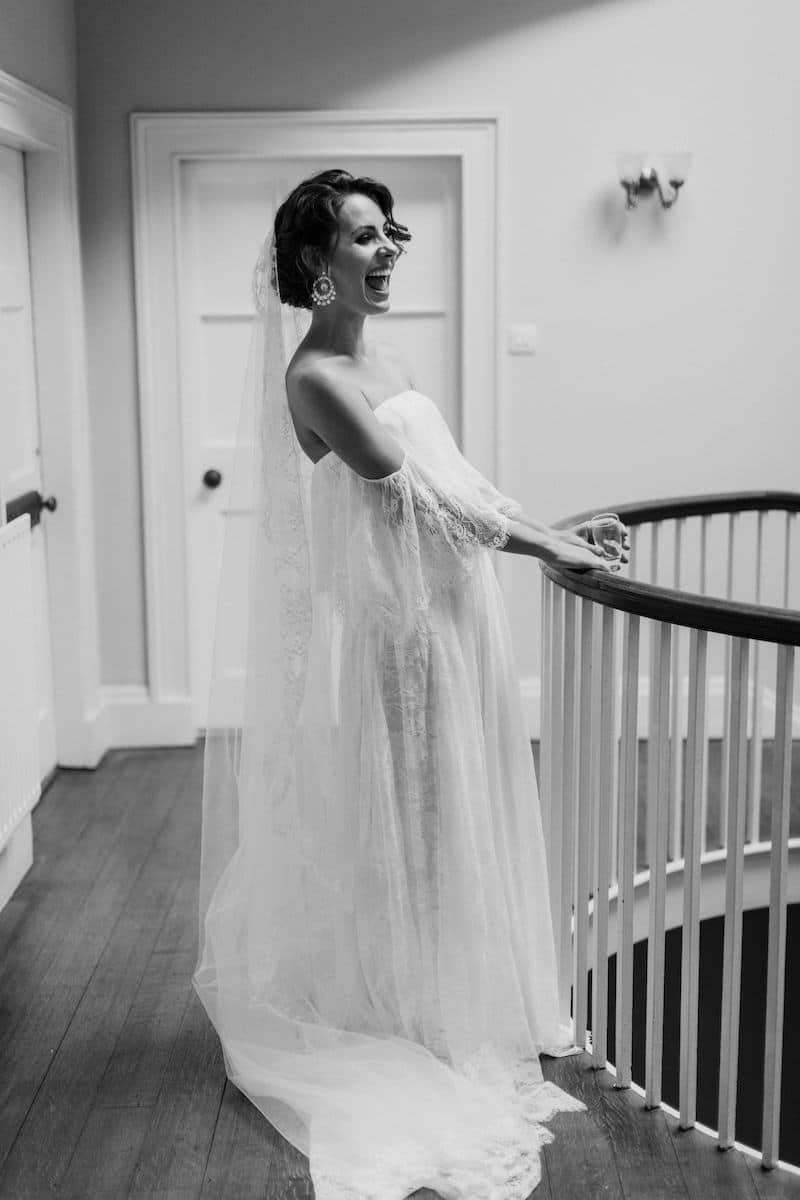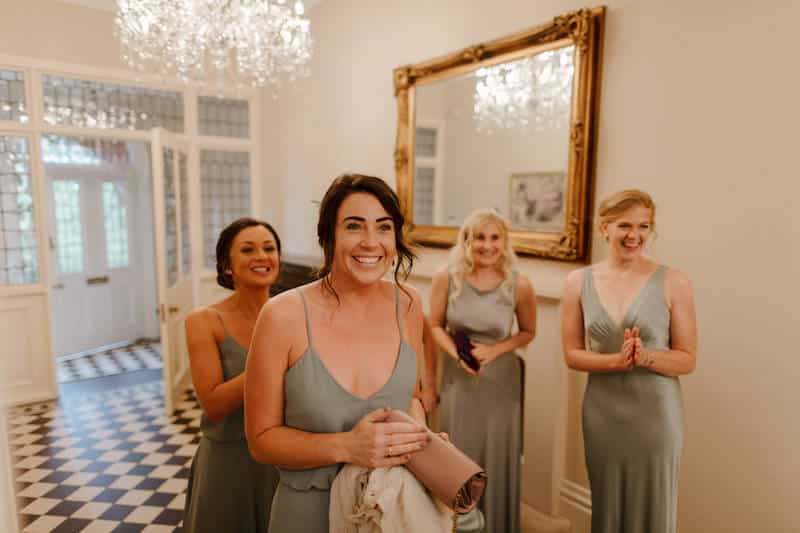 What did everybody wear?
Chris wore a bespoke suit from 'Tailor Made London.' The place is amazing – you get a 3D Body scan so it's the perfect fit and you can choose from over 3000 different materials. He went for a green check three-piece. Perfect for the forest! 
I wore a beautiful lace floaty dress from 'Grace loves Lace' and my bridesmaid dresses were from the amazing 'Ghost'.
Top tip – look online for people selling their bridesmaid dresses. They are usually only worn once so are in amazing condition.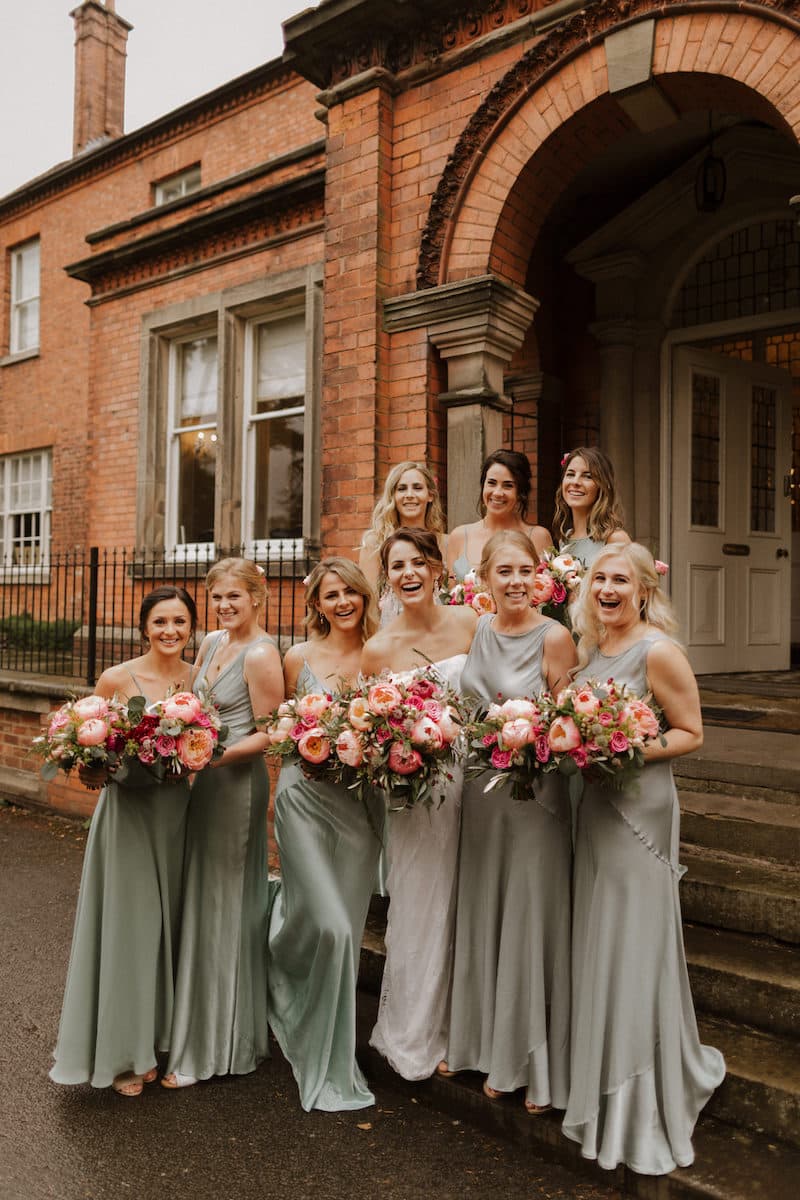 Where did you have your ceremony?
We got married at Field and Forest in the National Forest. It does exactly what it says on the tin…it was literally just a field and a forest. A blank canvas, which is exactly what we wanted. Our ceremony was in a clearing in the woods under a beautiful tree. Chris's best friend is a West End leading man so he sang us down the aisle to 'The Luckiest' by Ben Folds, accompanied by the Herringbone Cocktail Club. Our close friend took the ceremony and we had lots of personal touches, both humorous and sentimental. A highlight was our Cockapoo puppy running down the aisle as ring-bearer!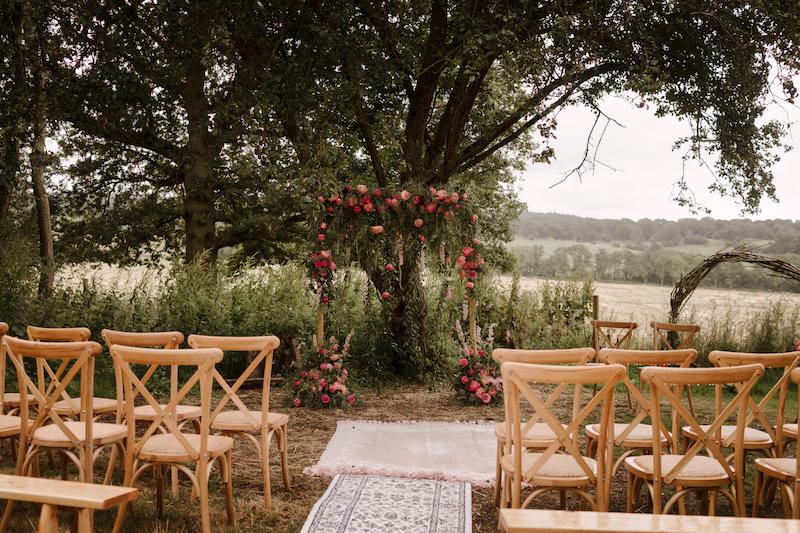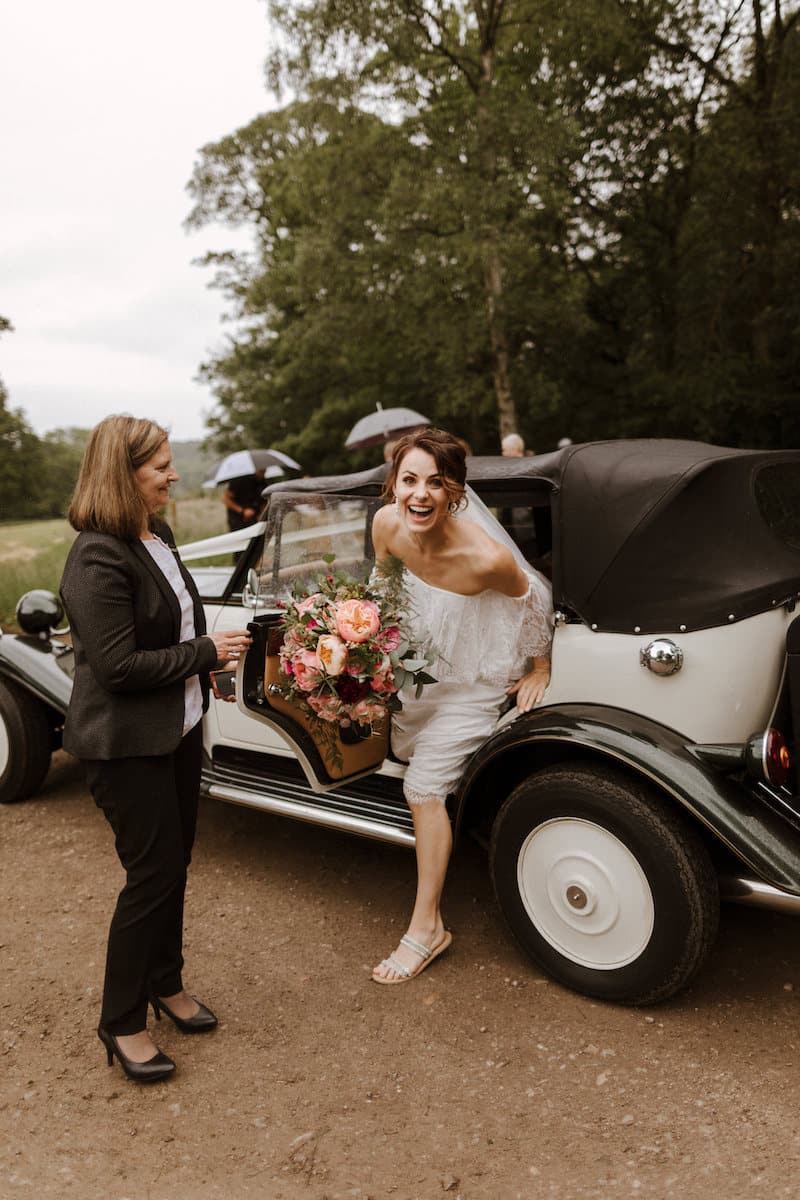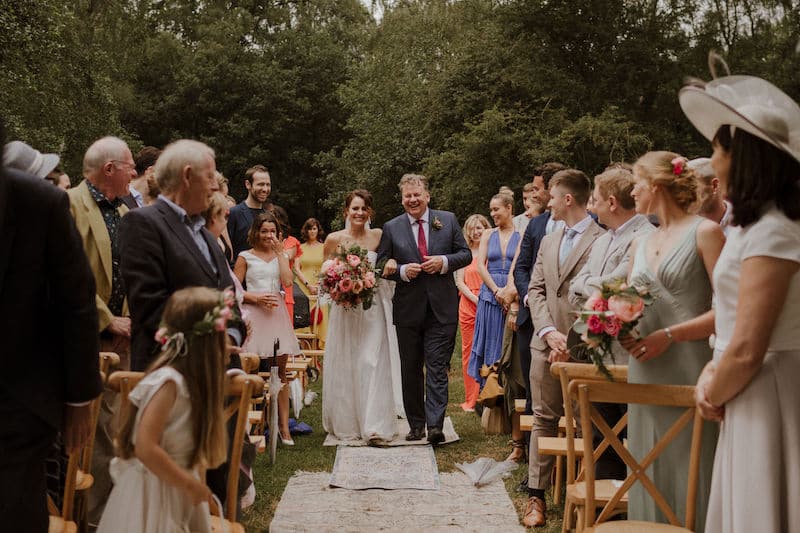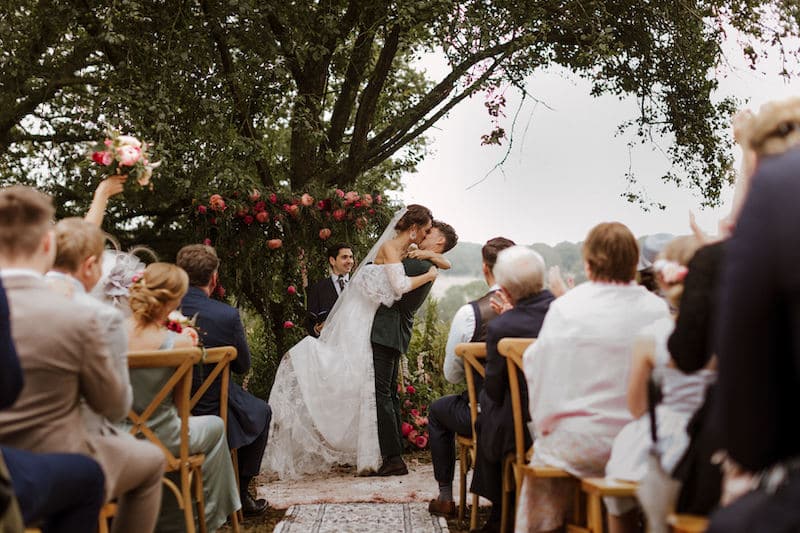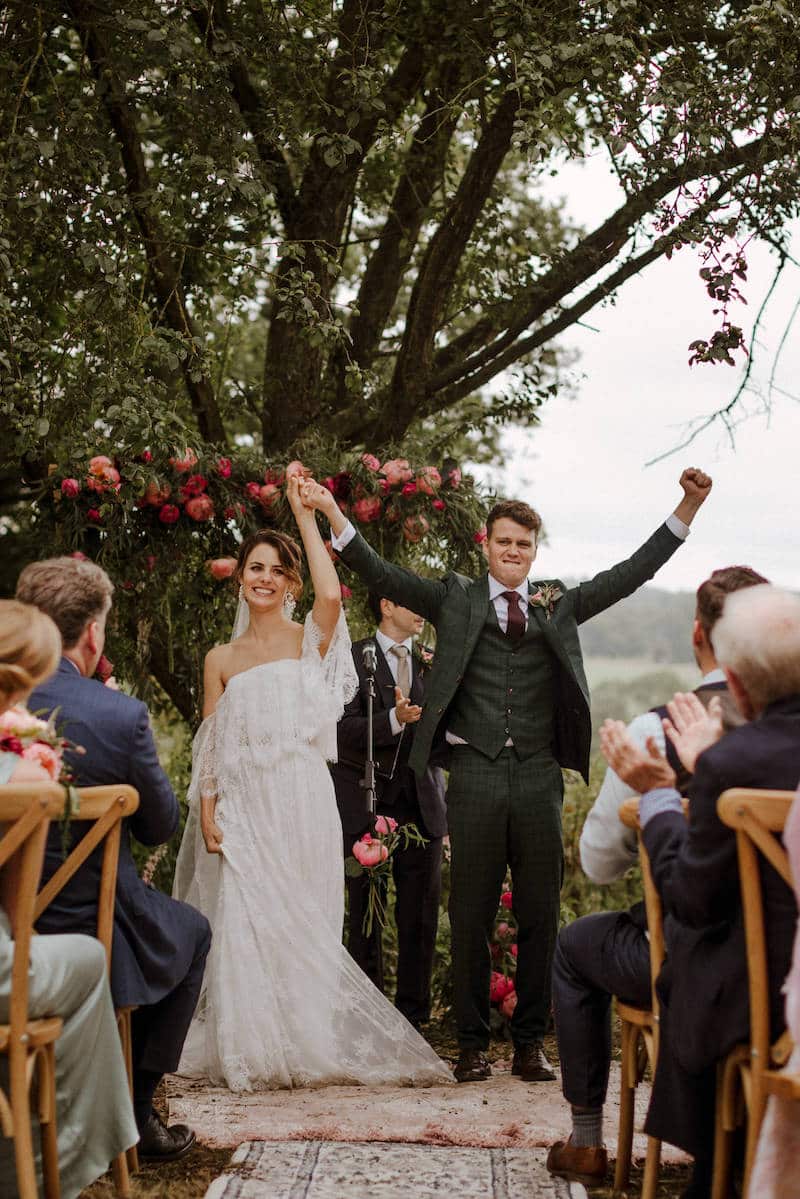 How did you feed your guests?
Chris and I are both vegan and it felt wrong to us to have meat at a day which is about us and that we are paying for! So we decided to have plant based food. We had sharing platters and there was loads of food. Our aim was to have a colourful feast and for people to not notice that anything was missing! We didn't see anybody sneaking a sausage out of their handbag so it seems all were happy and full.
We continued our plant based feast with brownies and ice-cream!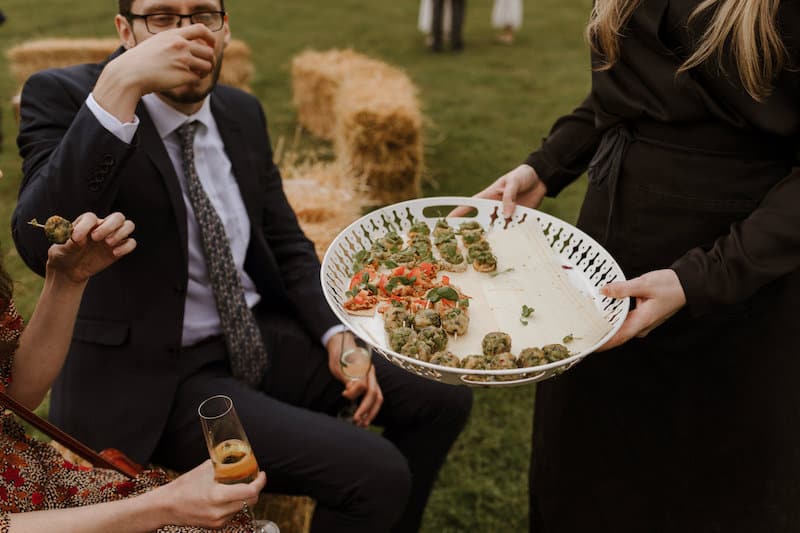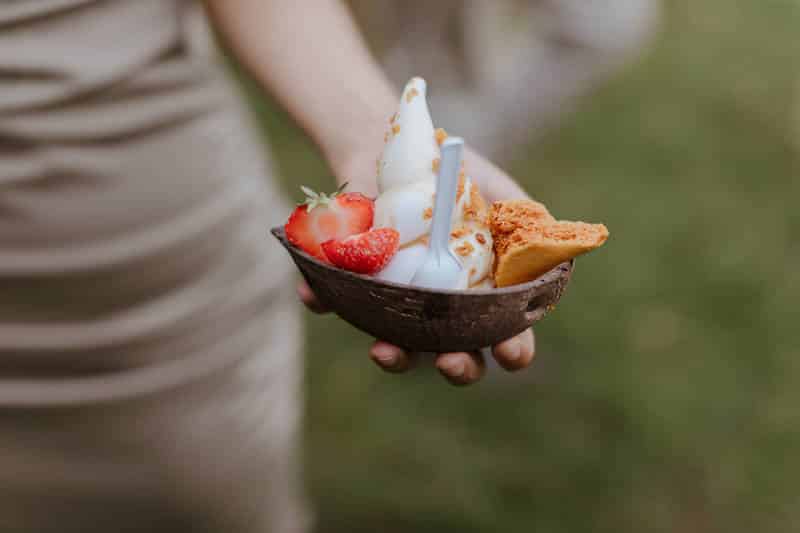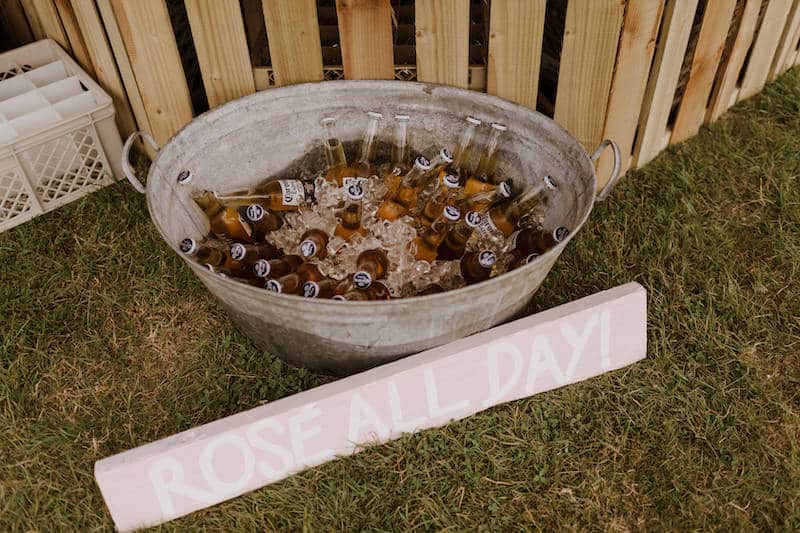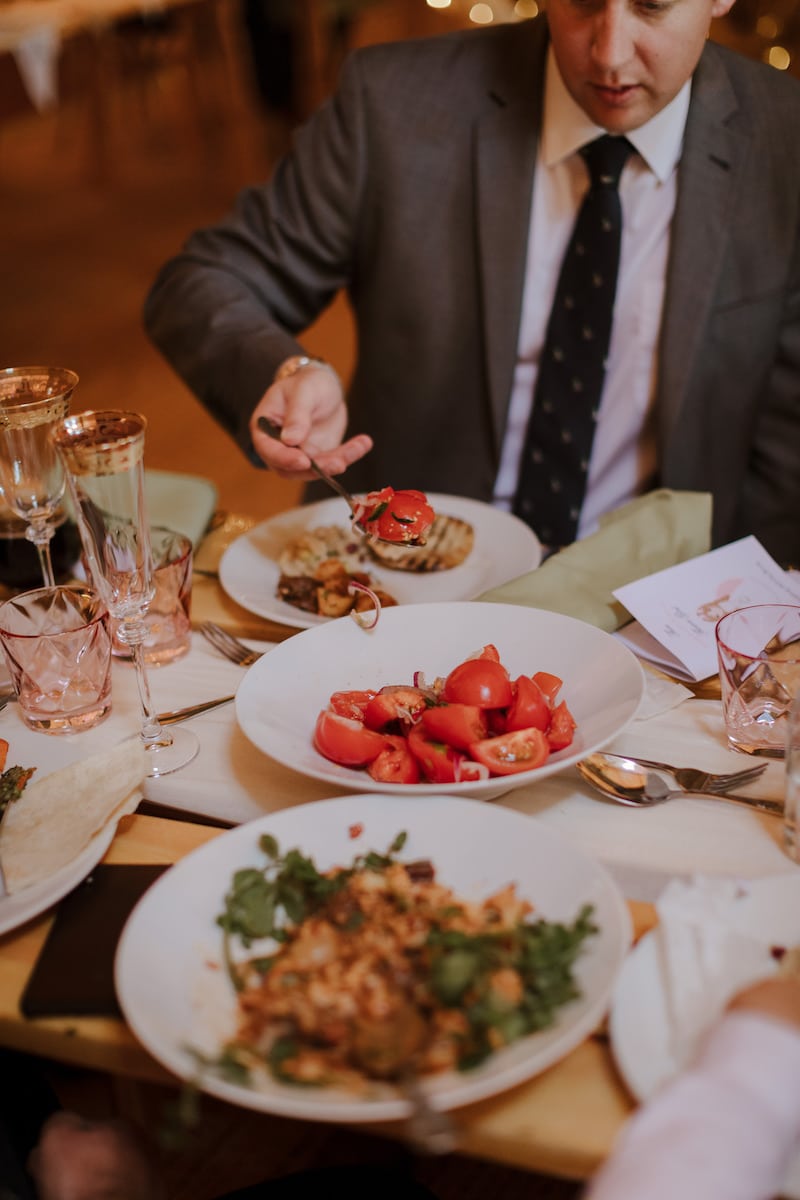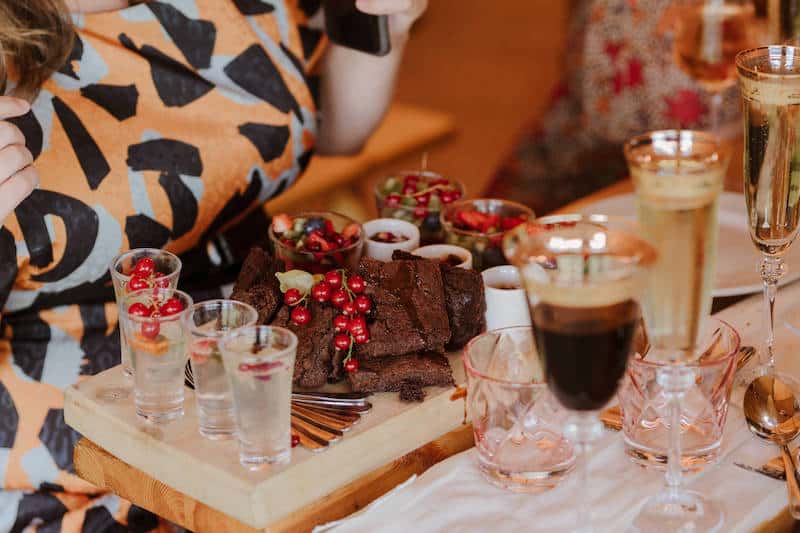 How would you describe your theme/styling?
I'd say it was woodland boho! We had dreamcatchers we made ourselves hanging from the trees, signs with our favourite song lyrics on that we painted with our family using reclaimed wood and a Pimms table made from a ladder with wooden planks across it. The centrepiece of the day was the incredible Peony flower arch (Made by the fabulous Tineke Floral) that was the backdrop to the ceremony and then moved down as the entrance to the tipi.
Tineke Floral. Wow. Such beautiful flowers. Words can't describe! Kerry is so knowledgable and generous with her flowers…everything was so much bigger and more colourful than we could have imagined.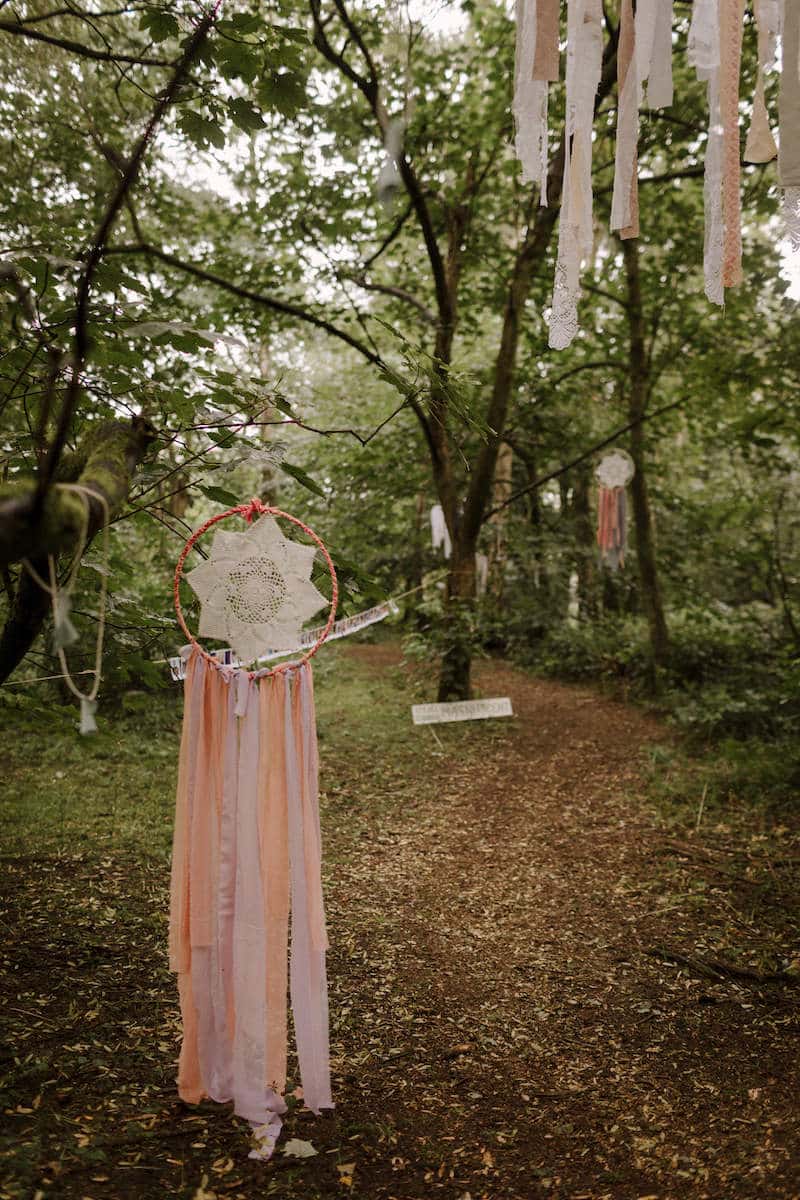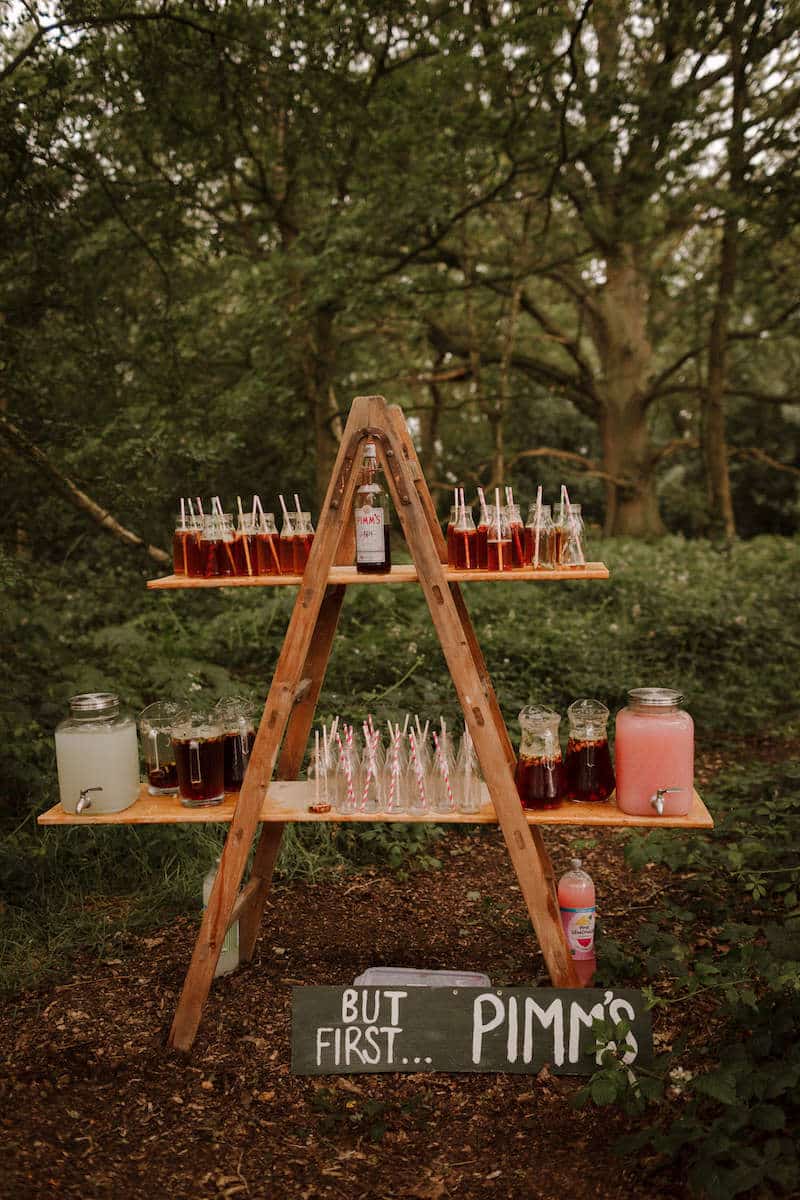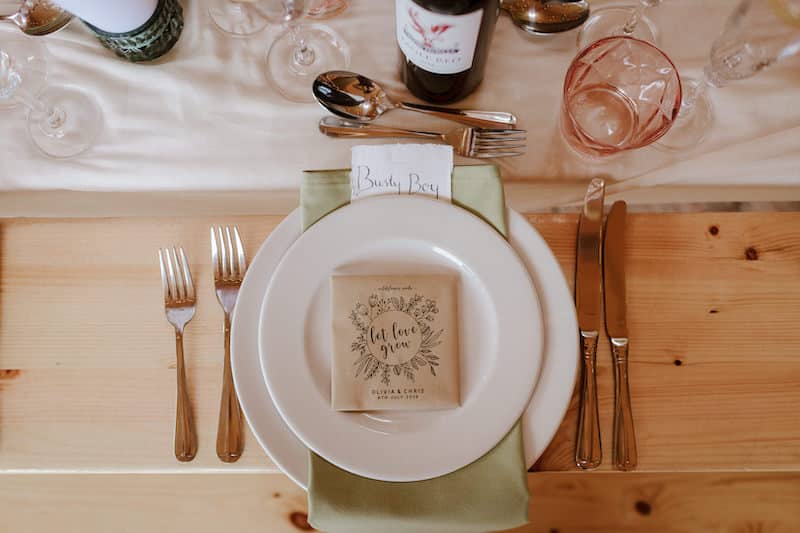 How did you entertain your guests?
Herringbone Cocktail Club played in the woods as guests arrived, during the ceremony and then outside the tipi before dinner. They learnt two songs that we requested and even had a rehearsal with our singer. We couldn't recommend them highly enough. 'Gypsies of Bohemia' played in the evening and the party was insanely good. They played our first dance perfectly and then took the roof off with their unique style.
Magic Matt. He is the resident magician at Manchester United (don't hold it against him…) and roams around amazing everybody. He's especially good at pick-pocketing so watch out!
Photographer Praise
The Curries. Chris and Gillian are a couple from London and are insanely talented. They were so lovely and fun that it put us at ease. The photos are so distinctive and we wish we could plaster our walls with all of them!
Tipi Praise
Sami Tipi. They were incredible! The meeting we had 6 months out with Jodie made us feel so much better about our preparations. We knew everything was in safe (and organised!) hands. She also put us in touch with lots of our other suppliers.
Creating our plant based wedding menu was really important, Jodie found us Vegan marshmallows and introduced us to Elly at Froconut who served up delicious plant-based coconut 'ice-cream'.
What are your Top Tips for planning a tipi wedding?
Organisation is key. Try to book what you want as early as possible so you know what you can afford as during the run up to the wedding you end up spending extra cash for last minute bits.
If you can, use suppliers who have worked with the tipi company before, it makes it so much easier!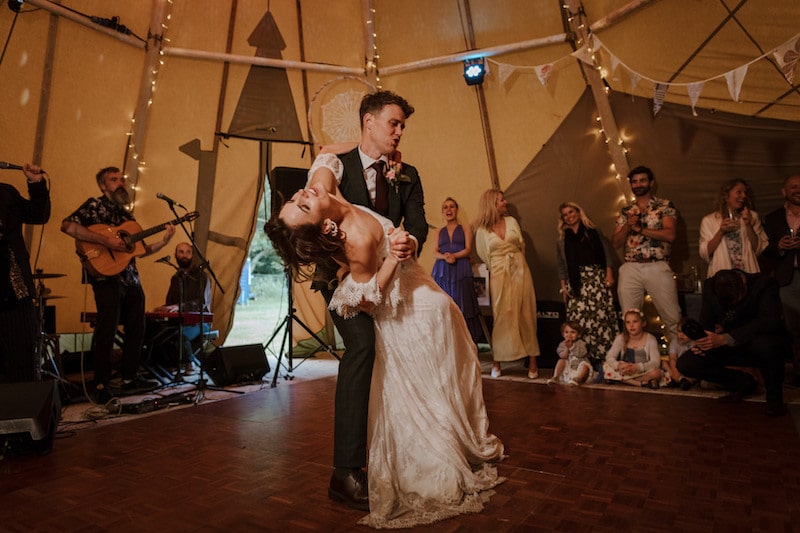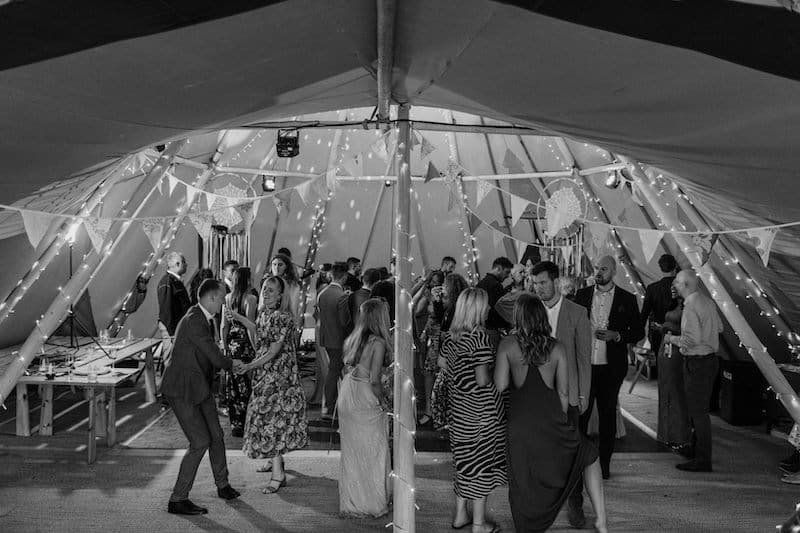 A couple more Top Tips…
As you'll probably have a few different suppliers, we highly recommend getting a wedding co-ordinator for the weekend. They can organise delivery and pick-up times plus make sure everything runs smoothly on the day. We had Cathy from Boelle Events. Cathy contacted all our suppliers and organised the comings and goings on the site. She's also a talented stylist so was a massive help during set-up and rented out a few of her own bits of furniture which fitted perfectly with our theme.
Oh, and get a magician to wander around! We did and it was perfect for that period between ceremony and dinner and a great ice breaker for guests to interact.
Suppliers Involved
Tipis | Sami Tipi
Venue | Field & Forest
Photographer | The Curries
Florist | Tineke Floral Designs
Catering | Kemp & Kemp
Ice Cream | Froconut
Wedding Planner | Cathy Boelle Events
Transport | Wedding Cars of Derby
Band | Herringbone Cocktail Club & Gypsies of Bohemia
Magician | Magic Matt 
Crockery Hire | White House Crockery
Bride's Dress | Grace Loves Lace
Grooms Suit | Tailor Made London