What is a Micro Wedding?
In essence, a micro wedding is a wedding celebration with smaller guest numbers. It is an intimate celebration with guests typically no more than 50. This is about surrounding yourself with your closest family and friends without the "obligation" to invite cousins or partners that you haven't seen in years or even met!
There is a real focus on having the celebration that you want, which we always feel is important. You can still bring in the wedding traditions you still wish to enjoy and losing the ones that are less important to you.
Order of the day
As with a bigger wedding, your micro wedding would begin with the wedding ceremony. With your guest list being those that you love dearly they are more likely to be with you all day instead of having lots of additional "evening guests" the work colleges joining you later in the day.
After the ceremony, there are 3 things to consider; Food, Drink and Music!
Wedding Catering for a Micro Wedding
Your food will be a big part of the experience for you and your guests, so take the time to discover a caterer who understands what you want from your wedding menu.
Our recommendation for this is to have food that you enjoy eating. Work with a caterer who can create a delicious menu that reflects your tastes and personality. Just because you are having a micro wedding doesn't mean you cannot have the most exquisite food – this really is about having exactly what you want without compromise.
The benefits of a Micro Wedding
If you are considering a micro wedding, you know that those, 30, 40, 50 guests that are with you are guests you absolutely want by your side. You will have more time to enjoy being with your new husband or wife and more time being with your guests. Overall you will enjoy a more relaxed day. For some of our couples it also has the benefit of fewer eyes on you!
With a smaller wedding, you can take the time to create more meaningful and personal touches such as handwritten place cards. Writing 30 of these instead of 100 seems somewhat more manageable – but this is if you want to. With any outdoor wedding, you do what you want to do, what makes you happy as a couple.
A micro wedding naturally means fewer people to please and ultimately can be less stressful. Stripping the planning and wedmin right back.
This size celebration can save you money or at least allow your budget to go further on important details to you both.
Is a micro wedding a compromise?
NO! A smaller wedding is not about compromising. It is about having exactly what you want from your day, after all, this is about you celebrating with your closest family and friends. With fewer guests, the budget can go further on spoiling them and you all having the best day ever.
You can still have everything you want from a wedding stylist, wearing the dream dress or tailored suit to a wedding photographer. Yes, we still recommend having a photographer. It is not every day you get married surrounded by the most important people in the world to you – so 100% hire the photographer.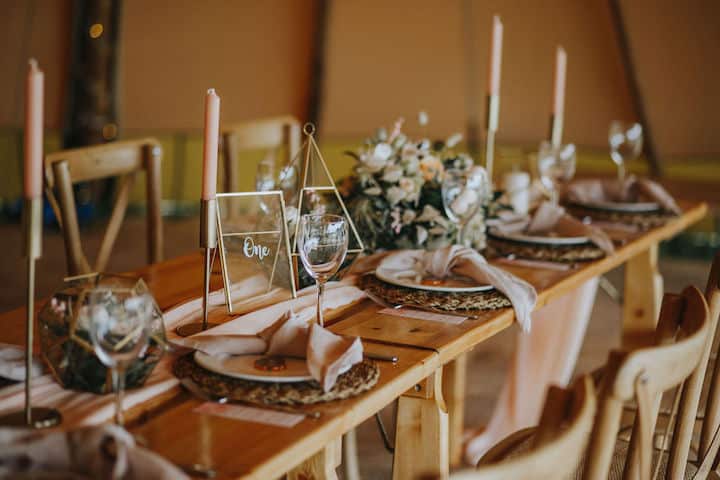 Where to begin
When planning any wedding whatever the style you choose, the starting point is always the guest list. Take the time to write this, start with those guests you really want by your side, the non-obligation guests, forgetting the distant cousins or partners of you have never met. Need a little help? Have a look at our Guest List Selector.
This really is about the two of you coming together and celebrating with your closest family and friends, who they themselves would not want to miss this for the world.
Create The Right Space for you
Here are a few sample layouts of different Tipi and Sailcloth options to get you started;
The Chill-Out Tipi
The chill-out tipi measures just over 8m in diameter so is the perfect size for an intimate celebration. Perfect for a smaller wedding celebration, maybe even in the garden.
One Giant Hat Tipi
The giant hat tipi measures just over 10m in diameter. Offering a little more space than the chill-out tipi this gives an option to add in a small dance floor too.
One Giant Hat with Chill-Out Tipi
This combination of the giant hat with chill-out tipi is such a gorgeous space. Measuring just over 18m in length. For a small wedding celebration this could offer the three key spaces you may be looking for, namely; Drinking, Dining and Dancing space.
One Pole Sailcloth Tent
With its clear walls, the sailcloth tent offers a contemporary alternative to the Tipis. Measuring 12m in diameter it is a perfect space for a mico wedding celebration.
Get in Touch
If you are considering a micro wedding get in touch today to talk more about your ideas and plans. We can work with you to create the right celebration space for you. The above illustrations are there to give you a guide, our job is to understand how you see your day so together we can plan a space that is right for how you choose to celebrate. Email [email protected] or call us on 01332 806040.
Further Inspiration
If you are looking for more ideas from styling to how other couples have enjoyed smaller wedding celebration, take a look here;
Photographer Credits
Hannah Hall Photography
EKR Pictures 
Magda K Photography
Christopher Terry Photography 
Ed Brown Photography