The Perfect Sparkler Send-Off
We love a sparkler send-off, they create such a magical moment and a wonderful photo opportunity. Creating a photo of what looks rather impromptu actually does take a little bit of forward planning.
We've put together our tips and advice for capturing a seamless sparkler send-off.
How to Create the Perfect Sparkler Send-Off
The Sparklers
Size Matters! Yes, even the size of your sparkler matters. Go big, an 18-inch sparkler is going to last longer than your short fireworks night style. You want them to burn as long as possible to allow your guests time to get lit, lined up and give you time to walk through the sparkler walkway whilst your photographer captures that all-important shot.
Buy Plenty
Aim to purchase two sparklers per guests so they can hold one in each hand. This will also help give off more light which is a photographers dream.
Timings
This is key! Again a little forward planning. You want it to be dark enough outside but not too late that all your guests are a little too merry to actually be responsible for holding a sparkler. Check ahead of what time it gets dark and also consider what time your bands first set finishes, this might time perfectly for your sparkler send-off. The band or DJ could even make the announcement for you.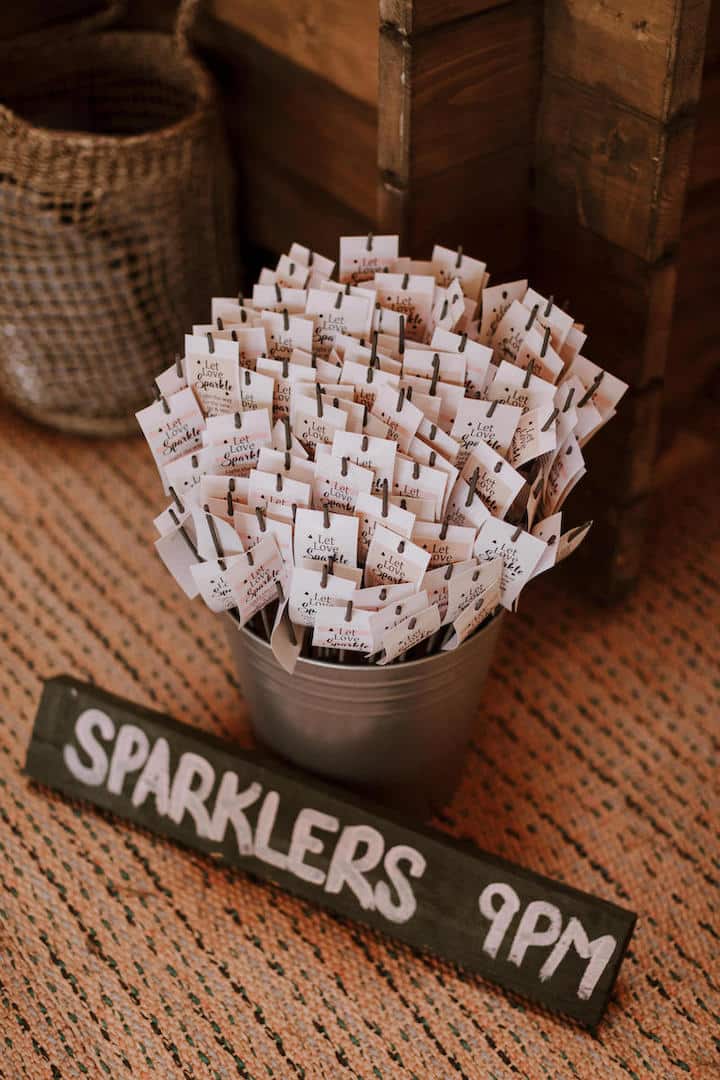 Lighting Up
The timing here is key. You need to get everyone's sparkler lit and quickly. The best way and our biggest tip to this is to ensure you have plenty of lighters to hand.

The Guest Lineup
With everyone's sparklers lit you now want your guests to create two lines down your walkway, giving you space to run through with your own sparklers.
Enjoy It
The key to this is to have fun with it and enjoy it. If you are laughing and taking the moment in this will shine through to your guests and your photos too.
Afterwards
With 50 plus dead sparklers, they all need to go somewhere! If you have displayed them in a bucket of sand, this is now the perfect place for your dead sparklers to go.