Neutral Colour Theme Tipi Wedding
When a naturally creative couple plan their tipi wedding, you know you are in for a treat. They always see the space as a playground to literally get creative and express their own personalities. Amber and Rich did exactly this. Amber is a textile designer and wanted to a neutral colour theme for their tipi wedding;
"The tipi was the perfect canvas for an individual and spectacular wedding venue. It was already so beautiful inside with fairy lights and over head lighting, but by adding bunting and hundreds of fresh flowers we created a botanical, Scandinavian feel. We kept to a neutral colour theme and let the tipis do the talking".
Amber and Rich had an outdoor wedding ceremony conducted by the lovely Jo from My Perfect Ceremony. Amber arrived through the tipis making an entrance to the outdoor ceremony. She looked absolutely stunning. The photos capture the emotion of the day and I think we can see that Rich was blown away when he saw his beautiful wife to be.
Amber and Rich nailed their own design brief. With white flowers and simple greenery the natural colour scheme worked a dream.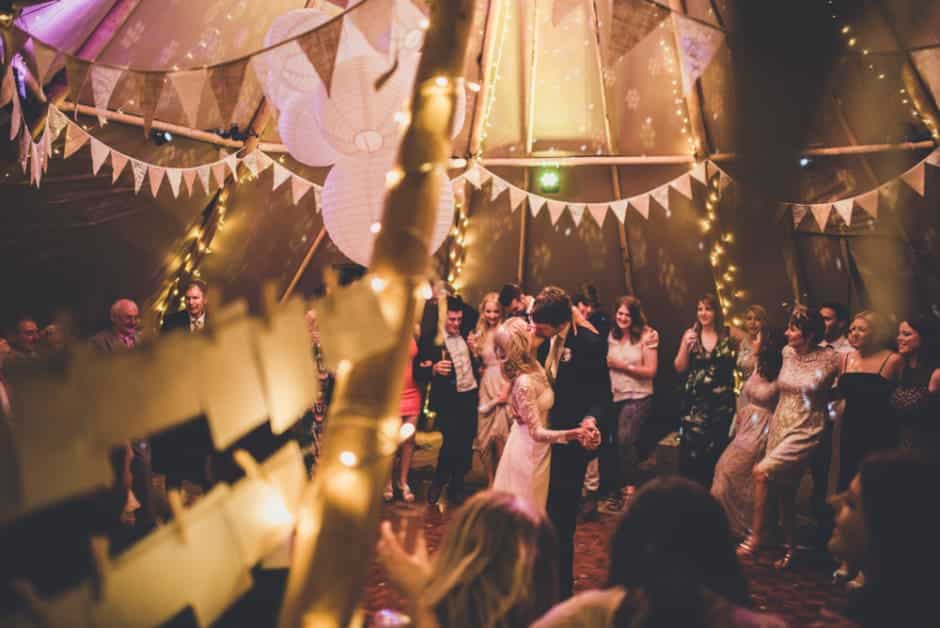 Suppliers Involved
Photography – Amy Shore Photography
Tipis – Sami Tipi
Ceremony – My Perfect Ceremony
Acoustic Music – Mark James
Playful With Colour Scheme
Colour is often the starting point to any styling concept. We have seen gorgeous natural colour tones in the tipis through to the bright and bold. Here are some more stunning weddings that bright through colour in to their day;