How Many Tipis Do I need?
When planning a Tipi wedding, we will always start with your guest numbers. This will begin to build a picture of how many tipis you will need for your outdoor wedding celebration. With a guest list of 150 daytime and 200 evening guests, you are on the fence of what size space is right. In this video, we explore the options of choosing a slightly smaller set up of three giant hats and chill-out tipi versus the larger four giant hat tipis.
Have a watch;
Creating Your Tipi Zones
When planning an outdoor wedding, the key thing that we want to create for you and ultimately have an understanding of is what I always call the three Ds;
✔️ Dancing
✔️ Dining
✔️ Drinking
We want to create those three zones for you. Now, it might be for dining, you don't want to seat everybody. You're having really informal food and actually having a seat for everybody isn't important. With regards to drinking, you might be happy for that to be positioned outside and have an outdoor bar. When it comes to dancing, we have had couples choose not to have a dance floor, simply so guests can dance wherever they want to. This really is about creating the right space for you.
How do you want to use Your Space?
Creating the Three D's is the key to planning how you would like to use your tipi space.
For a wedding celebration of 150 seated and party up to 200, you are literally sat on the wall of what space will be right for you. Here we explore the difference of having three giant hats with a chill-out tipi versus four giant hat tipis.
Three Giant Hats and Chill-Out verses Four Giant Hat Tipis
The big question is what are you going to get for the extra size? And actually what's the cost difference?
The smallest of the two tipi set up's we are comparing is the three giant hats with a chill-out tipi. Here are a few sample floor plans of how this space could work for you;
Assuming you are looking to seat all 150 daytime guests for a sit-down meal you can see that this will take around two giant hats to accommodate. The third giant hat provides the perfect space for the dance floor and band/DJ space. The compromise with having this set up is potentially the bar side of things.
With your Dancing and Dining covered off from the three D's, we're now left with the drinking space.
Drinks Space, Where Should the Bar go?
The two options are to either have your bar inside the covered tipi space or outside.
If you are looking to have the bar inside, the ideal spot for this is the chill-out tipi. This now means that your chill-out tipi has become your bar space, with 150 daytime and up to 200 evening guests we need to ensure that we've got space for your suppliers to be able to get behind the bar and service the bar for you. tall poseur tables can be added in there to provide guests spaces to wait, hang, have a drink, have a little bit of a chat in there. But ultimately, what that is is your drinking zone, that magic third D.
This will work if you don't have the fire pit in there. Now the fire pit for some people is a really big draw to having a tipi celebration, as that's what people want. They want the fire pit inside the tipi. It's a unique feature to these tents. However, this could be the compromise of getting everything that you want and working with the budget that you're wanting to work with to create your amazing outdoor wedding.
Why Can we not have a Bar and Firepit inside the Chill-Out Tipi together?
So coming back to the chill-out tipi, why is there not a fire pit in there? Well, if you've got 200 guests trying to get served in a chill-out tipi with a bar, there just isn't enough space. We want to be sensible with it. So my advice is to use that as your bar area only and then create some external chill-out zones.
Creating an External Chill-Out Zone
This can be really simple to create with a few bales and outdoor fire pits. If your venue doesn't provide the fire pits,  the cheapest option is to buy a couple of fire pits. Lidl or Audi do a really reasonable priced fire pit. And I always say, get one of those, because if guests are toasting marshmallows, you actually do not mind so much if it gets absolutely covered with marshmallow.
Having an Internal Chill-Out Area is important to me
If we flip the above, the alternative to this would be to have your bar outside and the chill-out tipi remains as a relaxed lounging zone with the open fire and relaxed seating. A great place for some quiet time for those guests looking to rest their feet and chat with family and friends they may not have seen for some time.
The bar can now be located outside, maybe under our little hat tipi or via a horsebox bar that is self-contained.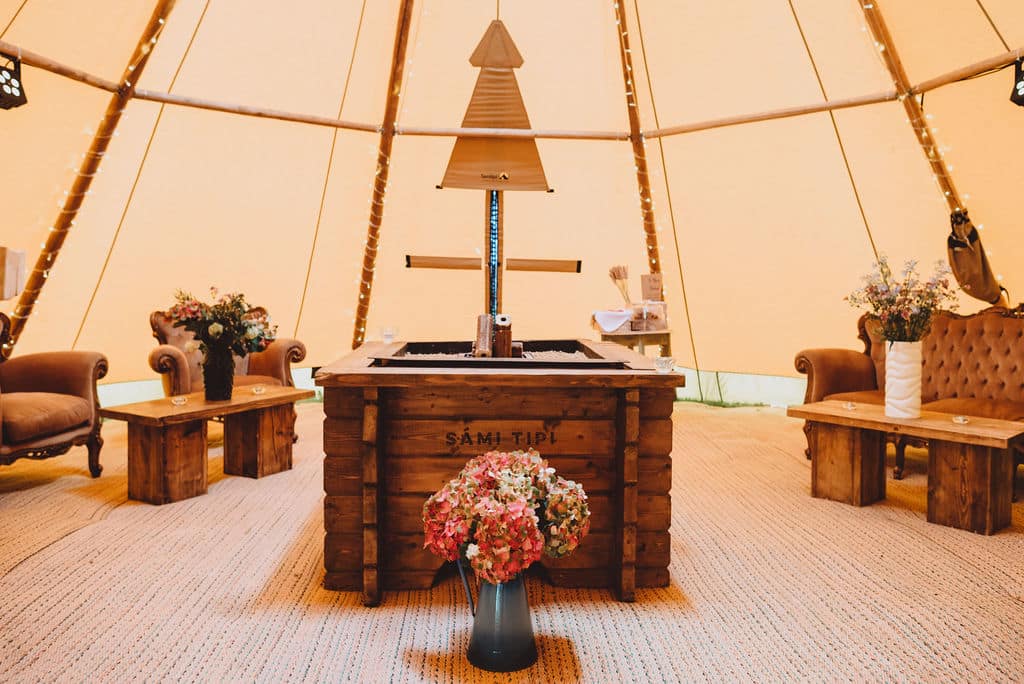 How would Four Giant Hats work?
An alternative to the three giant hats and chill-out tipi is to actually not have a chill-out but instead have a forth giant hat. So by adding in the fourth giant hat, what that's going to allow us to do is bring that chill-out zone and bar both inside. Here are a few sample floor plans to help visualise the space;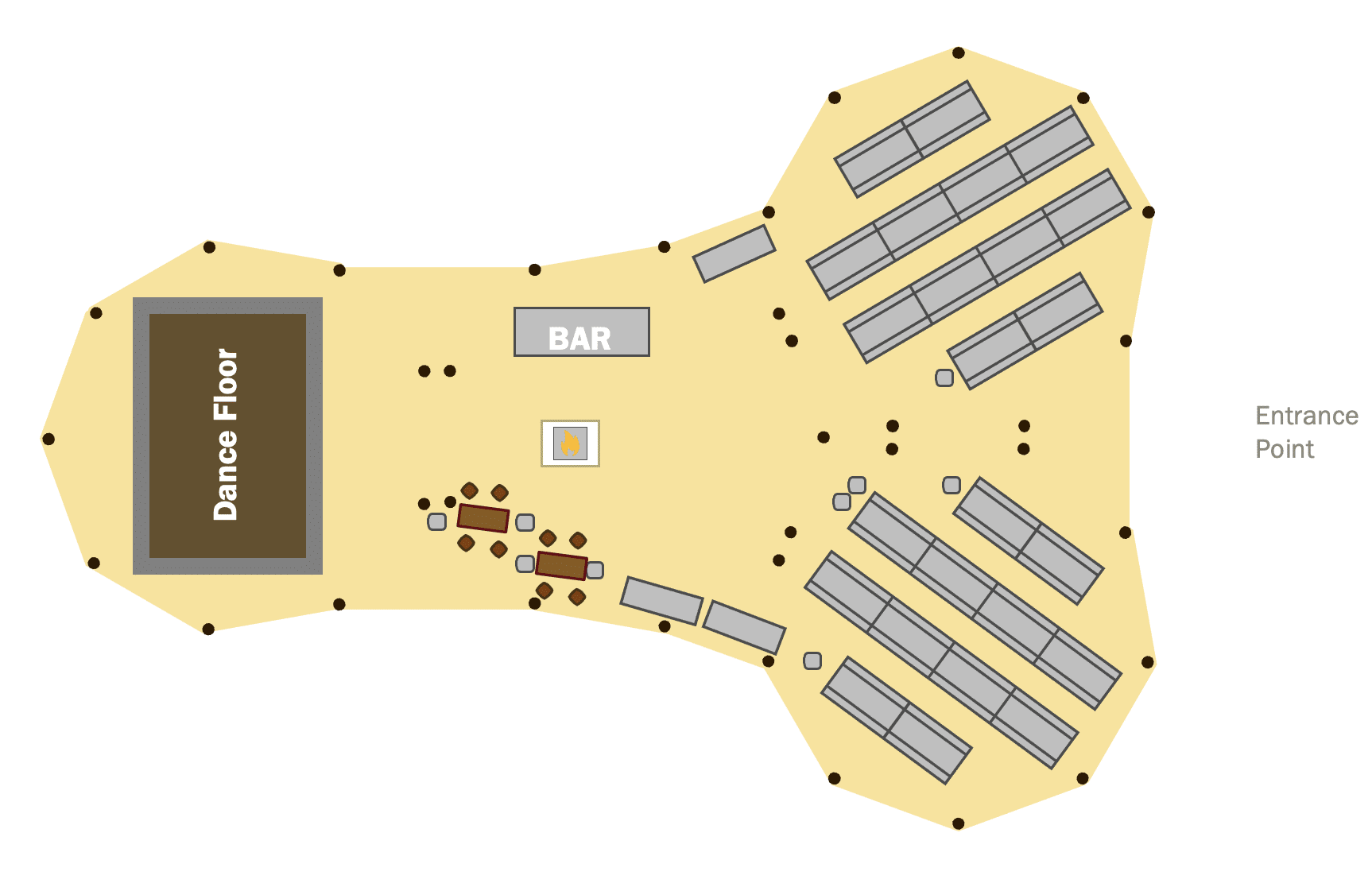 This space allows us to create the three zones, those magic three Ds, dancing, dining, drinking with the benefit of keeping the fire and relaxed seating all side your celebration space.
What is the Cost Difference
As you can see from the floor plans, the biggest difference is that you have everything you want inside the covered tipi space. When the day you are looking to create with your guest numbers leaves you on the wall of what size tipi set up to go for, sometimes it can be a clear choice for you based on how you see your day and what you want from your space.
Another consideration, we know is the numbers ££. What is the actual cost difference? Well, I've worked that out and it approximately is about £1,100. That additional investment covers off having the slightly larger tipi, fire pit and some relaxed seating.
Ultimately it comes down to what's right for you. Do you want to spend that little bit extra to get the extra space, which if your evening numbers are starting to tinker towards that 220 mark, yes, definitely go for it. If however, you decide that this is money that you could spend elsewhere and "I'm happy for the chill-out tipi to be used as a bar" or alternatively "I'm happy for the bar to be outside", then, the three giant hats with the chill-out tipi could be the right option for you.
Support from Sami Tipi
We're here to help and guide you through the process and help you to identify what's right for you. A lot of this is how you see your day, what you want from your celebration space, then we can work with you to create your magical space that works from daytime to evening. So you can have the best, most comfortable, amazing celebration space there is to have.
Real Weddings
Here are a few real weddings, to help inspire you with some ideas for your own special day;
Supplier Credit
Tipis | Sami Tipi
Venue Featured | Cattows Farm
Venue Featured | Bawdon Lodge Farm 
Photographers | Chris Terry, Hannah Hall, Darren Cresswell, Megan Wilson, Piotrowski Photography