DIY Drinks vs Bartender Service
One of the big bonuses of having an outdoor wedding is that you have the freedom to choose how to water your guests.  And by that, we mean you get to choose which bar service is right for you and your celebration.  There are lots of drinks options for your outdoor wedding, whether that be a fully paid for bar service provided by a mobile bar company, or a DIY option where you organise everything yourselves.
Here we are going to explore what each option involves.
Bartender Service
Of the two drinks options for your outdoor wedding, this is the "easy" option, but that doesn't mean it is right for everyone.
Why is it easy?  Simply, because it is done for you.  By hiring a mobile bar company you tick off many important things – trained bar staff, glassware, chilled drinks, ice, rubbish removal.  Plus you have the added extra of the bartender being part of your entertainment – with cocktail shaking and bar banter, waiting for a drink can be a delight not a chore!
A good bar company will invite you in for a consultation to discuss what drinks you wish to serve as well as allowing you to sample the drinks.  They may even take the time to create a bespoke cocktail just for the two of you.  TOP TIP – get a taxi to this meeting! 
There are also different options here – The Arrival Drinks Package, or The Cash Bar Service.
The Arrival Drinks Package
If you choose to have an arrival drinks package provided by your bar company, this should be customisable to include the drinks you enjoy. Who said you need to toast with a glass of fizz if what you really want is a shot of Sambuca!
An arrival drinks package as a guide will include an arrival drink of fizz, 1/2 bottle of table wine, table water and a glass of Prosecco to toast with. The start price for this will be in the region of £25 per head. If you create a bespoke arrival cocktail and also wish for champagne to toast, the price will increase accordingly.
The Cash Bar Service
Most mobile bar companies will offer either a FREE service if you have their welcome drinks package, or a booking fee with a minimum bar spend. If your pre-agreed bar spend is hit, some companies will fully refund the booking fee.
This service works like any bar, your guests will pay for their own drinks as and when they order one. Also, if you want to give your guests a free drink, you can offer a drinks token as a wedding favour.
DIY Drinks
This is the more challenging of the drinks options for your outdoor wedding, but that doesn't mean you can't have some fun with it.  Doing it all yourself can be hard work, but with a bit of planning and hired help, the hard work can really pay off.
There are lots of things to take into consideration here, so let's explore.
The Alcohol
Where are you going to buy this from?
This could be as simple as scouring your local supermarkets in the lead up to your wedding, to get alcohol whenever it is on offer.  This is a good option if you are buying different kinds of alcohol, from beer to wine to spirits – you can just get what is on offer when you see it.
You also have the option of wine merchants and breweries, if you are wanting to serve higher quality wine or local craft beer.
Glassware
This can be hired from many different places.  Events companies, bar hire companies, or even your caterers.  Wine merchants sometimes offer a free glassware hire service if you purchase their wine. Some major supermarkets offer this service too.
Something we have seen become more and more popular is providing just one glass for each guest.  This could be a glass jam jar with a name label, or an engraved tanker, that is then their drinks container for the duration of your wedding.  Additionally, if you provide this as a wedding favour for each of your guests, it becomes a great lasting memory for everyone to take home with them.
How Are You Going To Serve It?
Another popular trend at the moment is creating a drinks station.  From Booze Baths and Pimp Your Prosecco stands, to Gin Bars and Soft Drink Stations. These are a great choice as they don't require someone to serve them, they are just set up on the morning of your wedding and guests help themselves.
However, if this isn't your style you may want to think about how your DIY bar service is going to run itself.  This could be as simple as hiring staff to serve your drinks – there are many companies out there that hire waitressing staff for outdoor events.  You could also ask your caterers to see if this is a service that they offer.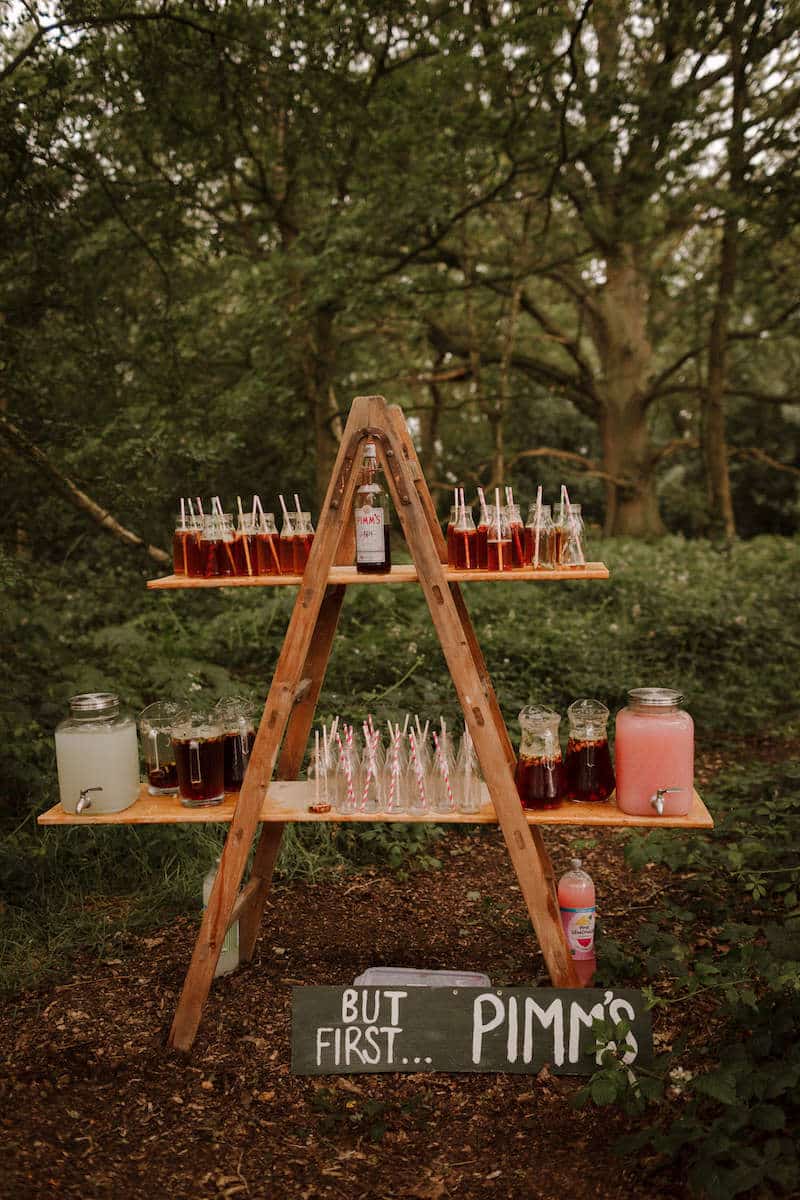 Keeping Things Cold
This is an important one, and very often overlooked. Our advice is to invest in a fridge trailer.  These can be delivered to your venue on the Friday, where you can fill it with all of your alcohol, meaning it will be nice and chilled ready for your Saturday celebration. 
This is also a great option for storing any ice that you have ordered.  There's nothing worse than forgetting about the ice, that then becomes water!
Hybrid Option
There is also the option of combining both DIY drinks and Bartender service and having both throughout the day.  Simply, this means going DIY for your welcome drinks and table wine, and then hiring a bartender service for your evening drinks.
By doing your own welcome drinks and table wine, you are free to create the drinks stations you want, from the 'Booze Bath' to the 'Pimp Your Prosecco' to the 'Gin Bar'. 
You will still need to think about all of the logistics that we have talked about already.  How will you keep your drinks cold?  How will you serve your welcome drinks? What will your welcome drinks be served in?  But you may be able to discuss this with your evening bar service provider to see if they can help you with these things.
Once your welcome drinks are out the way, and your evening bartender is set up and ready, it leaves you able to enjoy your evening party with your nearest and dearest without the stress of making sure everyone has a drink.
It is often the best of both worlds, leaving you the option of showing some creativity with your welcome drinks and then wowing guests with a professional bartender to create cocktails and fancy drinks in the evening.
Whatever option you choose, just make sure it is the right one for you and your celebration.  And above all, have fun with it!
Bar Company Credits
Further Inspiration