This week I've had the pleasure of putting together the wedding of the gorgeous Georgie & Mat.  They celebrated in three of our giant hat tipis back in September last year and had the added benefit of Georgie's family land to put the tipis on.  There were so many unique special touches in this wedding that you'll be adding everything to your wedding scrapbook.
From a beer boat from Georgie's childhood canoe, to international drinking rules and pimp your prosecco, they really knew how to throw a party!
Joanna from Only Lovers Photography captured the fun and happiness of Georgie and Mat's day perfectly!
What made you decide on an outdoor tipi wedding?
We've been to lots of weddings at venues and they're always very lovely. But we couldn't get the idea out of our heads that someone else is having the same wedding as you the next weekend, so we always knew we wanted a DIY wedding. I'm lucky enough to have a huge open field in front of my parent's house where I've lived my whole life and my mom's ashes are scattered there so we had the perfect spot already.
A tipi over a marquee was a no brainer for us. Before you've decorated it, its already a wow structure that sets the tone of the rest of the wedding.
What did everybody wear?
I wore a three-piece dress, skirt and top by Halfpenny London and it's the best thing I'll ever own!  Matt wore a three-piece suit by Cad & The Dandy.
The boys were in good old M&S suits and the girls wore Ghost scoop back dresses.
How did you feed your guests?
While we disappeared off for photographs, the guests were getting stuck into the beer boat, shout out to my dad for refurbishing my childhood canoe! There was also a Pimp Your Prosecco stand.
My family were keen that we had the traditional sit-down meal but we wanted that to fit in with the overall style of the wedding so made our choices quite chilled out. We had pancetta, asparagus and quails egg decorated with gorgeous edible flowers followed by sausage and mash and panna cotta. The sausage and mash was a controversial choice amongst my family (sausage gate!) but it went down an absolute storm on the night!
We also had mezze and cheeses later on (apparently!) but most people were too busy throwing shapes by then.
There was a beautiful cake and mini doughnuts covered in matching gold leaf and wildflower petals. As well as the Smores around the Sami Tipi indoor fire. They went down so well that by the time I got to them I got the last marshmallow which had been dropped on the floor!
How would you describe your theme / styling?
Our theme was enchanted wood and I tried to keep this in mind when considering every aspect of the wedding. Sami Tipi even organised incredible festival loos decorated with a forest! I couldn't have been happier with how it all came together on the day and the details I was tearing my hair out about were so worth it.
What are your top tips for planning a tipi wedding?
Start early! We had 9 months from proposal to marriage and planning it single-handedly was seriously intense. I spent so many late nights emailing suppliers, updating spreadsheets and working out sizes of garlands for hoops etc. With no prior experience in event planning, honestly, it was so worth it and as well as a gorgeous wedding, I felt really proud of myself at what I'd achieved.
For the people who say, 'don't sweat the small stuff', I'd disagree – do! But when it gets to the week of your wedding let it all go, it won't matter. People said it was the 'best wedding ever' and it was 'wild' but no-one said, 'Gosh, the cards for the table plan were printed in the wrong size'.
Suppliers You Used and Loved
It's so important to choose the right suppliers. It's not just about the day itself but the 6 months you work with them beforehand which is critical. Some of mine were brilliant and some less so. My stand out suppliers are:
Sami Tipi
Obviously! I was recommended them by my cousin who is also a wedding photographer and she was right, they were brilliant from start to finish. Jodie, in particular, went above and beyond and supported us with the planning and logistics of the reception itself – part tipi supplier/part wedding counsellor! The tipi itself was beautiful inside and out and Jodie worked with a number of our suppliers directly which really made life much easier. They were brilliant!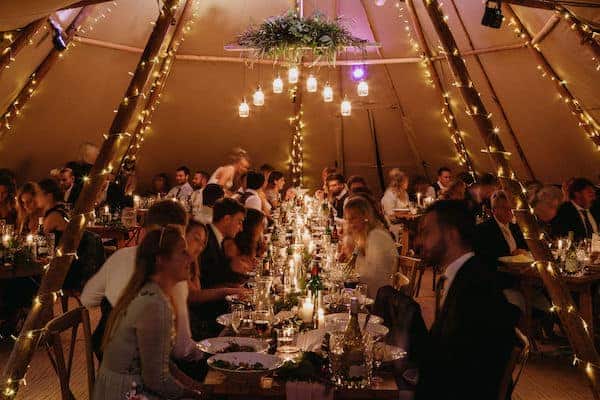 Tickety Boo Events
Tara was recommended by Jodie and played a huge role in taking the tipi itself and making it an enchanted, floral wonderland. She was another delight to work with and really understood the look and feel we wanted. As well as the planning, Tara set up the tipi the day before the wedding and liaised with suppliers on the morning of the wedding itself which was a huge weight off the shoulders of my family. I miss our planning meetings sat in a train station coffee shop!
Belmont House Cakery
Kat took my ramblings and turned them into a cake of beauty! She adapted her signature style created a 3 tier cake covered in pressed wildflowers and delivered and set it up seamlessly on the morning, without a peep! Kat made me feel very confident in what she was going to produce through great communication and visual plans.
Feel Good Invites
They are a small, family-run business who created all of our stationery, from invitations and menus to 'international drinking rules' for the tables. They were unbelievably responsive and the quality was spot on.
Popmania
An incredible 3 piece band who had the dance floor full all night – so great my bridesmaid has already booked them!
Suppliers Involved
Tipis | Sami Tipi 
Photographer | Only Lovers Photography
Styling | Tickety Boo Events
Wedding Cake | Belmont House Cakery
Stationery | Feel Good Invites
Band | Popmania
Flowers | Campbells Flowers