So you've just got engaged, Hoorah! What's next?
Planning a wedding can sometimes feel like treading through a minefield as you both have so many ideas and it can be difficult pulling them together and making a real start. Here are some handy hints and tips to get the wheels in motion and successfully plan a stress-free wedding day.
One Step at a Time
Every wedding planning journey is different but there are certain checkpoints that every couple should tick off their checklist first before moving onto the finer details. Having a priority list helps to reduce everything into bite-sized chunks. This approach allows you to solely focus on one job at a time. Complete it and then move onto the next so that you don't overcrowd your mind too much. The initial planning is worth its weight in gold for peace of mind later on.
We know how difficult it can be, so here at Sami Tipi we've created a planner to help guide you through the process when planning an outdoor wedding;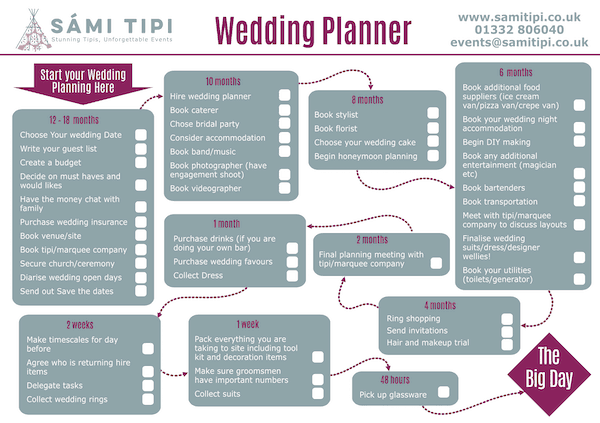 Write a Guest List
When writing your guest list keep in mind that including more guests in your wedding plans means higher prices. Rising numbers will require extra furniture, Tipis and catering costs are generally calculated on a per-head basis. So your budget will have a BIG influence on the size of your guest list.
Set a Wedding Budget
Sit down with your families and decide how much you can afford and whether the family would like to contribute to your special day? Be realistic, your budget will affect every decision about how you plan your wedding and purchases you make, so be sure to work out your budget before you start planning. Setting a date one or two years away also gives you maximum time to save. At Sami Tipi you also have the option to set up a monthly direct debit.

First Things First
Before you try on a single wedding dress, book a reception band or sample a bite of wedding cake you want to pin down the three most important things which are the DATE / VENUE / STRUCTURE. Whilst thinking about this, here are some key questions to ask yourselves …
Location | Stately Home, Hotel OR Farmer's field, Established outdoor venue
Ceremony | Church / Registry Office  OR Outdoor Celebrant
Styling |  Elegant & Fancy OR Rustic & Laidback
Have a think about what's really important to you and work from there. Once you have your ceremony, date and venue in place everything else should follow suit and you are now ready to build your wedding day from there.

YOUR DAY, YOUR WAY!
Last but not least enjoy it! Planning your wedding should be a happy time where both of your plans and ideas come together for one almighty celebration, the celebration of YOU. Sometimes family and friends might not see eye to eye and guests might not always like your choices but ultimately it is your day so have everything that you love, don't sacrifice it for anyone. This is your one shot to build a day that represents you as a couple, something that you will hopefully cherish for the rest of your life. Do it once, do it right.
Photographer Credits
Emily Little | Osbourne Hollis Photography | Flawless Photography
Consdiering a Tipi Wedding?
Here are a few more colourful tipi weddings for you to get inspired by;