Creative Wedding
Do you love the idea of being creative for your own wedding celebration? Our Sailcloth tent offers complete freedom to create the day you want. A twist on a traditional marquee with its clear windows and panoramic views, your venue space and the outdoors feel as one.
In May we worked with a talented team of wedding creatives to showcase the latest wedding trends in styling, florals, stationery and sweet treats.
Get your Pinterest Finger Ready, as I hand you over to the styling team to talk through the styling concept;
The Walkway
Set the scene of your Sailcloth Tent wedding starting at the walkway. A greenery foliage archway and tealights lining the walk way, creates a romantic feel.
Cake Display
Ruby Lous Cake Co. Created this towering cake, which sat perfectly in the space. The colours complimenting the details throughout the Sailcloth space.

Relaxed Zone
Over to Tickety Boo Events
; Bamboo, acrylic and draped materials all played a huge part in the style concept for the sailcloth. The colour palette of peaches, pinks and nudes with a pop of mustard was wonderful to work with. Having been obsessing over this colour palette for months I knew that it would work perfectly for the setting. I wanted the style of the Sailcloth to be in keeping with the wooden poles and wooden furniture and so used pieces of bamboo in the styling and lots of draped fabrics to compliment. This was finished with acrylic signage.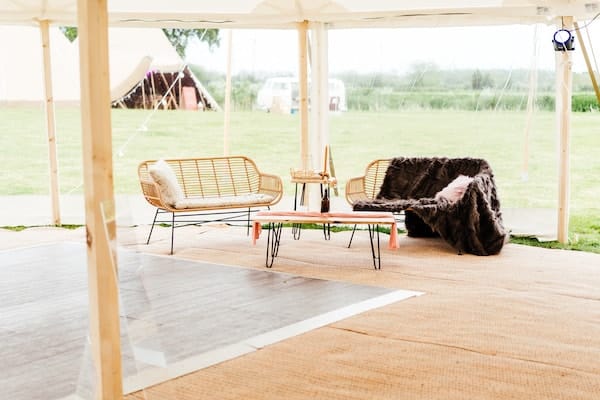 Dining Area
The sailcloth is large and bright, and we wanted to be able to style it in a way that would create a wow but not lose sight of the space it has.
Tickety Boo
and
Once Upon A Time Florals
, achieved this by mixing high and low floral centrepieces on the tables. This was balanced by two giant greenery rings with trailing florals that also hung in the space.
Tableware
The table ware, was provided by
Executive Linen
. Tara from
Tickety Boo
used coloured glassware and raspberry napkins. This created a beautiful colour across the space, leaving the tables looking modern and fun.
Stationery
Polly & Me; The stationery was designed with the Sailcloth in mind, modern, elegant and clean. I have used Clear Acrylic, with a white text to try and achieve this. This was used for the table place settings, table names and menus.
Bar Area
As you entered the space, you were greeted by the large rustic bar from Past to Present Vintage Hire. Tracey from Once Upon a Time Florals created a beautiful floral tree to sit in the centre of the space. This created a real focal point as you walked in.
Sailcloth at Night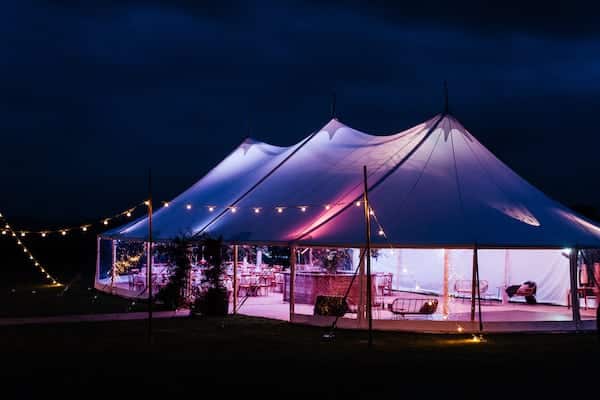 The Creative Team
Photography | Hannah Hall Photography
Videography | Taylor Made Videography
Styling & Concept | Tickety Boo Events
Florals | Once Upon A Time
Cake & Treats | Ruby Lous Cake Company
Stationery | Polly & Me
Rustic Bar | Past to Present Vintage Hire
Cookies | Charity Cookie Company
Glass/table ware & Linen | Executive Linen
Sailcloth Tent & Furniture | Sami Tipi
Venue | Cuttle Brook
Get In Touch
If you are interested in finding out more about creating your own outdoor celebration, we'd love to hear from you.
Complete our simple form and we'll be in touch about your Sailcloth Hire;