Outdoor Wedding Toilet Talk
Wedding Toilet Hire
Who knew that there was so much choice when it comes to outdoor wedding toilet talk? If your venue doesn't offer toilets as part of their land hire, a luxury toilet unit can be hired in for your outdoor wedding. As with anything, when planning a wedding, you will still be faced with choices. 

How big do we need our toilet unit to be?
The starting point is your guest numbers. Have you any overnight campers? This will then impact what size unit you will need. And of course, the cost. As standard, a luxury unit does not come with baby changing facilities or an accessible toilet. These will need to be hired in separately.
As a rule, a toilet unit will be described in numbers. The numbers are an indication on the number of actual toilets that are in your luxury trailer. For example, 
1+1 = one female plus one male. 
2+1 = two females plus one male plus one urinal. 
3+1 = three females plus one male plus two urinals. 
YES, luxury toilet units do come with handwash, toilet roll, and paper towels. 
Hiring the right size toilet is key to ensure that it comes with a large enough sized water tank to accommodate your guest numbers and the length of use. If in doubt, go bigger. 
Toilet hire high prices can range from £460 to £750 plus vat plus delivery.

Luxury or Standard?
Now of course, you can go with a portaloo, the blue tardis with the pump-it hand flush and hand sanitiser, and these will be in the region of £120 to £150  plus VAT. 
But on your wedding day, it's not what you want. You want luxury toilets where your guests come away talking about how nice the toilets are, because one of the biggest dreads when going to an outdoor wedding is the unknown of what the toilets will be like. It's probably one of the first questions some of your guests will be asking you.

What about Accessible Toilets?
If you or a guest would benefit from having an access unit, you've got two different styles of this. You've got the portaloo style, which would come also with a baby change unit, so that could tick two boxes for you. This is an oversized porta loo, so it doesn't come with hand-wash, it will come with hand sanitizer, but it's easily accessible. 
The other option is a luxury access unit, which comes with an extra large ramp, so it's a sloped approach into the luxury trailer unit, which again, would come with a baby change facility, extra-large inside with just one toilet and hand washing facilities. Which also provides you with some additional space that you might feel a bit more comfortable in.
If you do need an access toilet, it might be that you can go slightly smaller on your main toilet unit. So consider the overall needs of yourself and your guests to be able to secure the right size unit.
If you've only one or two young babies, I'd have a conversation with those parents to establish whether a baby changing facility is needed or whether they're happy changing their child, as often parents do, in the back of a car, on their knee, on their arm, in their pram. So think about your guests and what it is that they will need.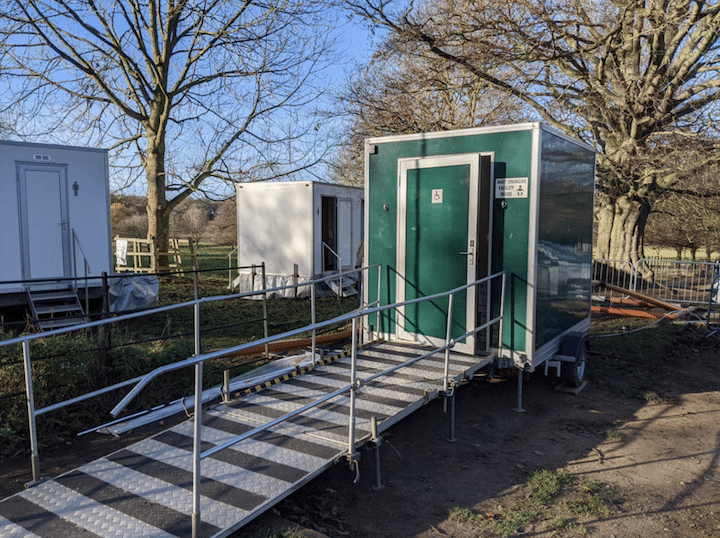 Video Guide and Toilet Tour
Toilet Suppliers
Knifton's Mobile Toilets
Follys Luxury Toilet Hire
Nomadic Wash Rooms
Photographer Credits
Gina Fernandes Photography
Hannah Hall Photography
Christopher Terry Photography
Further Inspiration