Victoria & Callum's Download Festival Tipi Wedding
Victoria and Callum celebrated their Download Festival Tipi Wedding at The Hideaway, Ticknall back in October.  They celebrated in Three Giant Hats and Chill-Out Tipi, meaning they had lots of space to ensure all of their guests stayed cosy inside the tipis.
Despite being worried about October weather, they were blessed with stunning blue skies and sunshine throughout their day. They celebrated festival style with Download Festival themed styling, live music and outdoor games!
Victoria and Callum talk us through the details here, alongside gorgeous photos by Geoff Kirby.
What made you decide on an outdoor wedding?
I've always wanted an outdoor wedding since I watched Robin Hood: Prince of Thieves as a child! Callum and I met at Download festival and would go every year and Callum even proposed to me at Download Festival, so obviously we thought a festival-style outdoor wedding would be perfect! Alternative options such as the traditional church, didn't really appeal to us or reflect us as individuals or as a couple.
Sami Tipi did a range of open days and evenings which really helped us visualise how it would look and options for vendors/companies to book. We took advantage of these and they provided some really useful resources like a handy sheet to show us when to book certain things and a notebook which we used to plan our wedding in! They were also on hand via email and video call to answer all our odd questions!
What did everybody wear?
Victoria: I was 26 weeks pregnant so I chose a slightly comfier dress than what I originally intended – my third wedding dress! It was an ankle length ivory maternity dress by company Hope and Ivy. I wore some trainers for stability on the uneven ground but also for comfort. In the evening I changed into a jumpsuit so I could dance all night!
The Maids of Honour were asked to wear outfits matching the colour scheme, a couple chose to wear jumpsuits and I loved how they all looked together, not matching but complimentary. The small bridesmaids wore dresses, denim jackets and adorable flowery trainers.
Callum: I wanted to wear a suit, as any groom might, but I wanted it to be a special suit, not something I could wear to an interview or work. So I went for a DNKY burgundy suit with pink tie to match our colour scheme. However, I bought a pair of Vans for the occasion just to add a bit more personality to it and also aide with grip on what might have been wet grass.
Shopping around online for the right suit took a while, but did mean I found the ideal suit to match all the colour schemes, including Victoria's dress, but also found a few deals and steals so I didn't pay through the nose for a suit. Like Victoria I also got changed for the evening and out of the white shirt and tie into a more casual floral shirt.
Tell us about your Ceremony
Victoria: It was perfect, we chose a corner of the field (which had loads of ladybirds) and the sun came out just in time! We had everyone gathered around us really casually and it just felt relaxed and romantic. Better than we ever expected, it was my favourite part of the day. We used humanist celebrant Sophie Burkett who prepared us the most beautiful ceremony script, it was romantic, unique, full of fun and laughs.
Callum: As we had an October wedding, we weren't expecting perfect weather, so we had a few plans for moving the ceremony inside. Fortunately however, we were blessed with beautiful weather, the sun was shining and baring morning dew, was lovely and dry so we were able to have our wedding outside. I remember thinking how hot I was whilst waiting at the altar.
How did you feed your guests?
We wanted to have a meal that represented us and was fitting with the theme, we were also conscious of the weather and the food potentially getting cold on transit from a kitchen area to table. We chose an afternoon tea picnic style with lots of savoury and sweet treats prepared by Lynne from East Midlands Catering Company. Victoria is gluten intolerant and we have a few vegan/dairy/gluten intolerant guests and she was so accommodating. We found burgundy cardboard presentation boxes with clear lids to put the afternoon teas in and they looked so pretty!
In the evening we had paella as that is our go to meal at Download festival. We decided not to have a traditional cake as we'd had so much at the wedding breakfast so chose a cheese cake from The Cheese Shed and had a table of crackers and some wedding favour chutneys for guests to enjoy. To save a bit of money we bought a lot of the evening snacks from Costco and presented them ourselves.
How would you describe your theme / styling?
Our theme was a relaxed rock music festival.  We chose colours pink, burgundy, gold and green which looked amazing in the tipi. Download Festival kindly allowed us to use the font and text from their marketing and adverts to make out wedding stationary and decorations. Our decorating company Princess Occasions made an incredible hanging decoration made of ribbons and vinyl records. They also arranged up-cycled cans of dried flowers from Florence and Flowers on the tables.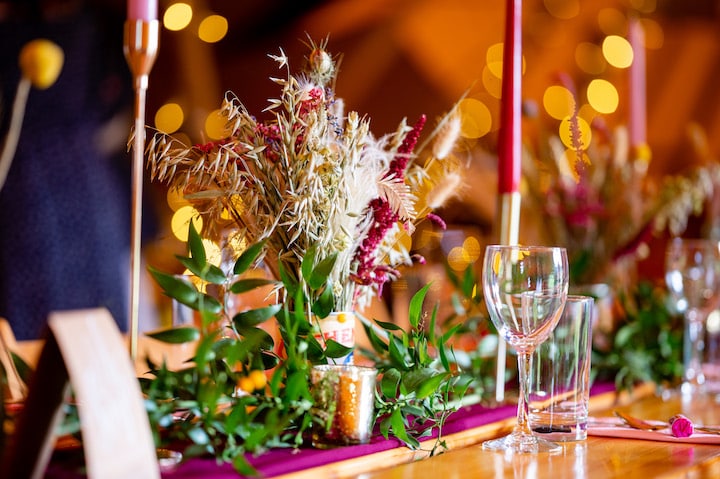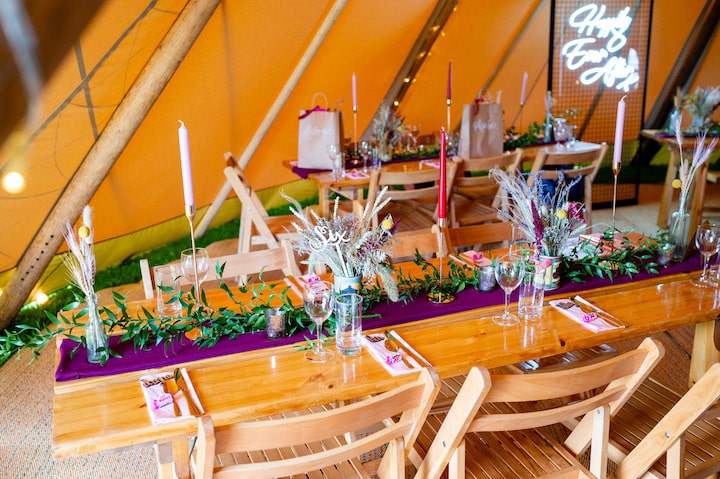 How did you entertain your guests?
During the day we hired Ryan Buxton to play acoustic guitar during the ceremony and whilst we had photos/canapés. Sami Tipi provided a range of lawn games and a fire pit to toast marshmallows. Sticking to the rock festival theme we chose a band, Snap Crackle and Pop whose song repertoire was full of classic old and new rock hits and they honestly were amazing. We hired The Beige Bay a vintage VW campervan which served as Victoria's ride to the Hideaway as well as a photo booth with props in the evening. Finally we hired Rachel, Fantastik Faces to do some festival themed face painting and tattoos for us which was such a fun addition to the evening.
What are your Top Tips for planning a Tipi Wedding?
Top Tip 1
You can either go completely DIY or hire companies to do the hard work for you. We did a mix of both but definitely recommend hiring a decorator as we would have had to have taken a week off work to do it all ourselves. They also came the next day to remove the decorations and this meant we didn't spend all day the next day tidying away. If you do decide to go completely DIY don't forget to think about the little things like how to serve your food and drinks, how to keep drinks and food hot/cold, rubbish disposal (including during the day) and baby changing facilities.
Top Tip 2
Our next top tip would be to plan for a range of weathers and be relaxed when plans have to change! We were so lucky with the weather in October but we didn't want to take any chances and made a couple of plans for our ceremony if we had to take it inside. Fields can also get very damp due to dew especially at night and in the morning so make sure you have suitable footwear as Callum learnt the hard way the day before with really wet feet whilst setting up!
Top Tip 3
Lastly we did our entire wedding; ceremony, wedding breakfast and evening reception at The Hideaway site and in the tipi. If you also choose to do this, we highly recommend an extra tipi to what you think you'll need! We had 70 guests in the day and over 100 in the evening and we originally going to have 2 giant tipis and a chill out tipi. After a visit to one of the open evenings, my dad suggested an extra tipi and it genuinely made the world of difference. Although the weather was great and we spent a lot of time outside, it meant we didn't have to move any furniture and had plenty of seating, standing and dancing space in the evening.
Suppliers Involved
Tipis | Sami Tipi
Venue | The Hideaway
Photographer | Geoff Kirby Photography
Stylist | Princess Occasions
Florist | Florence and Flowers
Celebrant | Sophie Burkett
Catering | East Midlands Catering
Cheese Cake | The Cheese Shed
Bar | Mambo Mobile Bars
Daytime Guitarist | Ryan Buxton
Evening Band | Snap Crackle and Pop
Transport and Photo Booth | The Beige Bay
Glitter Bar | Fantastik Faces
Further Inspiration