Mr & Mrs Aldridge FINALLY tied the knot in their Fun Filled Tipi Wedding!
It is an absolute joy for me to put together this weeks real wedding blog.  Cherise and Tom originally came to us back in 2018, but the dreaded covid meant their big day was pushed back meaning their wedding was three years in the making!  They finally got to celebrate their fun filled tipi wedding in September last year.
Celebrating in Three Giant Hats and Chill-Out tipi at Bawdon Lodge Farm, they put so much of themselves into their wedding and the result is just gorgeous.  Absolutely full to the brim with big smiles, outdoor games, laughter and a disco party to end all parties!
Cherise and Tom talk us through the details, with photos from the fabulous Chris Terry.

What made you decide on a Tipi Wedding?
Being an outdoors person it was always my dream to have an outdoor wedding, loving the freedom and space it gives you. I pass Bawdon Lodge Farm on my way to work and in passing one day saw that they had a tipi in situ. Having asked Lynn and Richard if we could have a look, Tom was hooked too!
Having got Sami Tipi details from the Baileys we went to several of their open days and fell in love with them. The Sami Tipi team were fantastic in guiding us in what size tipi and any extras we may need. The tipis are stunning structures and Sami Tipi had so many decor options available, making it truly bespoke to you.

What did everybody wear?
With not having a clue on the style dress I wanted, my best friend noticed a local wedding dress sale, so we went to have a look. We ending up buying the 5th dress I tried on at a fraction of the original price! The sale was being held by Soar Valley Brides, Sileby. Although I bought through the sale we still had a full fitting service offered at their beautiful, family run, show room.
Soar Valley Brides also had an amazing array of bridesmaid dresses in a huge variety of colours so we bought all four dresses from there too. All very different dresses but had a beautiful cranberry colour theme running through them. I also acquired matching coloured ties for the groom and best man.
Tom and his best man Rich were fully dressed in three piece checked suits from Slaters in Nottingham. There was a great selection of suits on offer with shirts and shoes also purchased from there. Slaters had really helpful, experienced sales people and we would highly recommend them. Both Tom and Rich's outfits were finished off with two beautiful, handmade leather belts, made by my very talented Maid of Honour Rachael.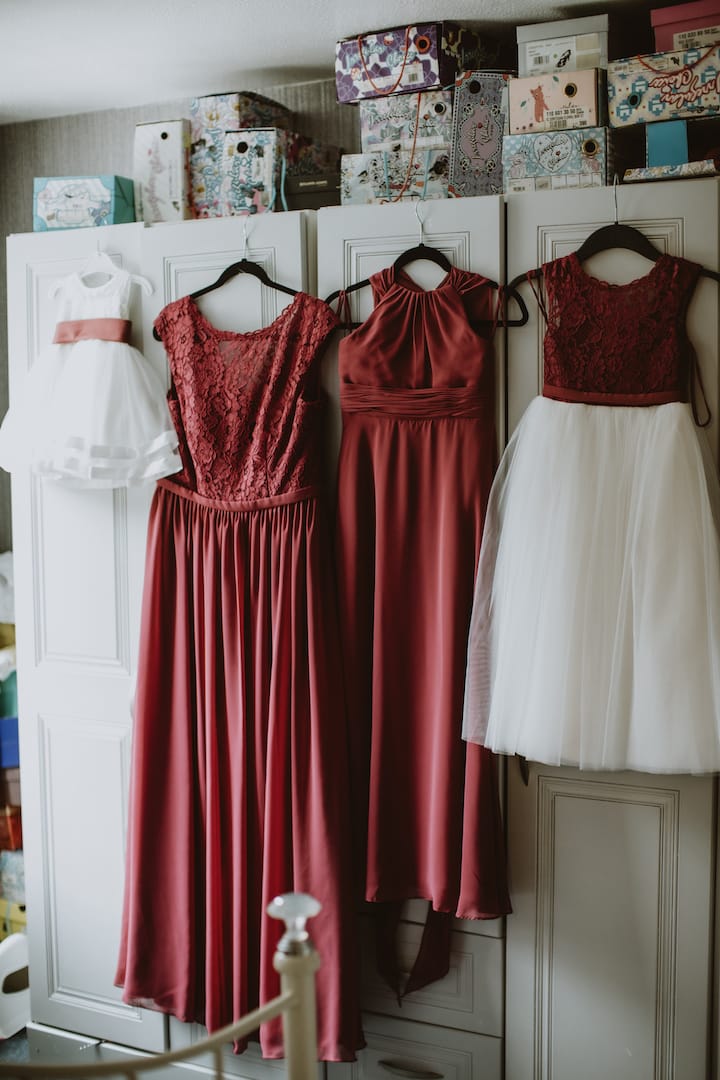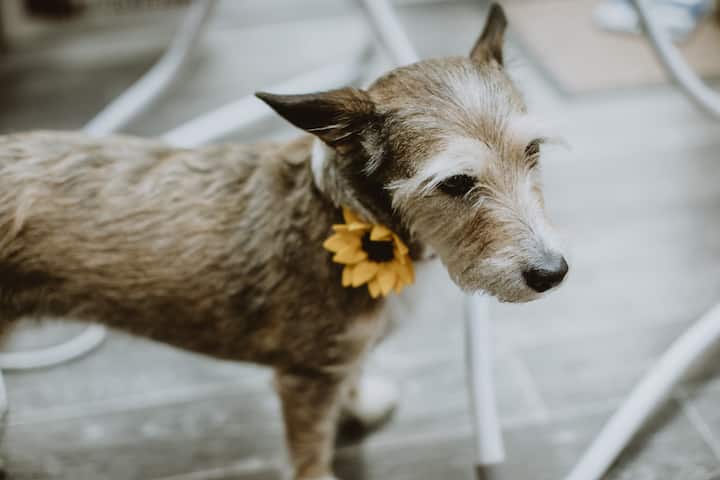 Tell us about your ceremony.
As neither of us are particularly religious we decided on a celebrant ceremony, led by the very talented Julie Wilson. The ceremony was held under the giant oak tree at Bawdon Lodge Farm. I was given away by both my mum and dad with James Martin, my dads guitar teacher, playing us in to "all of me" by John Legend.
The best thing about a celebrant wedding is that anything goes. Both of our sisters did a reading that neither of us knew and we had written our own vows. James then finished the ceremony by playing "here comes the sun" by The Beatles. The ceremony was completely bespoke and personal, absolute perfection.

How did you feed your guests?
Greens Catering served us throughout the day. On our first meeting with Danni we were really impressed how she just got what we wanted. Canapés were served with our arrival drinks – mini burgers, asparagus wrapped in parma ham and figs with creamed cheese, yummy!
The wedding breakfast was a relaxed picnic style all served on large sharing platters. This included smoked trout pâté, made from trout that my dad had caught fly fishing, as well as homemade chutneys and pickled walnuts made by very close friends. For dessert it was an afternoon tea style with homemade scones, Pimm's Eton mess and a variety of bitesize cakes, delicious.
In the evening a variety of small bowls were served.  Thai green chicken curry, vegetarian chilli and slow pulled pork with slaw and wedges. For dessert we served our stunning wedding cake, expertly made by my fantastic and extremely talented Auntie Anne.

How would you describe your theme / styling?
We kept our styling relaxed, natural and in keeping with the September season. After the last 18 months we've had, we decided to use local suppliers and all of our talented family and friends.
Tom is a joiner by trade so made our garden games and our beautiful table plan. Rachael, our maid of honour, made all the guests beautiful, personalised leather key rings that worked as both the name place cards and favours.
The table flowers were home grown by close family and friends, which my mum and sister arranged beautifully into vases I purchased from a pre loved wedding sale. We used our local florist for the bridal bouquets and button holes using sunflowers, my favourite!
Catherine, the owner of His & Hers at Ratby, where my mum works, did our hair and a close friend, Anne did our makeup beautifully. Taking full advantage of my talented mum and sister they did a fantastic job of my bridesmaids hair and makeup. Rowena my sister even made the girls flower crowns.
We wanted a real "party' at night and we were fortunate enough to have We Tried Kylie as our band. An amazing five-piece band plus backing singers, playing all the best dance floor fillers from the 80s. Boy did they deliver! The dance floor was packed all night, entertaining all ages from 5 to 85! The glow sticks and inflatable 80s props went down a treat as well!

What are your Top Tips when planning a tipi wedding?
1) When planning your tipi wedding get as many friends and family involved and enjoy it.
2) The tipis are stunning on their own so don't panic about filling the space.

A Few More Tips for a Fun Filled Tipi Wedding
3) Be true to yourselves as its so easy to get carried away with things that you lose the joy of doing it your own way.
4) Have fun sourcing the 'little things' but leave the 'big things' to the professionals, its not worth the stress!
5) Fill your wedding with good food, drink, music and the people that you love – you can't go wrong!

Suppliers Involved
Tipis | Sami Tipi
Venue | Bawdon Lodge Farm
Photographer | Christopher Terry Photography
Catering | Greens Catering
Celebrant | Julie Wilson
Dresses | Soar Valley Brides
Hair | Catherine, His & Hers, Ratby
Make Up | Anne Shuter
Suits | Slaters Nottingham
Wedding Favours & Belts | Rachael Fairbrother, Little Garendon Equestrian and Leather Gifts
Flowers | Websters
Cake | Anne Howe
Ceremony Music | James Martin, Guitarist
Evening Band | We Tried Kylie
Further Inspiration