Sam & Jamie's Indian Summer Tipi Wedding

Sam and Jamie celebrated their Indian Summer Tipi Wedding back in August last year.  With original plans to keep styling and colour themes very neutral, after a conversation with their florist they decided on gorgeous pops of colour to create their "Indian Summer" theme.
Celebrating in Three giant hats and chill-out tipi, on their family farm, they created the perfect day for them and their loved ones.  With their favourite food, gorgeous styling touches, and live music to dance the night away.
Sam talks us through the details with fabulous photos from Gareth Newstead.

What made you decide on an outdoor wedding?
After visiting a handful of venues, we knew that we wanted to get married at my parents' home. My parents live on an old farm that they have slowly developed throughout my childhood and my dad had always joked about how brilliant it would be. When faced with the actual decision of where to get married, having our celebration at home and in a tipi became obvious. We wanted freedom of time, and freedom of food. As well as freedom to have our wedding exactly how would work for us without any typical venue restrictions. We also wanted a relaxed and fun atmosphere and we felt that an outdoor wedding offered us that.
What did everybody wear?
I wore a Mila Nova wedding dress. I fell in love with it online and bought at a trunk show at The Wedding Club in Birmingham. Searching for a dress during the pandemic was a different experience to what I expected. But I felt that stores and boutiques still made me feel really comfortable and special. I also wore a hand painted leather jacket by Sophie at Ivory White in Duffield. For shoes it was a pair from Harriet Wilde (Hetty Ivory Organza) with personalisation on the sole. I also had to choose these during the pandemic on an online zoom appointment! 
Jamie & his groomsmen wore a navy chequered suit from Peter Posh. The reason we chose them was because there was the option to both buy and hire the same design. So this meant that Jamie bought his to have tailored and we hired the suits for his groomsmen and our Dads. 
I wanted my bridesmaids to feel comfortable on the day and with 8 of them originally (I had 7 in the end as one lives in Australia and couldn't get back!). I felt the same colour but different designs would work best. They all chose individual designs in the same pale pink from David's Bridal. This also worked for one my bridesmaids who lives in Canada as they had a David's Bridal in Vancouver too. 
Our flower girls all wore leotards and tutu's in ivory from Six Stories. These were so much fun and looked exactly how I had imagined.
Tell us about your ceremony.
Our ceremony was held at my local church in Yoxall. The place held a lot of memories for me and my family. I had even pretended "christened" a baby doll there when I was in primary school! As well as the sentimental value, it was also perfectly located just 2 minutes from my parents' home where we held the reception. 
My friend Sophie sang 'A Million dreams' as I walked down the aisle – bridesmaids first, contrary to the church's traditions. Waiting with my dad to start the wedding was one of the most special moments of the day, although also maybe one of the most nervous. 
I'm a big fan of Shakespeare after studying it at drama school so we had Shakespeare poems as our readings which felt really special. 
Another important moment for me was the 'confetti walk'. I've always loved my parents picture covered in confetti as they left the church, so creating my own version of this was really special. All of our guests lined the walk way and we made our way down as they threw our colourful dried flower confetti over us. As we got to the end, it became the perfect opportunity to greet everyone too as they walked past us to leave and head to the tipis!
How did you feed your guests?
Our favourite food is Indian and our favourite way to eat is in a tapas style, so we had this idea about creating an Indian style tapas menu for our wedding breakfast. We love food so we wanted great food that could be enjoyed in a relaxed/non-traditional way. We spoke to various suppliers but Thomas at Thomas The Caterer was the most excited by our idea and his excitement and ideas were infectious. Our menu ended up consisting of some really fun canapés, a tapas style 'main' of curry, chatt bombs and sides and 'build your own cheesecake' for dessert.
In the evening, we also wanted to share food we loved. Our idea was to have food vans arrive and give guests something substantial and tasty amidst dancing and drinking. We chose English Indian because we knew there food was both delicious and really fun; they do an Indian spiced take on the British classic Fish and Chips. It also helped that it fit in really nicely with our 'Indian food' wedding breakfast.
How would you describe your theme / styling?
Originally, I wanted a very natural, neutral, wild theme of white, green and wood that felt like it fitted with our outdoor, countryside wedding. But my florist Maria (The flower patch) suggested that I look at some more bright colours that were seasonal. As soon as she showed me, I instantly realised that this felt more "like me". 
Late August/early September is often called an "Indian Summer" and I have a love for all things Indian, obviously the food but also the colours and the feeling of happiness and celebration. This helped my "theme" slowly evolve into the colours of a vivid sunset – pinks, purples, oranges, gold and white. An "Indian summer" in a very English garden/countryside/wide flower feel.
I was also inspired by Tara Knott's styling after seeing at a showcase and on Instagram. I hired from Tara and combined her ideas with my own.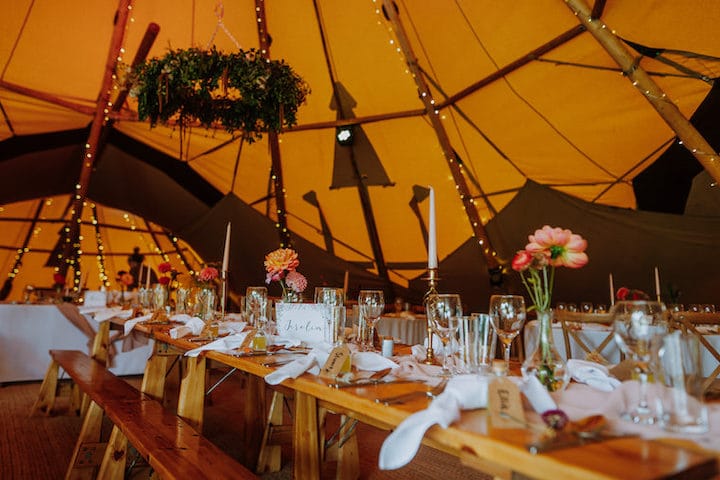 How did you entertain your guests?
We entertained our guests with fun cocktails, lots of wine and music! With the help of The Burgundy's who played me down the aisle (whilst my friend sang), music as people arrived, whilst we ate and then to get the party started. We also had a DJ which continued the party into the night. We also had disposable cameras, a fire pit and sparklers!
What are your Top Tips for planning a tipi wedding?
Top Tip 1 "Choose The Right Suppliers"
I felt that choosing great suppliers made everything run really smoothly. I chose people who Sami Tipi recommended and who after meeting them I trusted – I clearly explained what I wanted and then trusted them to deliver that. We would say we "got lucky" to have all great suppliers but actually I think we chose them really well – mostly on recommendations from Sami Tipi. 
Top Tip 2 "Have a Wedding Co-ordinator"
Having a wedding co-ordinator is a great investment in my eyes. At a venue a lot of the logistics are taken care of by them but when you are having a Tipi wedding (especially on your own land) this can fall to you. Both me and family wanted to be able to fully enjoy the wedding day without worrying about dealing with and managing suppliers on the day. The lovely Emma from I Totally Do handled everything on the day from phone calls from suppliers to coordinating opening champagne as everyone arrived back from the church.
Top Tip 3 "Don't Skimp of your Photography or Videographer"
Once your wedding is done, those photos & videos along with your memories are all you have. I'm so glad we invested in both photo and video content
Top Tip 4 "Take Your Time"
What I valued the most about my wedding was time. I was really lucky that I was able to have my wedding at my parents home. This meant that after the Tipi went up early in the week, I could really slow down and enjoy setting up. I made my own place names (with Maria's dried flowers) with my bridesmaids, I styled all the tables and arranged some of the flowers drinking champagne with family and friends and generally loved seeing everything come together slowly day by day. A wedding day is SO QUICK so if possible, I would really recommend to anyone to take their time. Take as much time off as you can and have a lovely plan that builds up to the wedding. Even if this involves doing things at home and not the venue.
Suppliers Involved
Tipis | Sami Tipi
Photos | Gareth Newstead Photography
Flowers | The Flower Patch
Daytime Catering | Thomas The Caterer
Evening Catering | The English Indian
Cake | Ruby Lou's Cake Co
Bar | Mambo Mobile Bars
Table Styling Dry Hire | Tara Knott Styled Events
Stationery | By Florence
Band | The Burgundy's
Wedding Co-ordinator | I Totally Do
Hair | Hair By Pops
Make Up | Make Up by TG
Brides Dress | The Wedding Club
Bridesmaid Dresses | David's Bridal
Suits | Peter Posh
Flower Girl Outfits | Six Stories
Leather Jackets | Ivory White
Further Inspiration