Woodland Themed Tipi Styling
Woodland Themed Tipi Styling for the wedding of Emma & Dave. They had a real vision for their day but needed help pulling all of the ideas out of Emma's head and bringing them to life. That is where the lovely Lesley from The Rustic Wedding Company steps in.
Emma is still so pleased that she met Lesley and feels fate brought them together as Lesley really understood what she was looking for. The overall look was truly stunning. Lesley has kindly put together images of the detail that she captured to share with you. Over to Lesley from The Rustic Wedding Company;
Style Brief
The design brief for Emma and Dave's tipi styling was simple. Woodland animals, lots of foliage, moss and elements of the Scottish Highlands intertwined.
Tipi Entrance
The entrance to the tipi was to be kept relatively simple. We piled a selection of rustic crates together with a vintage ladder and added; lanterns, twig stags, white love letters, tea lights and a bit of extra moss.
Other decorations throughout the tipi included a vintage seating area complete with sofa, chair and standard lamp; some fab personalised chalkboards designed by Emma herself, a family heirloom suitcase, and some photographs of loved ones.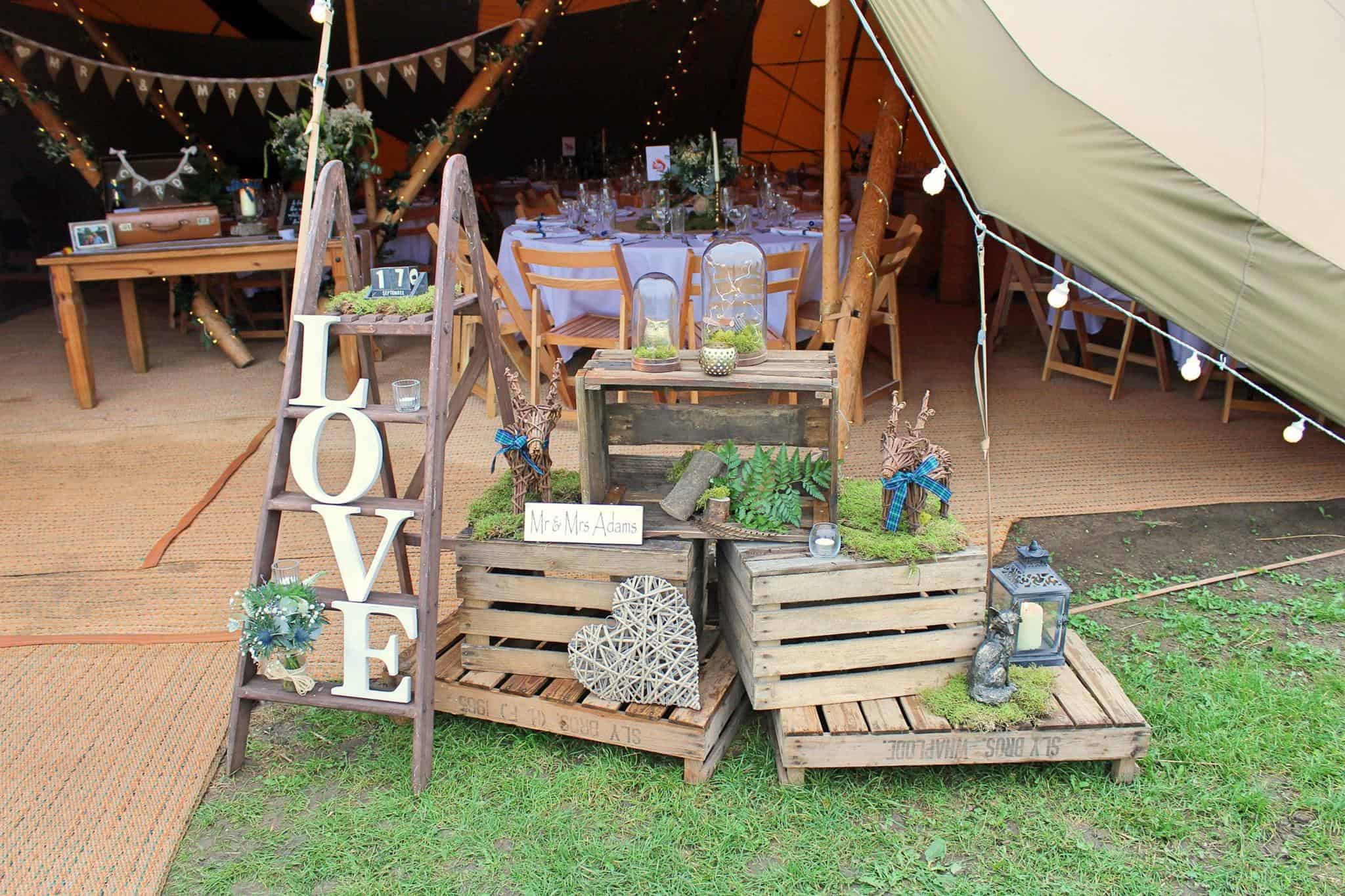 Incorporating Family Heritage
Emma's family heritage was really important in the development of the styling theme and together we chose a variety of native Scottish animals such as the highland cow, the pheasant and the stag and used these as a starting point for the individual table centrepieces. On a base of flat moss, we added brass candlesticks, tea light holders, woodland floral arrangements, pinecones and brass animals and created miniature Highland scenes. We also added subtle hints of blue tartan ribbon throughout.
Tipi Styling
For the main structure of the tipi, we really wanted to focus on the different flora and fauna of the Scottish Highlands and create an enchanting vibe so we hung lots of woodland foliage bunches, sword ferns and jars of forest flowers from the inside poles. We also added some extra floating glass tea light holders filled with moss, some winding ivy and twig hearts to compliment the fairy lights already provided by Sami Tipi.
Cake Table
The detailed cake was a large feature at the wedding and deserved a special table on which to sit so we decided upon a wooden dressing table decorated again with flat moss, candles and trailing woodland foliage. The mirror was crucial to the design of the table as the cake had a 360 highland landscape painted on it complete with mountains, highland animals and a running blue river. We really wanted to show off the full effect of the entire cake and the reflective surface of the mirror worked really well
WOW of a Top Table
For the top table, Emma and Dave had a large floral spray created by Queen's Florist and we added two antlers to complement the design and integrate it into the highland theme. They also chose to have a hanging wooden shelf above the top table, which we filled with flickering candles, woodland foliage, floating glass tea light holders and trailing ivy. We added beautiful rustic log slices for each of the top table place settings which were once again complimented by the tartan ribbon and also stems of leather leaf fern.
Watch it all happening
You've seen the stunning images of the styling, Now watch the wedding in full action. Captured by Forget Me Knot;
Get in Touch;
We had a fab time working with Emma and Dave to create their dream wedding and Hope they had a wonderful day.
For more information on this tipi styled wedding contact Lesley at The Rustic Wedding Company