Leanne & Kieron's Priory Meadows Tipi Wedding
It is my absolute pleasure to put together this week's real wedding.  Leanne and Kieron celebrated their Priory Meadows tipi wedding in May this year, after the dreaded covid postponements meant they had to change their date 4 times! It felt like a very long time coming, but they finally got to celebrate their wedding with their family and friends. And what a beautiful day it was!
After a gorgeous church ceremony, they celebrated in Three Giant Hat Tipis and decorated them beautifully.  They put their trust in the brilliant Tara Knott to pull their styling together, and she did a fabulous job with lots of spring colours and styling touches.  And their florist Breige created two statement flower bombs which were absolutely stunning.
They kept their guests happy with amazing food – including cheese toasties! – and live music to party the night away.  As well as an amazing charity donation bar. With so many smiles and so much love, this is definitely one to grab a cuppa and enjoy.  Leanne talks us through the details of the day alongside amazing photos by Chris Terry.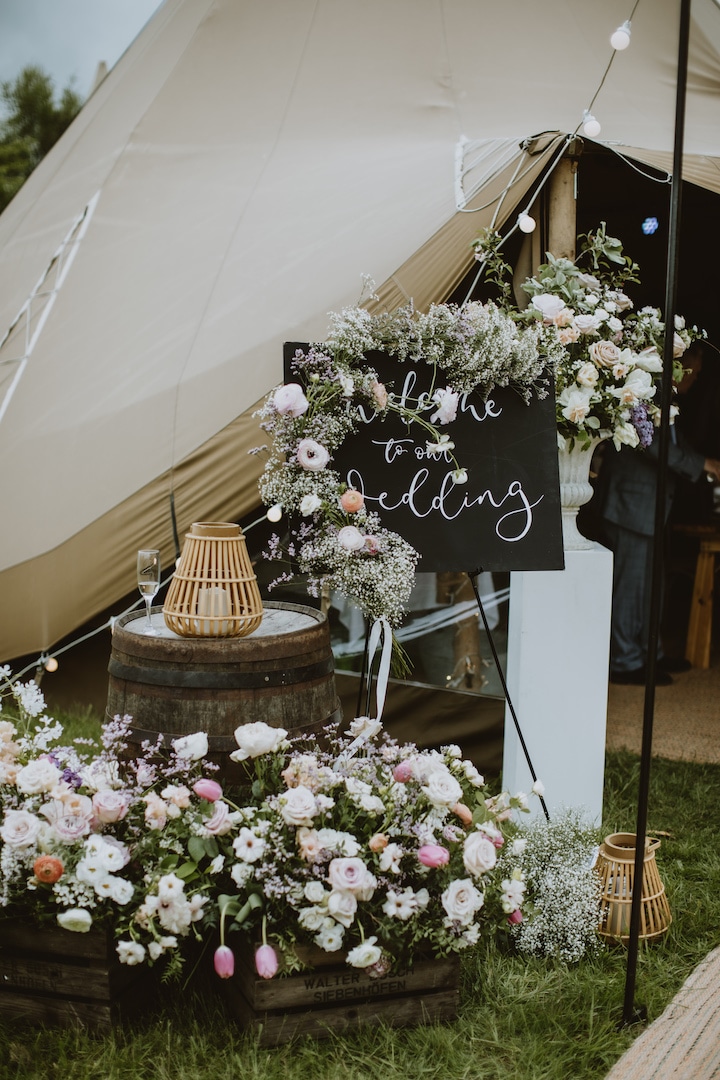 What made you decide on an outdoor wedding?
We were both in total agreement from the very start that we wanted a wedding with a relaxed, fun feel to it and nothing too stuffy or structured. We thought about marquees and tipis and very quickly fell in love with the idea of a tipi, as it's something a bit different and gives the festival / party vibe we were looking for. Seeing our guests' faces when they walked into the tipi for the first time brought us so much joy.
What did everybody wear?
I really struggled with dress shopping. The first few places I went to just didn't feel like my style at all. Eventually I went to Temperly Bridal in London and completely fell in love with their 'Mimi' dress – the sequin ruffles really came alive in the twinkly tipi lights.
I chose my dress back in 2018 and with 3 failed attempts over 2020 and 2021 I was lucky that I still adored my dress when the day finally came around! I wore a pair of pearly Jimmy Choo's for the church, with a more sensible chunky heel for dancing later on. Kieron wore a dark navy suit from Reiss. 
The bridesmaids wore dresses from monsoon, which worked amazingly even with a pregnancy bump! The groomsmen were in suits from M&S, and all their ties were from Reiss.
Tell us about your ceremony.
Our ceremony took place in Breedon Priory church, which is a stones throw from Priory Meadows where our tipis were. The church is really old and has amazing views over Breedon. A couple of our good friends did some lovely readings, including I Will Be Here by Stephen Curtis Chapman, and for our hymns we chose Lord of the Dance and Jerusalem.
How did you feed your guests?
For our food, we went with Thomas the Caterer (on Sami Tipis recommendation) and they were completely brilliant. They totally listened to what we wanted and came up with amazing Italian influenced sharing dishes, including antipasti boards, meatballs & polenta, sliced steak salads, garlicky prawns and so much more. The food was a high and all our guests were raving about it.
In the evening, we had cheese toasties – perfect after a few drinks! And we also had a crepe van by Old Manor House Bakery. 
We also had a giant cookie wall inside the tipi which went down amazingly and was something a bit different, and marshmallows to toast over the fire pit. 
All in all, very well fed guests!!
How would you describe your theme/styling?
We never really had a 'theme' as we didn't want things to be too matchy matchy, but instead went for lots of spring tones and English seasonal florals. We left the decoration of the tipis very much in our wedding stylist's hands (Tara) who was so good and worked closely with our florist, Breige. The flowers took our breath away when we walked into the tipi for the first time. We had two hanging flower bombs with fairy lights weaved through that were just magical.
How did you entertain your guests?
For entertainment, we had a band in the evening, Midnight Train, who we booked through Alive Network. They got everyone up and dancing and we had a packed dance floor all night long which was exactly what we wanted!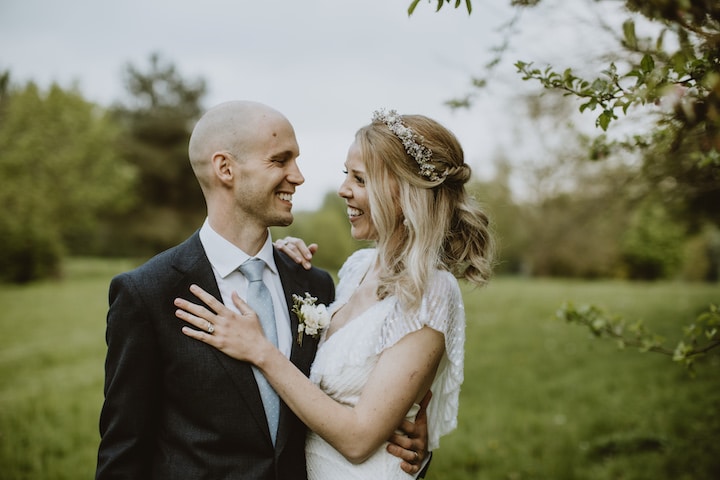 What are your Top Tips for planning a Tipi Wedding?
Our top tips for planning a tipi wedding would be to not sweat the small stuff and have total faith in Sami Tipi who have everything covered… you're in very safe hands!
We'd also say to go with suppliers that Sami Tipi recommend / work closely with, because it's very different catering or capturing photos in a tipi, so make sure they're well used to working with it.
Suppliers Involved
We couldn't rate our suppliers highly enough. Due to Covid, we had to rearrange our day 4 times and all our suppliers were so flexible and supportive and really showed their true colours.
Tipis | Sami Tipi
Venue | Priory Meadows
Photos | Chris Terry Photography
Video | Yellow Glove Productions
Catering | Thomas The Caterer
Florist | Flowers by Breige
Styling | Tara Knott Styled Events
Make Up | Katya @ The Makeup Lab
Hair | Sassy Hair & Beauty
Band | Midnight Train
Cake & Cookie Wall | Ruby Lou's Cake Co
Crepe Van | Old Manor House Bakery 
Further Inspiration