Yvette and Ben got married with us back in June 2018 in three giant hat tipis and chill out tipi.  They had their reception on their own farmland, which meant they created a super relaxed, chilled out wedding with all of their close family and friends.  With extra special touches like a huge wolf hot air balloon and a log themed wedding cake, it really was everything they ever dreamt of.
What made you decide on an outdoor wedding?
We both love the outdoors, camping and exploring. Just being outside always feels more relaxed and chilled. This is exactly how we wanted our wedding – relaxed, chilled and no stress. We have the smaller version of the tipi tent for camping so when we saw these large versions set up for a wedding it didn't take much to decide what we wanted.
What did everybody wear?
My dress was Enzoani Inverness and I think it suited our style very well for being a field wedding.  Full lace and fitted style with a small train and open back. The open back was perfect as the weather was so hot!
The groom and groomsmen all got their suits from Slaters. They all wore 3-piece matching suits with orange ties to match the bridesmaid's dresses and our flowers.
How would you describe your ceremony?
Our ceremony was in our local beautiful church in Hawkesbury. A very remote area which made it that little bit more special. I arrived with my dad in a Mercedes and Ben and his best man drove our wedding car, which was a 1926 Chrysler.
After the ceremony, we left in the car and went for a little drive before returning to our farm for our reception.  We have loads of space on the farm which made it extra special being able to hold our wedding at our home.  We also had space for camping so had lots of friends and family setting up tents and caravans to make the most of the weekend with us.
How did you feed your guests?
As we wanted a very chilled and relaxed no pressure wedding we thought a BBQ was the perfect option for afternoon food. It meant people could go up and collect what they wanted. We then had strawberries and cream for dessert.
In the evening we had a ploughman's buffet which my family did for us.  As they have a catering company they knew exactly what we wanted and how much we would need. We didn't want my family working though as we wanted them to enjoy the day.  So we hired in two amazing staff to come in and set the food up and keep an eye on things. The staff were amazing, they joined in with the whole day and we could not have asked for better.  Anything that needed doing, they did for us without even asking.
We also had a four-tier log themed wedding cake which we used an axe to cut, just to be different.
How would you describe your theme / styling?
Our theme was very rustic and homemade, with all the decorations being hand made. We wanted to make everything that we could rather than buy or hire anything in. Ben and his best man, made some awesome benches and we used old large wooden wire reels as tables to fill gaps.
How did you keep your guests entertained?
For entertainment, throughout the day we had outside games, badminton, skittles, and hoops which kept the kids amused. We then had a caricaturist for after the speeches which went down very well.  Everybody loved having their pictures drawn and having something to take away with them to remind them of our special day.   In the evening we had a DJ and outside fire pits with marshmallows for toasting.
We then had one of our close friends bring along a special shape Hot Air balloon, Wez the Wolf. Ben tethered the balloon for us and took us both up to throw my bouquet, which gave us some amazing photos!
Ballooning has been and still is a large part of our lives – Ben proposed on our cross-channel world record flight from Dover to Calais – so we couldn't have our day without a balloon showing up.
What are your top tips for planning a tipi wedding?
Top Tip 1
Take your time and don't rush ideas. Think outside the box for different ideas and ways of doing things.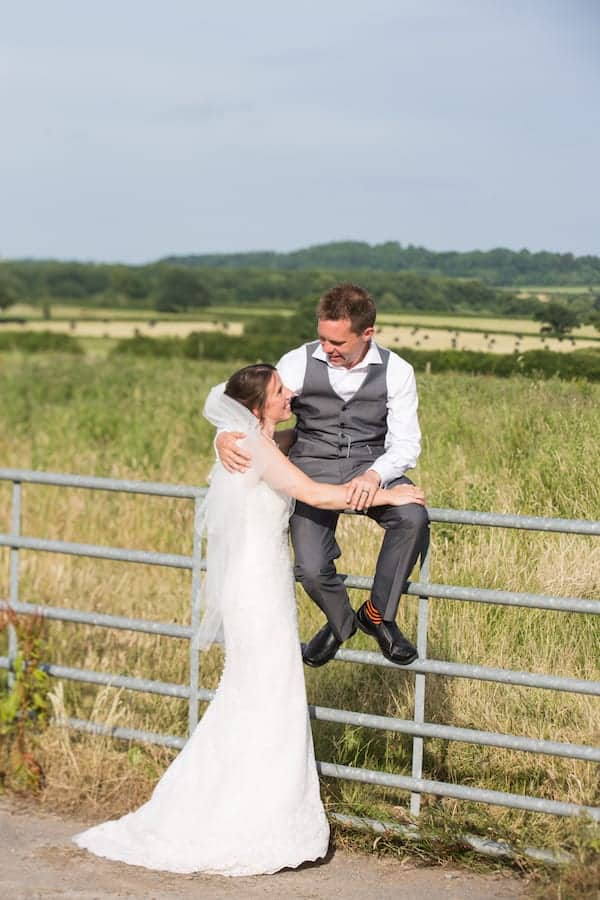 Top Tip 2
Give people jobs and don't try to do everything on your own.
Top Tip 3
Enjoy the planning as the day goes way to quick.
Suppliers Involved
Tipis | Sami Tipi 
Photographer | Melanie Chitty
Catering | Fir Tree Catering
Event Staff | Tailor-Made Events
Caricaturist | Tony Marriott
Wedding Cake | Dees Cakes