Sailcloth Tent Wedding
When planning an outdoor wedding, there can be a few more things on the list to consider than a "traditional" wedding. But with any wedding, the starting point is always your guests! YES, who is it that is hitting your guest list.
Armed with a first draft guest list, we can then work with you to discover how you see your day and with how many guests. These are key to identifying what Sailcloth Tent size will be right for you.
To help kick start your Sailcloth Tent Wedding, we have put together our guide on sizing!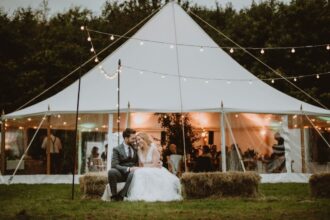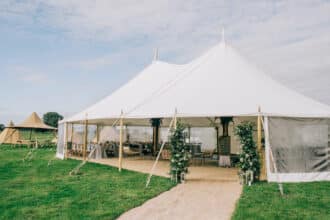 Size Matters
One-Pole | The baby of our Sailcloth Tent, the One-Pole. This is perfect for an intimate, micro wedding celebration. Measuring 12m in diameter. This would be the perfect space for up to 50 guests and you would still have space for the cake and a small dance floor. Here are a few sample floor plans of how your own micro Sailcloth Tent Wedding could work;
We captured this video of a micro wedding set up. This had seating for 30 guests, with a gorgeous floral tree taking centre stage.
​
Two-Pole Sailcloth
This is the perfect space for up to 100 seated guests, depending on what else you would like inside your Sailcloth Tent wedding space.
The big contenders for space are of course the dance floor but also the bar. If your numbers are to the upper limit of what is recommended, a good space-saving option is an outside bar. A popular option for many outdoor weddings is a horsebox adding a little wow to your outdoor space too. For recommendations for bar service pop over and have a look at our Friends Page.
Here is a video showcasing a stunning two-pole Sailcloth Tent wedding setup. Styled by Tara Knott, captured by  Tell Your Story UK  and Cedar Media 
​
Three-Pole Sailcloth
The Daddy of our Sailcloth Tent, our three-pole. This is perfect for a larger wedding celebration. Measuring 12m x 24m in diameter.
As with any wedding, the bar is a big factor again. Often the appeal is to have a round bar that circles around the centre pole. This works really well and creates a focal point. However, if you are pushing numbers again to the capacity of the Sailcloth, the round bar may have to be compromised to allow the space needed for your dining tables.
Here is a video showcasing a stunning three-pole Sailcloth Tent setup. Styled by Tara Knott, captured by  Taylor Made Videography
​
Size Guide

Further Inspiration
A few images captured by Darren Cresswell Photography of the stunning styling that Lesley of The Rustic Wedding Company created. The blue colour palette looked incredible inside the celebration space.
We absolutely love our Sailcloth Marquee! We've seen it set up in so many different ways and each one has been stunning. This is a fabulous way to have that personalised rustic wedding everyone will remember!
Suppliers
Sailcloth Tent | Sami Tipi
One Pole Image | Chris Terry Photography
Two Pole Image | Darren Cresswell Photography
Three Pole Image | Hannah Hall Photography
Venues:
Cuttle Brook, Swarkestone
The Hideaway, Ticknall
Cattows Farm, Leicestershire