Dear Soon To Be Newly-Weds,
Congratulations! You are about to embark on the super exciting journey of planning your own tipi wedding!
So, you've fallen in love with the Tipis, the next question is "but where can we have it in the Nottinghamshire area"?
At Sami Tipi we've got this covered for you. We've worked with a number of local Nottinghamshire sites creating unique tipi wedding celebrations.
Each Site offers something different and we've worked with some of these for nearly 10 years so we know exactly how they work and what you may need in addition to the actual land hire.
With what seems like a million and one things to plan you may feel like you've bitten off more than you can chew with an outdoor wedding but don't worry, it really doesn't have to be that way.
Not only will you get your tipi in your preferred configuration, you can also have all of the furniture and special touches, with everything set up and taken care of without you needing to lift a finger.
Nottinghamshire Tipi Wedding Sites
Onsite Yurt Accommodation
Parking available onsite for up to 60 cars
Exclusive Four Day Hire
Dry Hire Venue
20 Bales included as part of your land hire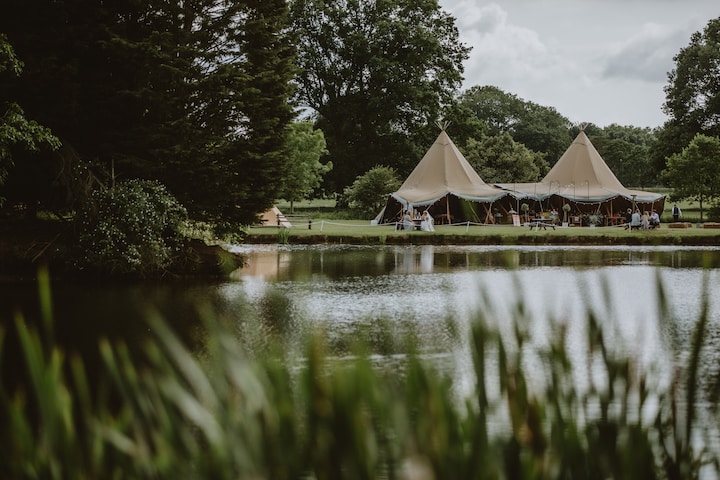 Stunning Lakeside Venue
Licenced for ceremonies
Parking available onsite
Glamping encouraged to make the most of your wedding weekend
No Corkage Fees
Glebe Farm Cottages, Gunthorpe, Nottingahm
Lakeside Venue
Parking available onsite
Onsite Accommodation
Sami Tipi Exclusive site
More Tipi Wedding Sites Across Nottinghamshire
Here's What You Can Expect From Sami Tipi
FREE Tipi Planning Consultation – You will be personally guided by our tipi experts and helped to discover exactly what you need for the size and style of your wedding and the practicalities of bringing your amazing vision to life.
Exclusive VIP Event Invitation – After deciding to work with Sami Tipi, you will be invited as our VIP guest to come and see our wonderful tipis in action. Get a feel for how stunning they'll look and some inspirational ideas for your day.
Tipi Planning Meetings – You will be invited to two planning meetings where you'll be able to keep us updated with exactly what you want for your wedding, from the all-important internal decorations to finer details such as seating plan ideas and needs.
Everything Set Up – You'll arrive at your wedding field to find everything in place and ready to use, just as you'd imagined. With our meticulous setup process, you will be free to focus on the fun parts of decorating your tipis and of course, getting ready for your big day.
Enjoy Your Special Day – As your guests arrive they'll be just as impressed as you are. Once night falls, enjoy watching the transformation of your tipi space as the fairy lights take hold and your celebration space becomes even more magical.
Your Wedding Is In Safe Hands
Two-time National Best Marquee Supplier Winner – The Wedding Industry Awards 2020/2022
We've helped over 35,000 people enjoy an outdoor event in our 9 years as a business
Authors of the 5 star Amazon rated book The Ultimate Guide To Planning An Outdoor Wedding
We've provided amazing tipis for the likes of Landrover, Skoda, Capital One, Joules, Leicester University and Nottingham University.
Five-time Regional Winner – Wedding Industry Awards 2017/2018/2020/2021/2022
70 years combined experience across the team
Over 72 5 star reviews – on Google plus 35 on 5 Star Reviews on Facebook
MUTA Approved – Providing the highest standard of original Nordic Tentipi Products
Real Nottinghamshire Weddings
Some Commonly Asked Questions
How soon will I get my pricing guide?
Once you've let us know your email and your ideal date, the pricing guide will be emailed across to you right away. If you have any questions about pricing, availability or anything else then the team is always here to help out.
When planning an outdoor wedding or celebration the one thing we get asked over and over again is what if it rains? We have got this covered in this blog post which is jam-packed full of all the information you will need to know. Click here to read more…
How many tipis do we need?
The number of tipis you require depends on a number of factors. This includes the number of guests you are looking to celebrate with both daytime and evening. Other considerations are how you are planning on using the space and what else you will require in your space, for example, a bar, dance floor, band area or an open fireplace. We will take all of this into consideration when we recommend to you the number of tipis you need as part of your free quote.
Do we need power and toilets?
To make your tipi event function, you will require power and toilets. We have a really close working relationship with our venues and sites across Nottinghamshire so we know what they do and do not include. If your site does not offer power or organise the hiring in of an event generator, this is something we can do for you. If you would prefer to organise your own generator, we will advise you on our power requirements.
We also work with a number of luxury toilet hire companies. We are happy to coordinate the hiring of these in for you, or we can recommend suppliers we have worked with in the past.
Yes, we have a number of open events throughout the year where you can see the tipis up in all their glory. You'll be able to see what the tipis look like when they are all lit up at night-time; perfect for imagining how your evening reception will look and how it will feel. You'll be able to walk around inside and really get a feel for what kind of arrangement you want for your wedding. Begin the process by requesting your free availability check and pricing guide by clicking the button below.
Can you wear heels with the flooring?
Our tipi flooring is a woven matting called Dandy Dura, this is laid over a waterproof protective membrane. The matting is high heel proof, so you and your guests will be fine in heels whilst in the tipis. There is inevitably going to be a time when you will have to walk over the grass, whether this is to pop to the toilet or to just enjoy the outside space, this when highest of heels will be a little difficult
Our Tip is to let your guests know you are having an outdoor wedding, they do not need to know that it is in a tipi that can remain a surprise. By providing them enough information, they will be a little more informed on what to wear, including footwear.
---