We have a real treat today, sharing with you the gorgeous Spring Tipi Wedding of Dan and Claire who are also about to celebrate their first wedding anniversary. They celebrated in three of our giant hat tipis at Glebe Farm Cottages. With the gorgeous view over the lake and the sun shining bright, it was a perfect celebration.
Claire talks us through their special day, accompanied by gorgeous photos from Coales Capture Wedding Photography.

What made you decide to have an outdoor / tipi wedding?
Having previously worked as waiting and bar staff in a function room, to me they didn't feel special. We also really wanted a wedding ceremony with sentimental value (the local church) and therefore the village church where I grew up was the main option. We then needed an evening venue that wasn't geographically too far as not to disjoint the day. I had seen a Sami Tipi image whilst browsing wedding pictures on Instagram for inspiration and I was instantly sold! It took one open day visit and Dan was too. After that we literally had no interest in viewing any other venues or open days. The style and outdoor nature appealed to our personalities too as we both love outdoors and travel adventures.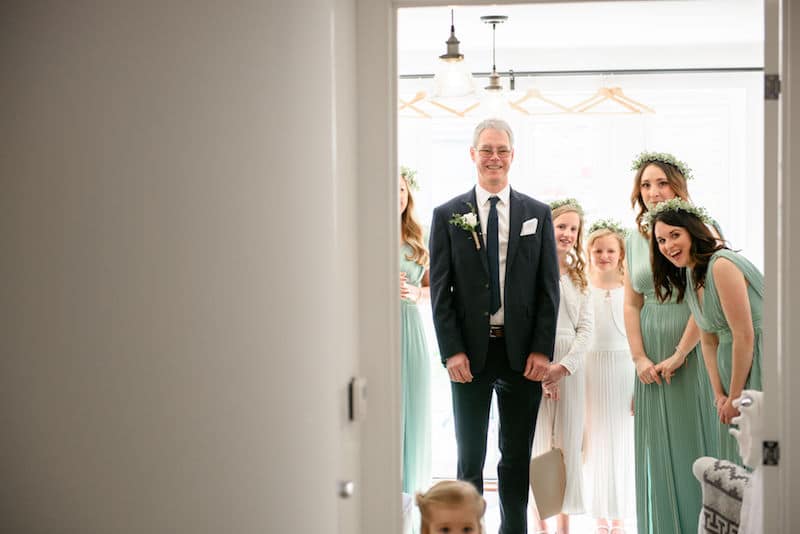 What did everybody wear?
I wore a slim fitting wedding dress with lace sleeves (Priya from Wed 2 b) with a 'just married' leather jacket, which was the perfect fit for our Spring Tipi Wedding. My bridesmaids wore light mint maxi dresses with eucalyptus and gypsophila flower crowns. Dan wore a textured navy suit,  a wool textured waistcoat, navy textured tie and beige braces.
Where did you get married?
Our ceremony took place in the little village church, All Saints Cotgrave. As a child I attended the village church school and had lots of sentimental memories of it.  We don't live far and can still hear the bells at the weekend and see it lined with daffodils every spring. So now it has extra special memories for us of our wedding day and it being packed with our family and friends! 
Before climbing onto the vintage red double decker to take us to the tipi.
How did you feed your guests?
Our canapes and main was supplied and served by 'Pieminister' . We are big fans of the restaurant and were ecstatic when we found out they cater at weddings! The food was delicious and our guests were allowed to choose their pie. They have a range of options including puddings, and can offer self service or waiting service. The planning process was brilliant. We cannot rave more about their waiting staff on the day. Having a tipi and not a venue with staff was one of our biggest worries but their staff couldn't have been more helpful and even served our arrival, speech and meal drinks and cut up our cake, that weren't even supplied by them.
For puddings we had 'The Belgian Waffle Co' who served a wide range of waffles out of a converted horse box. Delicious!
Our evening food was a hog roast by 'the spitting pig company' who had a wide range of cobs, wraps, meat and vegetarian options.
Our evening drinks were sorted and exceptionally delivered by Tommy's incredible team at Mambo Mobile Bars. With their help we had a Peaky Blinders themed bar with decorations and cocktails.
How would you describe your theme / styling?
Our venue style very much reflected our home style of British vintage and greenery. We had vintage furniture (dressing table, trunks, barrels, postbox, milk churns etc) and lots and lots and lots of greenery and white flowers. This all complimented our Spring Tipi wedding perfectly.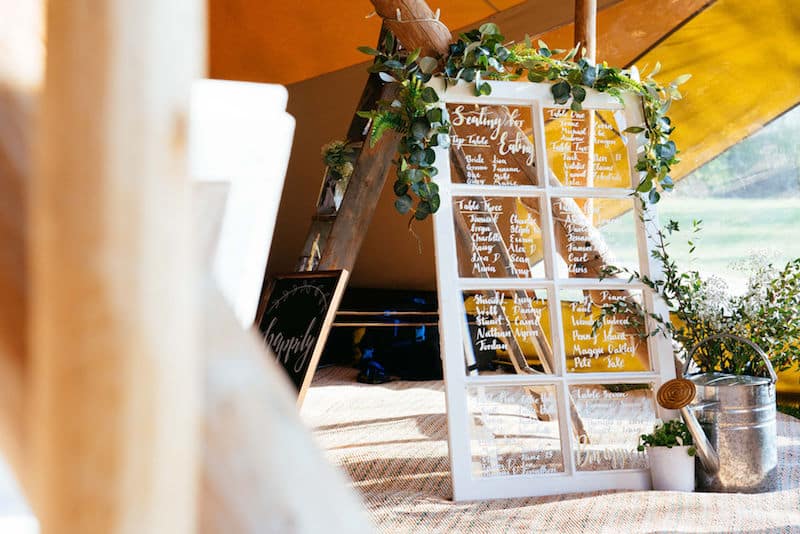 What are your Top Tips for planning a tipi wedding?
Top Tip 1
Make the most of the freedom it gives you! Pick exactly what suppliers you want, without the restraints that come with most venues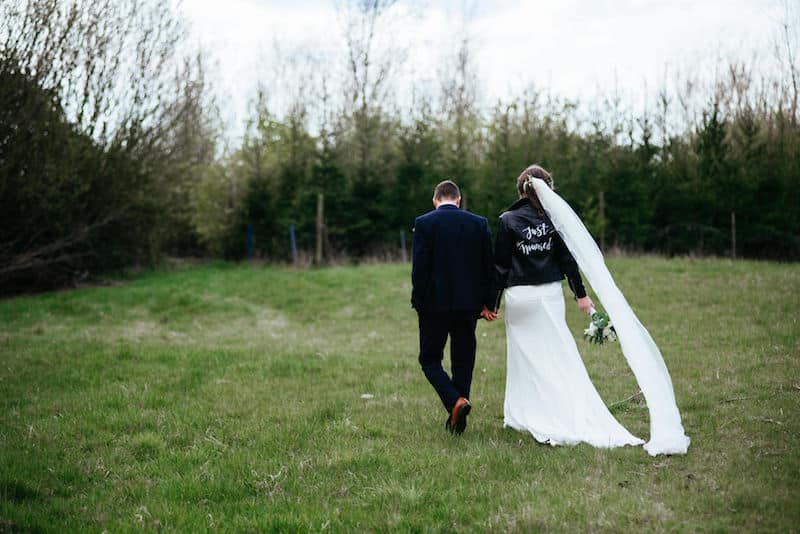 Top Tip 2
Free up the days leading up to the wedding to enjoy the set up process. One of my favourite memories of the whole process was decorating the tipi with close family and friends in a fun way with food and music (not stressful or last min).
Top Tip 3
You've picked an outdoor venue so you have to fully embrace it. Being a Spring Tipi wedding we were aware the weather could be torrential rain, blazing sunshine or anything in between. But we were prepared with blankets, umbrellas etc so nothing was going to get in our way. We also pre warned guests of the walk across a field so they knew what could be affected and could dress accordingly.
Videographer Shoutout…
We also had 'shoot it yourself' as the videographer.  They essentially just send you old school hand held camcorders which you pass around throughout the day and then send them to their producers who put your wedding video together. We loved it and felt it matched our relaxed and sentimental wedding.
Suppliers Involved
Tipis | Sami Tipi
Photographer | Coales Capture Wedding Photography
Videographer | Shoot It Yourself
Catering | Pieminister & The Spitting Pig Company
Sweet Treats | The Belgian Waffle Box
Bar | Mambo Mobile Bars
Band | Kickback Band
Prop Hire | Tara Knott Styled Events
Dress | Wed 2 B
Hair & Make Up | The Bridal Artists
Looking For More Inspiration?
Take a look at Tipi Weddings through the seasons