Dear Lovely Wedding Planners, 
As you're here reading this, you're obviously looking for more exciting and alternative options for your wedding than a corporate-looking hotel function room. They had their place back in the day, but weddings have become much more of an experience these days, and people want to give their friends and family a truly amazing day to remember. One that will be talked about for years to come. 
If this is what you're after, read on…
Rustic marquee weddings can be really stunning. Our Sailcloth Marquees provide a dazzling venue for weddings big and small. With a range of furniture and accessories to choose from, each set up can be totally bespoke so that your wedding day is like no other. Would you rather have more informal long tables and benches or round tables and chairs? We offer both. Are you planning to dance the night away? Then let's add in our oak parquet dance floor. And don't forget the bar, which can come with illuminated letters so people know where to go to fill up their glass!
Lighting really adds to your wow factor – inside and out. Welcome people into the marquee with a magical festoon walkway, make a statement with a bright neon sign or draped festoon lighting,
And then come to the special touches that can really let your personalities shine through – chill-out zones, a band stage, outdoor games! The list of ways to make your wedding truly yours is endless.  
Worried about wind or rain spoiling your special day? Rest assured, our Sailcloth Marquees are high-quality, sturdy and beautifully crafted. You'll be warm, comfortable and protected, whatever the weather. 
And the best bit? You get a venue that is tailored to you without doing any of the hard work. Our professional, friendly and dedicated team will have everything set up in advance for you, so you can relax and enjoy the run-up to your special day. 
Are you ready to celebrate in style – your style?! 
If that sounds good, you'll want to keep reading and here's why…
Two-time National Best Marquee Supplier Winner – The Wedding Industry Awards 2020/2022
We've helped over 35,000 people enjoy an outdoor event in our 9 years as a business
Authors of the 5 star Amazon rated book The Ultimate Guide To Planning An Outdoor Wedding
We've provided amazing events for the likes of Landrover, Skoda, Capital One, Joules, Leicester University and Nottingham University.
Five-time Regional Winner – Wedding Industry Awards 2017/2018/2020/2021/2022
70 years combined experience across the team
Over 72 5 star reviews – on Google plus 35 on 5 Star Reviews on Facebook
MUTA Approved – Providing the highest standard of original Nordic Tentipi Products
Size Matters
We will work with you to understand how you see your day. From the number of guests you wish to celebrate with to the suppliers you would like to work with, this will then allow us to make the right recommendation of what size Sailcloth Marquee would be right for you and your celebration.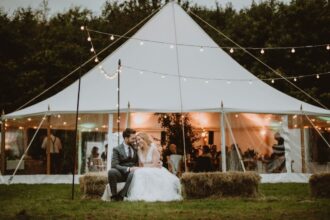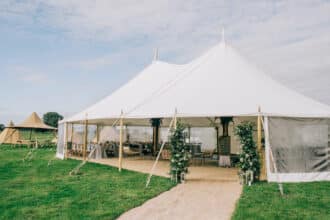 Here's What You Can Expect From Sami Tipi
FREE Tent Planning Consultation – You will be personally guided by our sailcloth marquee experts and helped to discover exactly what you need for the size and style of your wedding and the practicalities of bringing your amazing vision to life.
Exclusive VIP Event Invitation – After deciding to work with Sami Tipi, you will be invited as our VIP guest to come and see our fabulous sailcloth tents in action. Get a feel for how stunning they'll look and some inspirational ideas for your day.
Tent Planning Meetings – You will be invited to two planning meetings where you'll be able to keep us updated with exactly what you want for your wedding, from the all-important internal decorations to finer details such as place settings and favours.
Getting Everything Set Up – You'll arrive at your venue on the big day to find everything in place and ready to use, just as you'd imagined. With our meticulous setup process the day before, you will be free to focus on the most important thing of all, getting ready for your big day.
Enjoy Your Special Day – As your guests arrive they'll be just as impressed as you are and once night falls, the twinkling lights illuminating your tent paired with the radial view, it'll only enhance the magical experience further.
Your Wedding Is In Safe Hands
With 300 events under our belt, 35 years of combined experience and 800 hours of event planning you can be confident we'll deliver your day to perfection.
Don't just take our word for it, read our glowing testimonials from our fantastic customers
Featured on The Great British Wedding, Save the Date Magazine, Coco Wedding Venues, Festival Brides and Find Your Perfect Venue
Rated 5 stars on Google – That's 100% totally satisfied customers!
Trusted members of MUTA – The UK's only trade association dedicated to marquees, tents and structures – you know that when we set up your wedding sailcloth tent it will be safe, secure and most importantly, rain-proof!
---
Greg & Hayley's Wedding Celebration "Our journey from start to finish...

Kirstie & Simon's Wedding Celebration "From start to finish Jodie, Craig...

Dora & John's Wedding Celebration "From the initial open day enquiry...
Wave Goodbye To The Stress Of Choosing Your Wedding Venue
With what seems like a million and one things to plan you may feel like you're going to run out of time to get everything arranged for an outdoor wedding but don't worry, it really doesn't have to be that way.
Not only will you get your sailcloth tent in the ideal arrangement to comfortably accommodate all of your guests, you can even have all of the furniture and decorations too, with everything set up and taken care of without you needing to lift a finger.
We can also put you in touch with our network of trusted suppliers to ensure you can have a truly unforgettable outdoor wedding without the stress of having to do every little thing by yourself.
---
Get Your FREE Availability Check & Pricing Guide
You're reading this page right now because you want:
A truly unique and creative outdoor sailcloth tent wedding that isn't just what everybody else settles for and really reflects your personality.
To hire a supplier who has a beautiful collection of stunning sailcloth tents and a proven track record making ensuring everything runs like clockwork.
Pull off an absolutely unforgettable wedding that your friends and family still talk about, many years from now.
As you know already, one of the most important things is your date. Our wedding tents do tend to book up fast (sometimes years in advance). Make sure you don't put this off to ensure you don't end up being disappointed.
Simply click on the button below and tell us where to send your availability check and prices. You can then find out in your own time, which options work best for you.
Alternatively, you can give us a call on: 01332 806040 and someone will be glad to speak to you to answer any questions you may have.
---
What If I'm Not Sure Yet?
That's completely understandable and we wouldn't want you to rush into anything. You're probably worried about budget, location or just need to be sure that an outdoor wedding is for you? That's fine.
The best place to start is our free pricing guide which clearly explains the options and along with lots of other useful bits of information, you may find helpful.
Just click the button below to get your free copy now, it only takes a minute.
---
You Really Have Nothing To Lose
Remember, we're not asking you to make a decision today. Just to check to see if we're available on your date and give you a better idea of what options are available to help with your planning.
They'll be no pushy sales calls, just helpful advice from tent experts if you feel you need it.
Getting the free guide only takes a minute and means you can browse this at your leisure.
But Sami Tipi Isn't For Everyone
We may only be a small team, but we've built a flawless reputation that really speaks for itself. We've worked incredibly hard to ensure that we provide tents of the highest quality with no amount of detail missed when it comes to getting your big day just right.
If you're looking for the quickest, cheapest possible option out there and would be happy with a generic, run of the mill wedding, then unfortunately, we're probably not the best company for you.
But if you want something special, unique and truly unforgettable that you can look back on for the rest of your lives, then stop what you are doing right now, and get your free availability check and pricing guide by clicking the button below.
---
Some Commonly Asked Questions
How soon will I get my pricing guide?
Once you've let us know your email and your ideal date, the pricing guide will be emailed across to you right away. If you have any questions about pricing, availability or anything else then the team is always here to help out.
When planning an outdoor wedding or celebration the one thing we get asked over and over again is what if it rains? We have got this covered in this blog post which is jam-packed full of all the information you will need to know. Click here to read more…
Where can we use the tents?
We have a selection of beautiful venues across the Midlands that can provide the perfect setting for our sailcloth marquee. Outdoor wedding sites in Derbyshire, Leicestershire, Nottinghamshire, Staffordshire and the West Midlands. We are able to travel up to an hour and a half from our location in Swarkestone, Derby. This means we are only ever 90 minutes away from you and your venue if we are needed. Alternatively, if you have your own site already or if you are looking to have your celebration in your own garden space, this is possible too. We are always happy to visit new sites and discuss the options with you. Start your free quote to discover if we can cater to your location.
How many tents do we need?
The size of tent you require depends on a number of factors. This includes the number of guests you are looking to celebrate with both daytime and evening. Other considerations are how you are planning on using the space and what else you will require in your space, for example, a bar, dancefloor, band area or an open fireplace. We will take all of this into consideration when we recommend to you the size of sailcloth tent you need as part of your free quote. Click the 'Get In Touch' button on this page to start your free quote now.
Do we need power and toilets?
To make your outdoor event function, you will require power and toilets. If your site does not offer power or organise the hiring in of an event generator, this is something we can do for you. If you would prefer to organise your own generator, we will advise you on our power requirements.
We also work with a number of luxury toilet hire companies. We are happy to coordinate the hiring of these in for you, or we can recommend suppliers we have worked with in the past.
Can we see the sailcloths?
Yes, we have a number of open events throughout the year where you can see our sailcloth tents up in all their glory. You'll be able to see what the tents look like when they are all lit up at night-time; perfect for imagining how your evening reception will look. You'll be able to walk around inside and really get a feel for what kind of arrangement you want for your wedding. Begin the process by requesting your free availability check and pricing guide by clicking here now.
---
5 Common-Sense Reasons To Check Availability & Pricing Now
It's so easy and only takes a couple of minutes. Just click on the button below and enter your email and date.
You'll be able to see if your desired date is available. Remember, we book up fast, often a couple of years in advance, so don't delay!
Remove the need to worry about your venue and sailcloth tent hire. You can relax knowing your wedding is in the best hands and things are taken care of
Join the 30,000 other people who have had a fantastic, 5 star rated, outdoor event with Sami Tipi
Don't miss out – Take advantage of our FREE, no obligation availability check and price guide now before your perfect date is snapped up by someone else.