The Rustic Wedding Company Talks Tipi Styling
With The Outdoor Wedding Show a little over a week away, we thought it was time to give you a little insight into what you can expect from the day. We always love to see the reactions to our tipis and sailcloth tent and the styling goes a long way towards creating this wow factor.
This event is a real treat again this year, with two different set ups – Three Giant Hats and Chill-out Tipi AND Two Pole Sailcloth Tent. Both will be styled individually and we are lucky enough to be working with The Rustic Wedding Company who will be bringing the wow to the tipis and Tickety Boo Events who will be adding their magic to the sailcloth.
Below, Lesley from The Rustic Wedding Company has been amazing enough to talk us through her styling plans for next weekend's event.
Lesley, over to you…
I am so excited to be returning to Cattow's Farm for the third year in a row to style one of the structures for The Outdoor Wedding show with Sami Tipi.
This year we have been asked to take control of the styling for the Nordic Tipi and Tara at Tickety Boo Events will be taking control of the gorgeous Sailcloth Tent. We have both got some beautiful, trendy plans for our structures this year and we just know you will fall in love with both of them.
Here at The Rustic Wedding Company, we absolutely love designing bespoke wedding venue décor and we try to be as creative as possible whenever we are given the opportunity. The style and theme we have gone for in the tipi this year is trending worldwide at the moment and we have added our own twist and rustic charm to it.
Last year we created a gorgeous Parisian inspired rustic feast in our tipi and the year before we followed a loose Tuscan theme. Check out a couple of pictures from these below…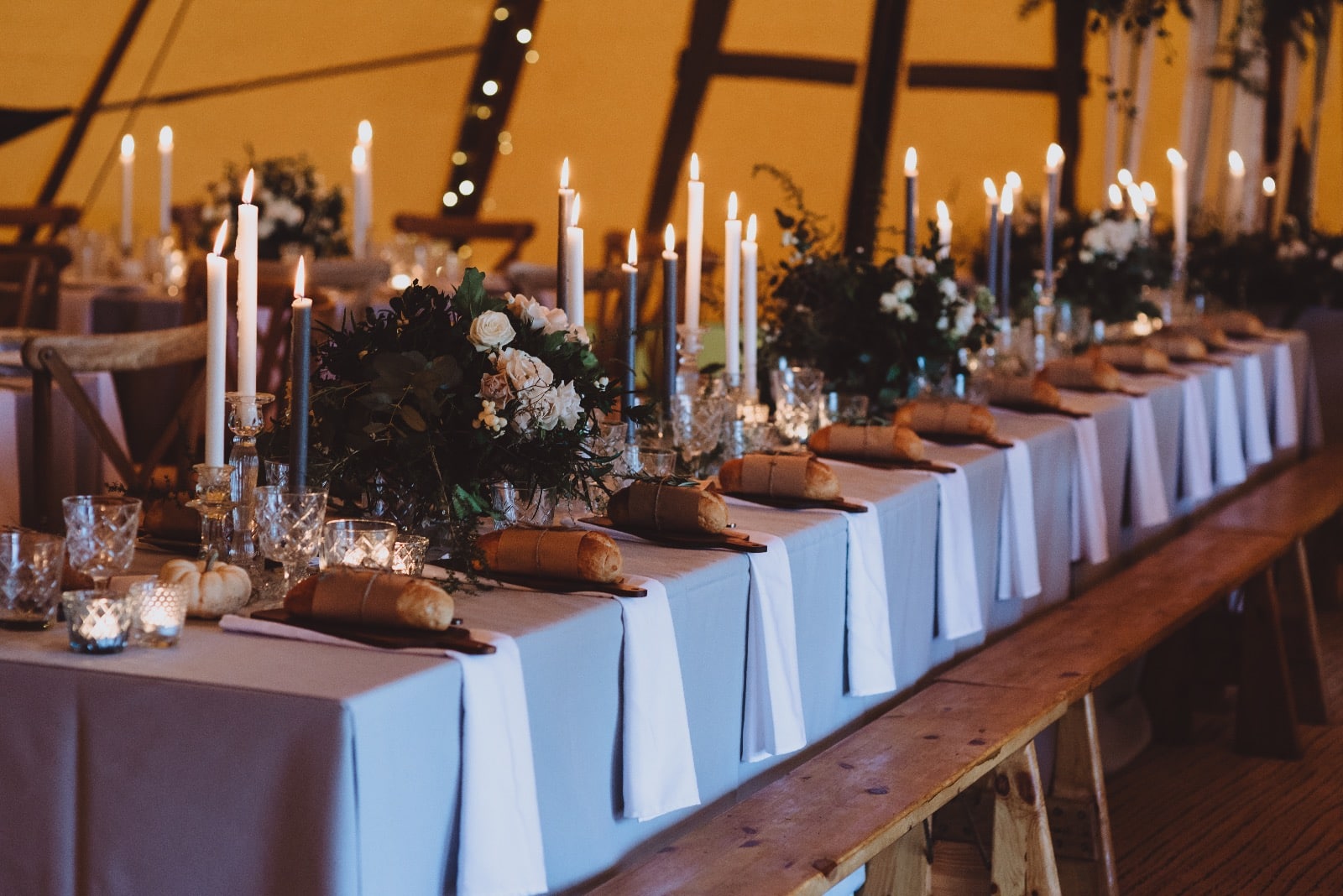 Let me introduce you to this year's theme – "Illuminating Love".
Illuminating Love is all about slick modern & industrial vibes, teamed with bright colours and creative lighting installations. There will be Neon lights used in ways you have never considered before and some super bright pinks, oranges & yellows to make the Tipi "pop".
---
There is going to be some blooms to die for by Tracey at Once upon a Time flowers (who is renowned for creating large, whimsical floral installations) and some slick romantic stationery by Rose Press.
---
There are also going to be over 30 different wedding suppliers collaborating & exhibiting at the show and this year we also have something very exciting planned with Thomas The Caterer so look out for that too!
This year not only are we allowing you guys to come and visit The Outdoor Wedding Show during the day, but we are opening up the show for you guys to visit as the sun goes down at twilight which is super exciting!
The tipi's have a completely different vibe at night time (some might call it magical) and we really encourage you to pop along to both days if you can to give you a feel for how your wedding or event might be as day turns to night! (also our lighting installations will be looking at their absolute best at the twilight event so you don't want to miss it!)
We are super excited to see it all come together and hope you will join us on the 5th & 6th October 2019 to check out what we have done, and to come and have a chat about how we can help you to create some show stopping venue décor for your own big day.