With the Autumn open weekend now only a few weeks away we thought it was time to give you a little insight into what you can expect from the day. We always love to see the reactions to our tipis and the styling goes a long way towards creating this wow factor.
We have a real treat for you this year with not one but two tipi set ups for you to see. The first is two giant hat tipis and the second is two giant hats and chill-out tipi. Both with their own individual style. We are lucky enough to be working with Boelle Events and The Rustic Wedding Company who are bringing the WOW to the tipis.
Below, Lesley McCall from The Rustic Wedding Company is sharing with you her plans for the weekend's styling and some top tips when planning your tipi wedding.
Lesley, take it away…
We've got big plans for the styling of the Sami Tipi Autumn Open weekend. This time around there are going to be two full tipi set ups and we've been given total styling control of one of them for the whole weekend! (and we're super excited about it too!) We absolutely love designing bespoke and imaginative styling plans and this event is going to be sensational in terms of pinterest-worthy décor and originality.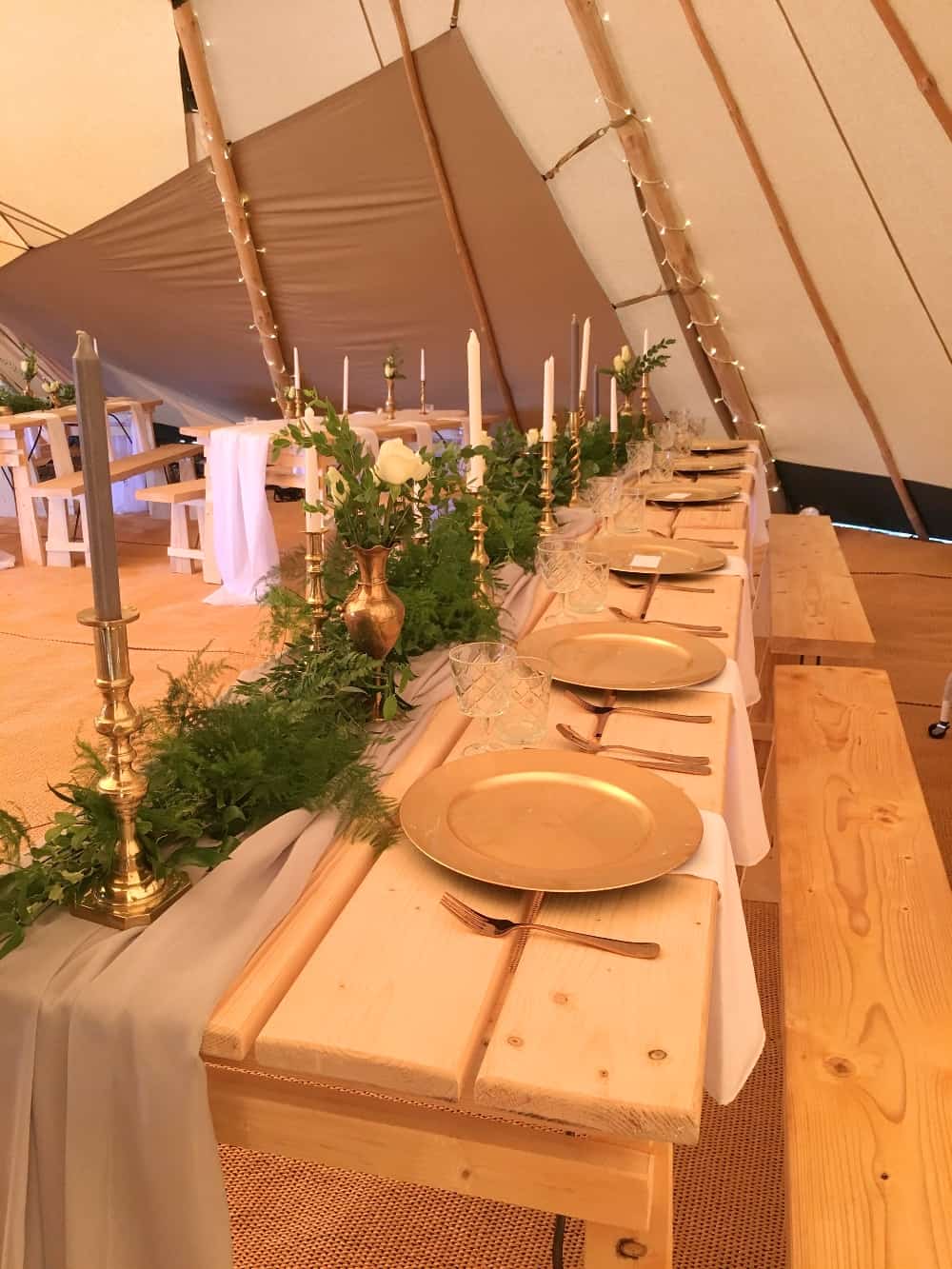 The styling idea for our tipi has stemmed from the location of the event: Cattow's Farm. Set in a gorgeous rural location with rolling fields as far as the eye can see, the farm actually offers a huge array of 'pick your own' fruits and flowers throughout the year and we wanted to see if we could incorporate this somehow into our styling plan to really make the most of the venue, the surroundings and the seasons.
---
---
We're going for a truly sensational end of summer/beginning of autumn type colour palette which will incorporate blush pinks & peaches with lush greens that will also have a little hint of autumnal undertones. We may even be using a selection of real fruits in our décor so look out for those!
We are planning some beautiful unique table décor as designed by our stylists, a cake table set up of dreams and will be showcasing some super hot trends for next year.
If you are planning a wedding that will take place towards the end of the summer or in the autumn and you are keen to add seasonal elements to your styling then this really is an event not to be missed!  Our florist will also be showcasing some absolutely incredible seasonal British floral arrangements which are totally dreamy. (make sure you bring your cameras and get pinning!)
Our Expertise & Top Tips
Here at The Rustic Wedding Company we are totally used to styling outdoor tipi weddings (and boy do we love it!) I highly recommend that you chose your wedding suppliers wisely when it comes to these types of weddings. From styling experts to caterers and photographers, you really do need to be working with an array of people who are experienced and totally familiar with working outdoors, the overall space inside the tipis & how to work with the colour of the canvas.
Our biggest tip for you when it comes to styling a tipi really is "go big or go home".
The space inside the tipis is immense and it looks so much bigger on the inside than it does on the outside. With this in mind, you really do need to think carefully about how you are going to fill those tents and the outdoor area around them. Are you going to need hanging chandeliers inside the giant hats? How many? Will you need festoon lighting outside? Or perhaps extra seating next to the bar?
There's so much to think about when it comes to styling a big venue so make sure you pop along to a tipi showcase event to really experience the size for yourself as photographs of these structures really do not do them justice when it comes to overall scale.
We look forward to meeting you all and chatting all things wedding!
You can see Lesley at the Autumn Open Weekend.
Book your tickets below!
<div style="width:100%; text-align:left;" ><iframe src="https://www.eventbrite.co.uk/e/sami-tipi-autumn-open-weekend-tickets-35806480146?ref=eweb" frameborder="0″ height="1000″ width="100%" vspace="0″ hspace="0″ marginheight="5″ marginwidth="5″ scrolling="auto" allowtransparency="true"></iframe><div style="font-family:Helvetica, Arial; font-size:12px; padding:10px 0 5px; margin:2px; width:100%; text-align:left;" ><a class="powered-by-eb" style="color: #ADB0B6; text-decoration: none;" target="_blank" href="https://www.eventbrite.co.uk/">Powered by Eventbrite</a></div></div>